Rethink your regime to get fitter
By Matt Huckle last updated
Learn from the men who changed their game to achieve success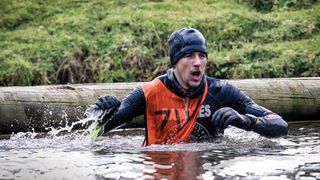 (Image credit: Unknown)
Rethink your regime to get fitter
Speed
My first event was a Tough Guy race in 2010,' says 25-year-old Jon Albon. His motive wasn't to become a champion. 'It just sounded like a bit of fun because it wasn't a standard running race – you needed to jump over and crawl under stuff. I saw it as a test of how tough I was. I started quite a way back, but I managed to make up a few places in that first race.'
It was clear, though, that just being a good runner wasn't enough. 'I did very well in the running,' says the Norway-based Englishman. 'But I got really cold and slowed down by the obstacles.' Albon finished 76th. His next race was the far less competitive Wolf Run, which he won fairly easily, going on to win several more races. When he started out, he says, 'you could just run and win. But the sport has become a lot more competitive since then.' He knew he needed to up his game if he wanted to stay out in front.
Albon was happy with his speed – which he kept up with running and cycling – but knew his grip strength was letting him down. 'I added bouldering sessions to my training,' he says. 'Going climbing made a massive difference to my races. People think you need strength to get over the obstacles, but it's the strength in your fingers that will go first.'
And while Albon's foot speed was good, he realised that the style of running in obstacle races is different to the steady pace found in 10Ks or marathons. 'Orienteering is a similar type of running,' says Albon. 'The stop-start nature of having to run through woods and slowing to look at your map lends itself to obstacle racing.'
The change in preparation paid off. Albon won every single obstacle course race he entered in 2014, becoming OCR World Champion and Spartan World Champion in the process. This year? More of the same. Time to get even tougher.
Lessons Learned
Don't worry about weights
You can get all the strength you need from bodyweight exercises. During training runs for Tough Mudders, do ten burpees every 2km to prepare for the stop-start nature of the race.
RECOMMENDED: Tough Mudder Training Plan
Record your training
Download social fitness app Strava to monitor your sessions. It'll let you share your running and cycling routes online as well as see other people's so you can see how you measure up by comparison.
Go running
Don't just focus on the obstacles. Go hill running – a 2010 study in Medicine And Science In Sports And Exercise found that runners who varied their pace on different gradients had a more consistent level of oxygen consumption, allowing them to keep going for longer.
Matt joined Men's Fitness in April 2014 as features writer after spending several years writing for a luxury lifestyle magazine, swapping champagne and canapés for cardio and leg days.
Matt is a keen Thai boxer and his interest in fitness took off when he made the decision to compete semi-professionally and had to get in shape. Training aside, he says the worst thing about fighting is resisting the urge to apologise all the time.
Oh, and he's still on the look out for a decent fight nickname after being told 'The Best' was reaching a little bit…
Favourite move: Any kind of squat variation
Favourite sport: MMA and Muay Thai kickboxing
Personal best: Competing in a semi-pro K1 bout
Targets: Sub-1hr 40m half marathon and winning a fight by KO
Scariest MF moment: Writing about myself in the third-person for this profile
Favourite MF website story: Spider-Man workout (opens in new tab)
Favourite trainer quote: 'Hands up, chin down' – every striking coach ever
Biggest gym crime: Avoiding the weights and sticking to the treadmill
Sign up for workout ideas, training advice, the latest gear and more.
Thank you for signing up to Coach. You will receive a verification email shortly.
There was a problem. Please refresh the page and try again.