Internal dumbbell rotation
By Coach Staff published
This move is a must-do as a warm-up before any shoulder workout to help prevent injuries.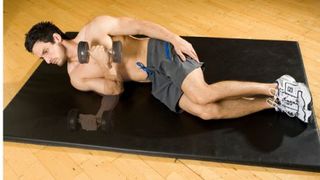 (Image credit: unknown)
In This Series
Lie on your side with your knees bent for stability and your upper arm in line with your body.
Hold a light dumb-bell with your palm upturned and your elbow bent at 90°.
Rotate your arm so the dumb-bell points upwards, keeping the 90° bend in your elbow.
Coach is the place to come for all your health, fitness, and personal wellness needs.
Sign up for workout ideas, training advice, the latest gear and more.
Thank you for signing up to Coach. You will receive a verification email shortly.
There was a problem. Please refresh the page and try again.