The Best Men's Yoga Clothing
By Nick Harris-Fry published
Get into the flow with this stylish and stretchy gear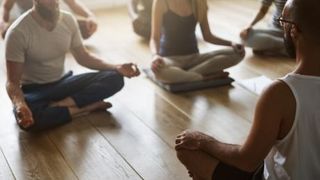 (Image credit: unknown)
Here's the thing about great yoga clothing – it's really not just for yoga. The comfortable, casual menswear that's best for practising yoga is also great to wear when in the gym, relaxing at home, travelling – in fact, if you opt for some of the smarter gear available, pretty much anywhere.
First and foremost though, it's important to make sure your yoga gear is fit for purpose, in that it allows you the freedom to move on the yoga mat. Here are our five favourite brands for yoga gear for men and a few of our top picks from their ranges to consider.
Lululemon
(opens in new tab)
To truly express yourself on the yoga mat you need shorts that are loose and elastic enough that they don't limit your movements, but also don't ride up when you go into inverted positions. Lululemon's In Mind shorts are made with stretchy, quick-drying fabric and have a stay-put hem to protect your modesty.
Buy from Lululemon (opens in new tab) | £58
---
(opens in new tab)
If you prefer to wear trousers during yoga, you can pick up some incredibly adaptable bits of gear that are great in and out of the studio. These pants are comfortable and sweat-wicking, but also have zipped pockets (including two on the back) and are subtly styled so you can wear them to and from the studio too.
Buy from Lululemon (opens in new tab) | £88
---
(opens in new tab)
This sweat-wicking, odour-resistant tank has a loose but not flappy fit that's great for yoga, and it's also suitable for all other kinds of training.
Buy from Lululemon (opens in new tab) | £48
---
Decathlon
Domyos Seamless Yoga Tank
You'll notice from this list that a lot of yoga gear shares a few key features. One of these, unfortunately, is a high price. That's where Decathlon comes in with its wallet-friendly range of yoga gear, which includes this tight-fitting tank that will keep your torso under wraps during inverted moves.
Buy from Decathlon (opens in new tab) | £9.99
---
Domyos Woven Dynamic Yoga Shorts
(opens in new tab)
These shorts are lightweight and stretchy, and the legs are cut to prevent revealing anything untoward during your most adventurous poses. And less than a tenner!
Buy from Decathlon (opens in new tab) | £7.99
See related
Nike
Dri-FIT
Yoga Training Tank
(opens in new tab)
The extra long back hem on this vest provides cover as you contort yourself on the mat, and the side vents ensure you're not restricted during your routine. The Dri-FIT fabric is the same stuff used in Nike's running and training gear, and is designed to keep you dry and cool even as you start to work up a sweat.
Buy from Nike (opens in new tab) | £31.95
---
Dri-FIT Yoga Training Trousers
(opens in new tab)
There are both trousers and tights available in Nike's yoga range, with the former earning our vote thanks to the roomy gusset for a greater range of movement than we've come to expect. At the other end of the trousers, the tapered legs ensure there's no annoying flapping of fabric during your session.
Buy from Nike (opens in new tab) | £54.95
---
BAM
(opens in new tab)
No seams means more comfort, and this tight top also works as a base layer for all manner of other sports beyond yoga. It has thumb holes to help ensure the sleeves stay in place, and it wicks sweat away and dries quickly. Bamboo is also naturally resistant to odours, so if you enjoy a more intense style of yoga where sweat is invariably on the agenda, it's a great option.
Buy from BAM (opens in new tab) | £49
---
(opens in new tab)
The tapered legs and long ankle cuff on these ultra-comfortable pants are key to ensuring they stay in place during your flow, and the bamboo fabric is as stretchy as it is soft, so your movements will be uninhibited.
Buy from BAM (opens in new tab) | £44
---
Manduka
(opens in new tab)
The perfect amount of layers for yoga shorts is two, as exemplified by Manduka's Dyad shorts. The tight, quick-drying inner layer provides support, while the outer layer protects your modesty and contains a couple of handy pockets. The outer layer on the Dyad shorts is also cut close to the thigh so they stay in place even when you thrust your legs into the air.
Buy from Manduka (opens in new tab) | €75, (currently reduced to €40, about £35)
---
The fabric used for this tee feels smooth and cool to the touch, which makes it extremely pleasant to wear for yoga, a weights session, or indeed just out and about. The fit is relaxed but the tee tapers a little towards the waist so it won't hang loose or ride up during yoga.
Buy from Manduka (opens in new tab) | €49 (currently reduced to €25, about £22)
---
Warrior Addict
If the only thing stopping you from pulling off a perfect handstand is the fear that your tee or tank will slide down and reveal your torso to the world, then get this clever top that stays in place even when you're upside down. And even if you have no intention of ever attempting a handstand, then you should still try this top, because the hidden elasticated band stops the tank from riding up in any inverted yoga pose. And it's made from a soft, stretchy and sweat-wicking material that's well suited to energetic flows.
Buy from Warrior Addict (opens in new tab) | £55
---
Picking a colour is about more than just style with these sweatpants, because the grey version is made from a heavier weave that's better for slow yoga sessions and, well, lounging, while the blue pants use a lighter fabric that you'll be glad of during sweatier sessions. Both are made using leftover cuts from Warrior Addict's other clothes, a laudable idea that's part of the brand's zero-waste initiative.
Buy from Warrior Addict (opens in new tab) | £80
---
This two-layer pair will both protect your modesty during inverted poses and keep you comfortable down there – the stretchy lower layer is sweat-wicking, plus it's made from an anti-bacterial fabric to stop unpleasant odours building up. The top layer is made from recycled plastic bottles, which is a nice touch.
Buy from Warrior Addict (opens in new tab) | £49 (currently reduced to £34)
Sign up for workout ideas, training advice, the latest gear and more.
Thank you for signing up to Coach. You will receive a verification email shortly.
There was a problem. Please refresh the page and try again.