Joe Wicks The Body Coach Hooks Up With Alexa To Bring HIIT Workouts Into Your Home
By Nick Harris-Fry last updated
There are seven 15-minutes HIIT workouts available – you just have to ask Alexa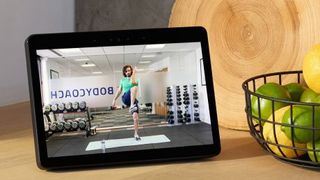 (Image credit: Unknown)
Are you struggling with motivation in your home workouts? Do you think it would help if the Body Coach Joe Wicks was right there, guiding you through a HIIT session? Of course it would. Who wouldn't want to impress Wicks one-on-one?
Well, getting Wicks into your house literally is probably not going to happen any time soon, but fortunately Amazon has made his inspirational tones available to anyone who has an Alexa-enabled device like the Echo or Echo Dot in their home.
Simply say "Start the Body Coach" within range of your device and it will fire up Wicks's app, which contains seven 15-minute HIIT workouts. These get progressively harder, so start with number one and work your way up. Then, once you've tried them all, you can say your favourite number to do it again any time.
Wicks guides you through all the workouts in real time, providing instructions on the exercises you should be doing and all the encouragement you need to keep the intensity high and smash out the session properly. And if you do have to take an extended break during the workout, you can pick up where you left off when you get back.
See related
"One of the biggest excuses I hear from people is that they don't have time to exercise," says Wicks. "This new Skill from Alexa [Skills are what Alexa 'apps' are called] will help people fit exercise into their day, as you really can do it anywhere with no equipment. Whether you're in the kitchen, your bedroom or at work – stick on some trainers, grab a bottle of water and workout with me and Alexa."
The Body Coach Skill can be enabled on your device now, and it's completely free. If you, like us, have an Alexa-enabled device in your house that you've been struggling to think how to use beyond asking for the weather forecast in the morning, this is the perfect way for it to justify its existence. And if working out with Wicks in this way gets you hooked on his HIIT sessions, then you can progress beyond the Alexa workouts by taking on this four-week fat loss plan the Body Coach provided for us.
Enable The Body Coach's Alexa Skill (opens in new tab) | Free
Sign up for workout ideas, training advice, the latest gear and more.
Thank you for signing up to Coach. You will receive a verification email shortly.
There was a problem. Please refresh the page and try again.