Joe Manganiello's workout and nutrition tips
By Athena Stylli published
How Manganiello works out and what he eats to build his impressive frame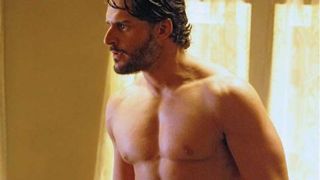 (Image credit: Unknown)
Joe Manganiello – star of True Blood and Magic Mike and fiancé of Modern Family hottie Sofia Vergara – didn't become a ripped 104kg monster overnight. It took a lot of hard graft and a combination of old-school workouts and a simple diet plan to get that body. Now he's the proud owner of one of the best physiques in Hollywood with a successful career to match, and with Magic Mike 2 coming out on 1st July you don't have to wait long to see him on the big screen once again.
Anyone who's seen True Blood or Magic Mike knows the actor is happy to show his body onscreen – but it wasn't always that way for Mangianello. What makes his flawless physique even more impressive is that he started out life as a skinny, weedy guy. So, no matter what you look like now, follow Manganiello's workout and diet tips to go through your own beastly transformation. No full moon required.
THE DIET
Here's a typical day's feeds for Manganiello. It's high in protein and low in carbs and sugar is pretty much non-existent. You don't need to eat six times a day (especially if you aren't training that day), but if you generally follow the rule of sticking to protein and vegetables you will see fat disintegrate and will start packing on muscle in its place.
Meal 1
No-added-sugar protein bar
Meal 2
Post-workout protein shake
Meal 3
One hour after post-workout shake, egg whites, ham and cheese omelette with bacon or sausage, vegetables and a cup of coffee.
Meal 4
An organic chicken breast, butterflied and grilled with a little olive oil and seasoning, with a vegetable stir-fry: heat 1tbsp olive oil and add 1 chopped red pepper, 50g green beans and 1tbsp capers and cook for 4min, then add 50g halved cherry tomatoes and a handful of pitted black olives and cook for 2min, then add a handful of chopped spinach and cook for 1min. Serve drizzled with 1tbsp balsamic vinegar.
Meal 5
A large fillet steak, pan-cooked with a crushed garlic clove. Steam a handful of broccoli florets and a handful of cauliflower florets and serve with the steak.
Meal 6
Protein shake before bed
THE WORKOUT
If you're sick of your girlfriend talking about what a great body Joe Manganiello has (or just staring slack-jawed whenever he's onscreen), it's time you did something about it. You can start with this routine taken from Manganiello's own fitness book, Evolution, which the big man himself uses to bulk up his chest, shoulders and arms.
How it works
Manganiello is old-school when it comes to the gym, sticking with tried-and-tested bodybuilding staples such as the bench press, overhead press and triceps push-down. He warms up slowly on the bench, working up to the heaviest load he can handle for two reps, then backs off the weight for higher reps to get a pump. From there, he alternates exercises for different muscle groups so he can accomplish more work in less time. At 32 total sets, it's a lot of work – and, like the TV show that made Manganiello famous, it's not for the squeamish. But it will put hair (or fur?) on your chest, as well as make it bigger.
How to do it
Perform the bench press as straight sets. For the paired exercises, do one set of move A, rest, then one set of move, B and repeat the pair until all sets are complete. Rest 60-90 seconds after every set in the workout.
1. Bench press
Sets 8 Reps 15, 10, 8, 6, 4, 2, 5, 10
Lie on a flat bench holding the bar with an overhand grip, hands just wider than shoulder-width apart. Drive your feet hard into the floor and press the weights straight up powerfully, then lower them slowly to the start position. Increase the weight accordingly as the reps decline, and then reduce the weight on the last two sets.
2A. Incline dumbbell flye
Sets 4 Reps 10
Set an adjustable bench to an angle between 30 and 45° and lie back on it with a dumbbell in each hand. Turn your wrists so your palms face each other. Bend your arms slightly, then bring them up to meet above your chest. Push them together at the top, then slowly lower them to the sides.
2B. Dumbbell overhead press
Sets 4 Reps 10
Hold dumbbells at shoulder level and brace your abs. Press the dumbbells up over your head by locking your arms, then lower them back to shoulder level.
3A. Plyo press-up
Sets 4 reps 8-12
Get into a press-up position with your hands shoulder-width apart. Lower your body until your chest is a couple of centimetres above the floor, then explosively press back up so that your hands leave the floor and your body rises into the air.
3B. Triceps cable push-down
Sets 4 Reps 8-12
Attach a lat pull-down bar (or a straight bar) to a cable station. Grasp the bar with hands shoulder-width apart and tuck your elbows in to your sides. Extend your elbows to lock them out.
4A. Lateral raise
Sets 4 Reps 10
Hold a dumbbell in each hand at your sides. Keeping your arms straight, raise the weights until they are pralell with the floor.
4B. Overhead triceps extension
Sets 4 Reps 10
Attach a rope handle to the upper pulley of a cable station and grasp one end with each hand, holding it behind your head and facing away from the machine. Step forward into a staggered stance and pull the handle over your head, keeping tension in the cable. When your arms are straight, tense your triceps.
Manganiello's book 'Evolution: The Cutting Edge Guide to Breaking Down Mental Walls and Building the Body You've Always Wanted' is available now.
Sign up for workout ideas, training advice, the latest gear and more.
Thank you for signing up to Coach. You will receive a verification email shortly.
There was a problem. Please refresh the page and try again.