Joe Manganiello's body transformation story
By Athena Stylli last updated
True Blood actor Joe Manganiello explains how he went from skinny to ripped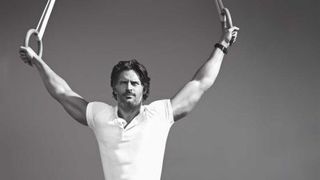 (Image credit: unknown)
Joe Manganiello, wearing faded jeans, a well-worn navy T-shirt, and a baseball cap pulled down low over his stubbled face, is doing his best to look mortal. But at almost 2m tall – all muscle and right angles – he couldn't be any more conspicuous on LA's Melrose Avenue if he were wearing a cape and fluorescent Lycra. So it's no surprise when someone stops him in his tracks. He appears to be a fan, asking, 'What have you been up to recently?' Manganiello proudly tells him he's leaving the following morning to shoot Magic Mike XXL, the sequel to Stephen Soderbergh's critically and commercially successful 2012 movie set in the seedy world of male strippers, in which he starred alongside Channing Tatum and Matthew McConaughey. The man, however, isn't impressed. 'When are you going to do something else?' he sniffs, implying that Manganiello is squandering his talents on such female-friendly fare, then walks away, leaving behind a tangible whiff of disapproval. 'What did he want?' Manganiello asks later, incredulous. 'Come on, dude! I haven't slept in months I've been working so hard on so many projects!'
Pecs appeal
It's not the first time the 38-year-old has been written off as a wavy-haired pretty boy who's more muscle than substance. Manganiello's first high-profile role, as werewolf Alcide Herveaux on HBO's supernatural drama True Blood, required frequent toplessness – and he captured the attention of millions of women (and quite a few men) in his thong and chaps as Big Dick Richie in Magic Mike, while his part as a DEA footsoldier in a sleeveless shirt nicknamed 'Grinder' in last year's Arnold Schwarzenegger action-fest Sabotage didn't do much to change his image. Though it's done wonders for his career, Manganiello doesn't take this image seriously. 'I've been on this interesting track, especially for someone who's such a dude's dude,' he says later that afternoon, resting his bare feet on a table in the back yard of his Hollywood Hills house. 'I'm this gun-shooting, football-watching, WWE-wrestling dude. All my friends are guys. But other dudes are like, "Fuck that guy. You're just the fucking guy on those fucking magazines that my girlfriend has".' It's tempting to wonder if those other dudes would have their feelings lessened or intensified by the fact that Manganiello has been dating Sofía Vergara, the curvaceous Colombian star of TV's Modern Family, since mid-2014.
The two met at the White House, Manganiello explains, while showing off a letter from Barack Obama, who received a copy of Manganiello's bodybuilding book, Evolution, which has a foreword by Schwarzenegger. 'Thank you for your kind gift,' it reads on official letterhead. So the president is somehow responsible for the relationship? 'I ain't giving that guy credit for any of it,' he says. It's not as much a dismissal of Obama as a testament to how Manganiello got the girl all on his own, thank you very much. 'Ask anyone, "Why'd you become an actor? Why do you make money? Why'd you become a rock star?" It's to get access to a dating pool,' he says. 'You work hard to get to go out with who you want.' The way Manganiello talks about Vergara, however, shows he's serious. 'Sometimes you can find someone who's incredibly real who's in a position that, at first glance, you wouldn't think they'd be in,' he says. 'It's taken me a while, but I'm in a good place.'
Wolf at the door
He may be in a good place now but Manganiello's rise to stardom hasn't exactly been smooth. Cast as Flash Thompson in Sam Raimi's 2002 movie Spider-Man – featuring in the memorable school-hall fight scene where Tobey Maguire's Peter Parker first demonstrates his powers – Manganiello thought his career was about to take off. However, the film didn't raise his profile as expected and he went off the rails, drinking a bottle of whisky and smoking two packs of cigarettes a day. While he's not quick to relive those days, he also doesn't shy away from discussing them. 'I haven't gotten anywhere by hiding anything,' he says. 'If I said to someone, "How come you didn't act for four years?" and there was no answer, I'd go, "Uh, OK, dude. I don't want to work with you because you're shady and weird".' He doesn't elaborate on the specifics of getting sober, though he'll admit he went through the steps of apologising to those he'd hurt and repaying old debts.
Sobriety had further benefits, including slews of offers for small TV parts. He showed his comic talent in How I Met Your Mother and brooded in the teen drama One Tree Hill. But it wasn't until he played the werewolf pack leader Alcide in True Blood that fans went rabid. While grateful for the opportunity and the rewards, Manganiello is insistent that such eye-candy roles are not what he's fundamentally about. 'I did what I had to do to play the game,' he says of his efforts to get into peak condition for the part. 'Because if you get the role as the new naked guy on the naked show, well, what are you going to do all day? You're going to get in the best shape of your life.'
Manganiello's journey is chronicled barbell by barbell in Evolution, which traces his transformation from a scrawny 70kg into the chiselled 104kg muscleman he is today. After winning the role, he hired Ron Mathews, best known for getting Hugh Jackman into Wolverine form, and started bulking up with what they called the Werewolf Workout. Countless bench jump-overs, plyo press-ups and goblet squats later, Manganiello was ready for action. 'On True Blood I had a lot to prove and a lot of ground to gain back from years I didn't work,' he says. 'I told myself I wasn't going to look back and think I made one misstep.'
Manganiello at high school. He definitely grew into his looks!
Animal magic
These days Manganiello has a little less to prove, with a bigger role in Magic Mike XXL – he describes the sequel as 'Animal House on the road' – for which he's breaking out the thong and the pecs again. 'I stayed in pretty good shape this year by just working out consistently – there was never a feeling of, "Oh, now I gotta buckle down",' he says. 'This year I've been working on pushing myself mentally. When I'm tired and my arms hurt, I'm jumping on the pull-up bar anyway.' His 60-minute daily routine with his trainer takes in squat racks, Olympic barbells and bumper plates. (For details of Manganiello's punishing upper-body workout, turn to p68.) 'I made a conscious effort to force myself to recover quicker,' he says. 'The workouts I do are so nasty, awful. I get in there for an hour, work really fucking hard, and get out.' But don't ever assume he's a meathead. Manganiello says he's still the same drama school student who spends weeks researching a role in libraries or online.
On the set of Sabotage, Schwarzenegger says he found that Manganiello works as hard as anyone in the industry. 'I really got to know him when we rehearsed. We all trained very carefully for a month before the movie, and when you do that you get to know the people very well, very quickly. You see who's the lazy bastard and who goes all out. Joe goes all out.' College buddy and Magic Mike XXL co-star Matt Bomer agrees. 'He has an enviable amount of courage and self-confidence, but not in an egotistical way. Watching him on set has made the job easier for me. I just have to do what he does, which is not be scared to throw myself into it.' Whatever he does next, he's wary of the onslaught of endorsement offers that tend to come his way thanks to his success and his image. Most recently he refused to shill for a new 'weight-loss' cream. 'I'm not going to be the face of some snake oil that I'd never use,' he says. 'And you know what makes you lose weight? Exercise.' That said, he's open to launching his own supplement line if it matches his message, which is that you have to be disciplined and not try to cheat the system. 'There's nothing wrong with a nitrogen releaser,' he says, 'or trying to find low-sugar, high-protein, healthy snacks.'
Old habits
A couple of years away from 40 and with his dark days long behind him, he's at ease in his skin – relaxed enough to have lobster mac-and-cheese on a night out with Vergara, but driven enough to know he doesn't have to give up on his body as he ages. 'What you can do with your body needs to be rethought,' he says. 'You can stay crazy fit at 50 and beyond. I don't plan on ever touching steroids or growth hormones. I plan on ageing naturally and seeing what that looks like.' Don't think he can pull it off? That's fine – as his most celebrated co-star once told him, being underestimated is one of the best things on Earth. 'Let people think you've gotten this far only because of your looks,' Schwarzenegger says. 'Let people expect you to live off the hunk stuff. Every time you do a movie or a TV show, they'll be blown away.'
Eat and train like Manganiello (opens in new tab)
Manganiello's book Evolution: The Cutting-Edge Guide To Breaking Down Mental Walls And Building The Body You've Always Wanted is available now
Sign up for workout ideas, training advice, the latest gear and more.
Thank you for signing up to Coach. You will receive a verification email shortly.
There was a problem. Please refresh the page and try again.