Gaz Beadle from Geordie Shore Interview
By Alex Harris last updated
Discover the workouts, supplements and gym habits Geordie Shore's Gaz uses to stay ripped while filming his debauched reality show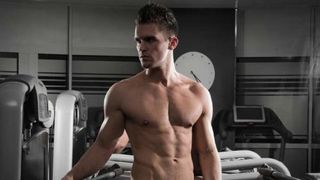 (Image credit: Unknown)
Do you feel pressure to stay in shape while you're filming?
It's the hardest thing. I haven't got to train, I can just lie in bed and not go to the gym at all but I've got to remember I'm on television in front of millions of people. In Cancun the only time we could go to the gym was 9am. We went to bed around 4am every night for 38 nights in a row and still got up every morning, downed a protein shake and hit the gym.
RECOMMENDED: Protein Shake Recipes
Are you and the other Geordie Shore guys competitive in the gym?
Scott [Timlin] and James [Tindale] are more competitive because they have similar builds. I'm 79kg and lean, but they are both around 88kg so they always end up getting into arguments about who's going hardest in the gym. Having said that, there's always going to be competitiveness when we're strutting around with our tops off, and if there's a photo shoot it only gets worse.
What motivated you to start regularly going to the gym?
I have a dead fast metabolism so if I don't go to the gym I lose weight - I can have five McDonalds a day and I'll still lose weight. I was quite skinny when I was younger so I started going to the gym every night with my mates, then I started upping my protein intake and began getting bigger. Seeing that change in my body shape got me hooked and I've been training hard ever since.
RECOMMENDED: How Ectomorphs Can Build Muscle
What do your typical workouts involve?
I have to do weights to keep the muscle bulk on, but I also do a little bit of high-intensity cardio such as sprints on an incline. Generally, I'll do chest and triceps one day, then shoulders and back, then legs, and then I'll have two days off. I'm fine once I'm in the gym, the toughest thing is fitting it in around my busy schedule.
Why did you start your own supplement comnpany and who is it aimed at?
I wanted to design something that fitted in with my lifestyle. VIDAR Nutrition is for people who haven't got the time, or don't want to, dedicate their whole life to the gym. The supplements burn fat to make sure you get the most from every workout, while their energy-boosters should give the little kick-start you need to actually get yourself to the gym.
What supplements do you take yourself?
I have VIDAR After-Shock detox in the morning and I also take mass gainers; one in the morning and one after I've been training.
Is an athletic body top of the list when it comes to choosing your partners?
It depends. I've seen some girls that I've actually gone to the gym and trained with and others who haven't set foot in a gym their whole lives. If you'd like your bird to go to the gym more maybe buy her some supplements as a hint. It's an indirect way of saying, 'look babe, any chance of you hitting the gym or what?'
Any dating tips?
Do something out of the ordinary and different such as going quad biking or doing some other kind of outdoor activity. Be fun and spontaneous and the bird will like it a lot more than trying to be cheesy and romantic, especially if it's still early days.
Further information about Gaz's supplement range is available at vidarnutrition.com (opens in new tab)
Sign up for workout ideas, training advice, the latest gear and more.
Thank you for signing up to Coach. You will receive a verification email shortly.
There was a problem. Please refresh the page and try again.