Daniel Craig Workout
By Richard Tidmarsh last updated
Daniel Craig is ripped, solid and powerful. Here's how to get that kind of physique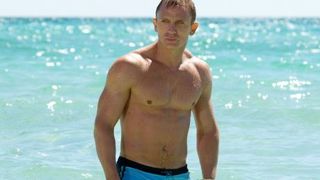 (Image credit: Unknown)
In This Series
The speculation about who be star in the next James Bond movie shows no signs of abating. Will it be Luther and The Wire leading man Idris Elba? Did Tom Hiddleston's barely credible fling with pop star Taylor Swift rule him out of contention? Or will an outsider come from nowhere to fill the 007 brief, much like Daniel Craig did when he was cast as the iconic secret agent in 2006's Casino Royale?
We're hoping that Craig will return for a fifth outing as Britain's smoothest export – but there's going to be no shortage of interested names should he hand in his licence to kill, not least because that image of him emerging from the sea, magnificent pecs proudly on display, catapulted Craig to a new level of celebrity.
RECOMMENDED: 5 Pectoral Exercises That Are Better Than The Bench Press
As Craig's sculpted torso indicated, the 21st-century Bond doesn't just rely on the fancy gadgets to get things done – he uses strength and explosiveness to beat up baddies, as well as lightning-fast reactions (helpful when driving Aston Martins as if they were F1 supercars). And let's face it, a physique that looks like his is pretty high on the average guy's wish list as well. So here's a workout from strength coach Richard Tidmarsh that will get you into similarly strong, athletic and powerful shape.
The routine includes the deadlift and toes-to-bar for full-body strength. To play Bond, Craig also needs balance and power, so he does movements such as the renegade row that target the stabilisers in the core, while the press-up to box jump brings the explosiveness required to chase freerunning bad guys through building sites à la Casino Royale. The workout finisher is a high-intensity interval blast on the rower to target fat and set you on the route to a lean, muscular, well-defined body.
The James Bond Workout
Complete rounds one, two and three with no rest between exercises. Complete five sets of each round before moving on to the next. Take a one-minute rest after the second exercise and rest for two minutes between rounds.
Warm-up
Row 300m at 50% effort, followed by 300m at 80% effort
Upward dog to downward dog transfer, 6 reps
Round one
Barbell deadlift, 10 reps at 80% of your one-rep max
Dumbbell renegade row, 5 sets of 5 reps
Press-up to box jump, 10 reps
Round two
Toe to bar, 20 reps
Round three
Kettlebell front squat to overhead press, 10 reps
V-up wood chop (lie flat on your back with your arms behind your head, power up into a V while chopping your arms to the floor on one side), 5 sets of 5 reps
Round four
Maximum-distance blast on the rower, 1min followed by 90sec rest x 3
Richard Tidmarsh is one of the UK's leading strength and conditioning coaches and owner of one-to-one training facility Reach Fitness London. For information on the training packages available at his gym, as well as his five-day intense training camps in Portugal, head to r4reach.com (opens in new tab). Follow Richard Tidmarsh on Twitter @RichTidmarsh (opens in new tab).
Sign up for workout ideas, training advice, the latest gear and more.
Thank you for signing up to Coach. You will receive a verification email shortly.
There was a problem. Please refresh the page and try again.