Autistic Triathlete Sam Holness Gives His Advice On How To Get Into Sport With A Disability
By Nick Harris-Fry published
The inspirational athlete didn't even ride a bike until he was 14 – but now he's aiming to go pro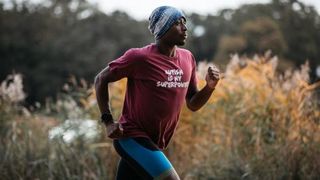 (Image credit: Unknown)
Sam Holness is a 27-year-old triathlete from London, which on the face of it isn't all that remarkable. What is remarkable is that Holness has autism – and he has ambitions of being the first athlete with the developmental disability to go pro.
Holness (opens in new tab), a Hoka One One (opens in new tab) ambassador, is well on his way to achieving that feat and is targeting the Ironman World Championships. Despite being a high flyer, his advice is relevant to anyone with any kind of disability wondering about how they might go about getting into sport.
How did you get into triathlons?
I started swimming when I was three years old but didn't ride a bike before I was 14. I then joined a running club in 2015 to get some exercise and socialise. I moved on to parkrun which became my favourite Saturday morning activity. I did the London Duathlon in 2017 in Richmond and my first sprint Triathlon at Dorney Lakes. I was hooked.
What appeals to you about the Ironman distance, as opposed to shorter events?
I think that my autistic traits make doing long-distance endurance events (Ironman, trail running, marathon swimming) more suitable. The biggest benefit that autism provides is my ability to focus for long periods and the ability to do the repetitive training necessary for long-distance events. I have never missed or failed to complete a training session unless I was injured, or the weather was very bad.
The shorter events require speed at all phases of the race and provide few opportunities to recover if you get something wrong. It is also more technical. I don't have the best fine motor skills so am not the fastest during transitions; however, during longer races I can make up for any shortcomings.
Do you have a background in other sports as well?
I tried several sports along with swimming when I was young and have a brown belt in judo but I don't really have a sporting background. This may partly be because there aren't many clubs or coaches that are trained to coach people with autism.
How does having autism affect your training?
My autism doesn't affect my training negatively except where finer motor skills are required. I love working on the aerobic and anaerobic machines in the gym. I normally swim up to 180 lengths in the local 25m pool, will happily row for 30km on the indoor rower and love pounding out the miles on the treadmill. I just get on with any targets that my coach [Holness's father Tony] sets. To compensate for any issues around strength and conditioning that require strong motor skills I do yoga, TRX, kettlebells and plyometrics – no barbells or heavy weights.
Were there specific barriers you had to overcome because of your autism? If so, do you have advice for people on how to overcome them?
Riding a bike and running properly were the two issues. I could swim well and was always fairly strong but wasn't very co-ordinated. I had to work on this. The other barrier to triathlons is the costs of wetsuits, bikes, running shoes and the entry into triathlons. I have been supported by my mum and dad, and I am also sponsored by Hoka One One, which gives me access to their newest and best shoes and apparel.
My advice to people is to learn to swim as soon as possible. It provides enormous confidence and can save lives. To people with autism and other disabilities: don't let your disability be a reason for not doing sport – get out there and get active.
See related
What has been your proudest moment in the sport so far?
There are a couple of races that I am really proud of. The first is cycling around Estoril during the Cascais 70.3 Ironman race and competing at the Superhero Series (opens in new tab) every year since it started.
What are your goals in the sport?
To compete at the Ironman World Championships in Hawaii and to become the first athlete with autism to become a professional triathlete.
Do you have any other advice for people with a disability looking to get into sports?
Sport can help with your confidence and self-esteem, and it will also make you healthier. In addition, so many people with a disability have mental health issues and sport is a great way of helping them to manage it. Get out there and try some sports until you find one that you like, and work at it every day.
Sign up for workout ideas, training advice, the latest gear and more.
Thank you for signing up to Coach. You will receive a verification email shortly.
There was a problem. Please refresh the page and try again.