Your One-Stop Beginner's Guide To Buying Triathlon Gear
By Nick Harris-Fry last updated
All the kit you need to master a multi-sport event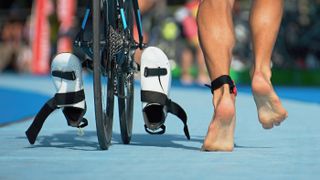 (Image credit: Unknown)
Once seen as the preserve of only the very fittest among us, triathlon's growth as a mass-participation sport has been remarkable. According to stats from British Triathlon, there were 220,000 race starts in Britain in 2015, an astonishing rise from 120,620 in 2009.
The number of events available also continues to rise in line with this increasing demand, and many of these offer shorter routes than the classic Olympic distance, giving newcomers more opportunities than ever to give it a go.
But to do so, you need to ensure you have the right kit. Since three different sports are involved, trying to work out what you need can be a daunting, not to mention expensive, affair. We enlisted Phil Paterson from RG Active – the official training partner of the Bloodwise Blenheim Palace Triathlon and AJ Bell London Triathlon – for some advice on what gear you need for a triathlon.
Swimming
1. The most important element to the swim is purchasing a comfortable, well-fitted suit. For men, it's wise to invest in a "jammer" suit which is tight-fitting and comes down to the knee.
2. Invest in a good-quality pair of goggles and make sure that they fit correctly to your face. Clear lenses are better for darker days when visibility is difficult.
3. Invest in – or be prepared to hire – a reliable wetsuit specifically for triathlons as they differ from traditional surfing or diving suits. Triathlon suits are much thinner on the arms, providing better flexibility when swimming.
4. Always try on the suit before purchasing – this is a must!
Cycling
1. Almost any bike will be fine to race with, providing it meets the British Triathlon Federation safety guidelines. Bikes must not have fixed gears and will need to have brakes.
2. If you are going to buy, invest in a road bike. They are the most versatile and useful for everyday training. Head to your local bike shop and ask to test ride some bikes – this is a great opportunity to get a feel for the bike. Stay within your budget – don't be talked into buying the most expensive bike in the shop.
3. Think recycle – second-hand bikes can be a brilliant way to get a much higher spec bike for a lower cost.
4. Bike shoes are not essential, but they are great race-day time savers because they improve efficiency.
5. Cycling shorts are essential because they provide vital comfort and support, and make sure you get tight-fitting thermal base layers (indispensable when training in the colder months).
6. Other smart layers include non-padded fleece tights, a windstopper jacket, leg warmers, gloves and a headband. Goggles will also help protect your eyes from the, dust and stones.
Running
1. Running shoes can really make or break the race. I recommend getting a running assessment done before purchasing so that your shoes are tailor-made for your gait.
2. Runners should wear whatever feels most comfortable. Breathable materials are a must. In colder weather make sure to layer up.
RECOMMENDED: The Best Men's Running Gear and What to Know Before You Buy (opens in new tab)
Triathlon Accessories
1. Invest in elastic laces. This could save you bundles of money, not to mention time while transitioning.
2. Get a race belt. They will keep your number securely in place and are far more convenient than faffing around with safety pins. They're cheap to buy and you'll only ever need one.
3. Trisuits are a personal preference – they will undoubtedly help make your race more seamless, but they're not essential.
4. The "nudity in transition" regulation means you must always be covered when changing from the swim to cycle. A good tip is to wear a tight-fitting top and a pair of cycling shorts underneath your suit.
RECOMMENDED: Triathlon Wetsuits, Bikes, Cycling Shoes And Running Shoes (opens in new tab)
For more information and to sign up for the AJ Bell London Triathlon or the Bloodwise Blenheim Triathlon, visit livetotri.co.uk/london-triathlon (opens in new tab) or livetotri.co.uk/blenheim-triathlon (opens in new tab)
Sign up for workout ideas, training advice, the latest gear and more.
Thank you for signing up to Coach. You will receive a verification email shortly.
There was a problem. Please refresh the page and try again.