The Best Gifts For Swimmers
By Michael Sawh last updated
If you know someone who's happiest in the water, grab them one of these great gifts for as little as £5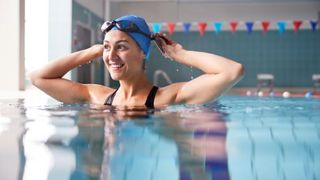 (Image credit: unknown)
In This Series
Swimmers are a different kettle of fish and it can be tricky to think of a present that they can put to good use. But whether they love going for a dip at their local pool or grabbing their wetsuit for some open-water (opens in new tab) action, the good news is there are plenty of thoughtful gifts that are sure to make their eyes light up.
We've picked out some affordable gifts that are perfect for the swimmer in your life, as well as some neat tech (opens in new tab) that's sure to enhance their experience in the water. Here are our top gifts for swimmers, ranked by price starting with the least expensive.
(opens in new tab)
If your swimmer cares less about lap times and more about exploring wild swimming spots, this simple log book helps to keep a clear record of those exhilarating wild swimming adventures. There are dedicated sections for noting important details like location and water temperature, and room to expand on what it felt like to go for that dip. Once it's all filled up, it's a nice one to pass on to someone else who's ready to swap the deep end of the pool for swimming in a more natural setting.
---
(opens in new tab)
Getting water in your ears when swimming can be annoying and uncomfortable, but it isn't inevitable. Pop in these BioEars silicone earplugs before getting in the water – while they are primarily designed to dampen background noise, they can also provide some protection from your earholes getting blocked up too. There are multiple pairs included per pack and they can be reused. Because they're soft and mouldable, one size really does fit (almost) all ears.
---
(opens in new tab)
Microfibre towels absorb a lot of water, dry very quickly and take up much less space than your standard towel, making them a useful item to sling into a swimming bag. They're also a better option for beach swims, picking up less sand. The Eono towel comes in a range of different colours and sizes (S-XXL) and can be stored away in a zip-up case in between swims.
CHECK AMAZON (opens in new tab)
---
(opens in new tab)
For anyone who's getting to grips with open-water swimming or thinking about swimming competitively outdoors, swimming with a safety float is something to get used to. Along with keeping swimmers visible and keeping your possessions dry, it also provides extra buoyancy to help swimmers take a break in the water. WholeFire's float comes in bright orange or yellow and is made from PVC, which is suitable for all season swimming conditions. It has a detachable waistband that can be secured to the body, and it can be inflated and deflated quickly making it easier to transport and store.
---
(opens in new tab)
It's good form to slip on a swim cap whether you're diving into an indoor pool or heading out into the open water. Speedo makes some of the best caps and this funky option will help the wearer stand out from the sea of plain-coloured caps. It will also, of course, protect hair from the chlorine in the pool and is best suited for those with medium to long hair. Like most caps, it's one size fits all.
---
Speedo Deluxe Ventilator Mesh Bag
(opens in new tab)
It's a smart move to have a dedicated bag for your swimming kit. This open-mesh bag from Speedo is designed to hold everything a swimmer could need and will help wet things dry off a little more quickly. It's secured with a drawstring for easy access and there are compartments inside to keep wet and dry items separate. Zip-up external pockets keep small essentials safe and dry. There are plenty of colours to choose from, from plain black to banana print, so you can find something that fits with your swimmer's style.
See related
Osprey Wetsuit Changing Mat
(opens in new tab)
There are few things worse than having to sacrifice a towel or some clothes to trample on to keep your feet clean and dry. Osprey's waterproof changing mat offers a sizable base to stand on while you change, and you can drop your clothes on it afterwards and use the drawstring to turn it into a bag. It's simple, but a really useful thing to have when you head out for an open-water swim.
Buy from Amazon (opens in new tab) | £19.37
---
(opens in new tab)
Runners and cyclists have them, so why shouldn't aquatic athletes have somewhere suitable to hang up their well earned bling too? This slick stainless steel medal hanger comes with two tiers, offering plenty of room to showcase the medals your swimmer is proudest of.
---
(opens in new tab)
Bone-conducting headphones are hugely popular with runners, but this pair can be worn in the water too. The Xtrainerz carry an IP68 waterproof rating, making them suitable for being submerged to a depth of two metres. The headphones include a built-in MP3 player with 4GB worth of storage, although there's no Bluetooth so you can't stream music from your phone when you're back on land. The sound quality is pretty solid in the water and the eight hours of battery life means they're good for a fair few sessions before they need charging.
Buy from AfterShokz (opens in new tab) | £139.95 | AfterShokz XTrainerz review (opens in new tab)
CHECK AMAZON (opens in new tab)
---
(opens in new tab)
A gift for the stats-obsessed swimmer, these smart goggles pack in an augmented reality display so you can read your real-time metrics on one of the lenses. They'll even automatically recognise when you rest and resume your swim. You can pair them with an Apple Watch (opens in new tab) and a range of Garmin watches (opens in new tab) to show off GPS data during open water swims too, and they also work with apps like Strava and Apple Health. The goggles come with a range of nose bridges to offer a good fit for most, and 16 hours of battery life from a single charge should comfortably cover a week's worth of hard training or longer if you're doing one or two swims a week.
Buy from Form (opens in new tab) | £149 | Form review (opens in new tab)
---
(opens in new tab)
A sound investment if you're venturing outside for a swim or taking your swimming to a more competitive level, the fleece-lined Dryrobe changing robe is designed to block the wind and keep you warm while you change into and out of your swimming gear. There are pockets to store away your valuables and clothes and it's washing machine-friendly.
Mike is a freelance journalist, and a keen runner and swimmer. As a contributor to Coach, he covers swimming and reviews rowing machines.
Sign up for workout ideas, training advice, the latest gear and more.
Thank you for signing up to Coach. You will receive a verification email shortly.
There was a problem. Please refresh the page and try again.