The Best Swimsuits For Doing Laps Of Your Local Pool In
By Ella Foote last updated
Choose comfort and performance over frills: what to look for when buying a swimsuit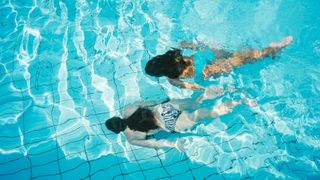 (Image credit: unknown)
Buying women's swimwear comes with some challenges. Brands often focus their marketing on how women look in their swimsuits rather than on the technical details of how they perform in the water. While swimsuits can be picked up cheaply with your supermarket shopping, it's worth spending time and money finding one that suits your body shape and swimming style. Swimwear that makes you feel good in and out of the pool is key – you should feel comfortable and supported when wearing it so you can perform better in the water.
What to look for when swimsuit shopping
You want your swimwear to be snug but not tight. It should feel like a second skin, but not leave red marks on your skin when you take it off. If it's too loose it will fight with the water causing drag and discomfort.
Whether you go for a high-cut or low-cut leg is mostly down to personal choice, but be aware that a high-cut leg offers greater freedom of movement in the water. Racerback styles are designed for greater flexibility and movement in the shoulders, which enables you to swim faster. Again, it's a matter of personal preference, but it's essential that the swimsuit is comfortable.
Higher necklines are generally a lot better for pool swimming, ensuring water doesn't plunge down your cleavage as you push off, tugging the swimsuit down with it. Regardless of breast shape or size, your chest should be supported but not squashed by your swimsuit. If your breasts move too much it can cause chafing on the nipples and under the arms. Some brands like Deakin & Blue (opens in new tab) will adapt a suit with a pocket if you have had breast cancer and use a prosthetic. Padded swimwear is best avoided because the padding acts like a sponge and makes it harder to swim.
Many brands now offer fabrics made from recycled waste. These are not only better for the planet but often more chlorine-resistant too. Softer fabrics or trim will ensure less chafing. However, it's best to save the frills and strings for the beach. When heading to the pool, decorative additions to a swimsuit just become sodden and increase drag. Details can rub and catch; you're better off choosing a sleek design.
Deakin & Blue Essential Swimsuit
(Sizes 8-20, AA-HH Cup)
Offering "transformative" swimwear designed by women for women, Deakin & Blue is a small business that's a big hit with its customers. The beautifully cut Essential Swimsuit is made with luxury bonded Lycra and butter-soft powermesh. Its sculpted shape offers support across the bust, and the soft mesh means no chafing. The recycled ECONYL fibre is highly resistant to chlorine, salt water and oils which means the suit is built to last, even if you swim in it several times a week.
Buy from Deakin & Blue (opens in new tab) | £95
---
Zoggs Cable Zipped High-Neck Swimsuit
(Sizes 8-18)
Ideal for everyday training, this slick, high-neck swimsuit gives good support across the chest area. Exposing the shoulders enables greater movement in the water, especially for freestyle swimmers, and the extended zip helps when changing. Made from lightweight Ecolast+ (fibre produced in part from recycled plastic bottles), it should feel like a second skin. There is no bust support though, so this one is suited to smaller bust sizes. The sizes listed on the website are confusing, though, so here's a hot tip: the numbers you can choose from refer to chest measurements in inches – click on Zoggs' size chart to cross-reference that to the size.
Buy from Zoggs (opens in new tab) | £35
---
Speedo ContourLustre Printed Swimsuit
(Sizes 8-24)
(opens in new tab)
This swimsuit includes Xtralife Lycra, which is said to last twice as long as standard swimwear fabric. As well as offering medium bust support, it has adjustable straps for a tailored fit around the bust and to tighten things up as the swimsuit wears. The smoothing technology will help with drag as you head up and down the lanes.
Buy from Speedo (opens in new tab) | £57
See related
Nike Victory Collection
(Sizes XS-2XL)
(opens in new tab)
A collection of performance swimwear for women seeking full coverage, as well as full range of motion in the water. The collection includes tunic tops (opens in new tab) (£71.95), swim leggings (opens in new tab) (£60.95) and hijabs (opens in new tab) (£29.95-£31.95) that can be mixed and matched. The streamlined design and lightweight fabric help minimise drag, enabling swimmers to move through the water with confidence.
Buy from Nike (opens in new tab) | From £29.95
---
Selkie Marilla Bladeback Costume
(Sizes 8-18)
Selkie swimsuits are comfortable, don't chafe and hold their shape with wear. Made from ECONYL fibre, which is chlorine-resistant and breathable, the Marilla swimsuit offers hidden support and soft straps in racerback style. Selkie's costumes are designed to be close-fitting for streamlined swimming, so go a size up if you prefer a looser fit.
Sign up for workout ideas, training advice, the latest gear and more.
Thank you for signing up to Coach. You will receive a verification email shortly.
There was a problem. Please refresh the page and try again.