The Best Swimming Goggles
By Michael Sawh published
Choose the right goggles for indoor pool training or open water sessions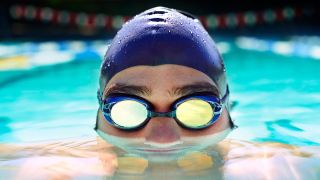 (Image credit: Getty Images)
If you swim, you'll know that it's essential to choose wisely when buying goggles. Seeing is, of course, handy, as is protecting your eyeballs from chlorine when swimming indoors, salt when swimming in the sea, and the sun's harmful UV rays when swimming outdoors.
There are also now goggles designed to offer a better fit for swimming in open water, as well as goggles that can offer a competitive edge and even a pair that can track your time in the pool and is the match of the best swimming watches.
Below you'll find our pick of best goggles with something for all types of swimmer. Whether you're into lane swimming to keep fit or are gearing up to race in a triathlon, you'll find a suitable pair here.
You may also like to pair them with one of the best swimming headphones.
The Best Swimming Goggles
(opens in new tab)
1. Aqua Sphere Xceed
Most durable swimming goggles
Specifications
Gasket material:
Softeril
Reasons to buy
+
Streamlined design
+
Anti-scratch lens protection
+
Mirrored and non-mirrored lenses
Reasons to avoid
-
Made for competitive swimmers
-
Mirrored version costs more
Aqua Sphere's Xceed goggles are aimed at competitive swimmers and frequenters of the fast lane, going big on comfort and making sure they're fit to last. The curved lenses have anti-scratch properties as well as Aqua Sphere's exo core frame tech to offer added lens protection. They come in either mirrored or non-mirrored looks, and feature a Softeril material to help them fit snugly, with four nose bridge sizes to ensure optimal comfort.
---
2. Decathlon Nabaiji Soft 100
Best swimming goggles for beginners
Specifications
Gasket material:
Silicone
Reasons to buy
+
Affordable
+
Anti-fog treatment
+
UVA and UVB protection
Reasons to avoid
-
No additional nose bridges
-
Only one lens option
If you're planning to begin swimming regularly, you want goggles that prioritise comfort. Decathlon's soft goggles provide big, clear lenses that have been given an anti-fog treatment. There is a simple strap that's easy to adjust to get a snug, reliable fit. Whether you're spending most of your time in the pool or heading into the open water, these goggles will work for you – and won't burn a big hole in your bank balance.
---
(opens in new tab)
3. Speedo Aquapulse Pro Goggles
Most comfortable swimming goggles
Specifications
Gasket material:
Silicone
Reasons to buy
+
Design reduces eye marks
+
UV protection
+
Strong gasket seal
Reasons to avoid
-
Nose bridge not replaceable
-
Aimed at open-water swimmers
Proof that you don't have to spend vast sums to get a pair of good Speedo goggles, the Aquaplus is a new addition to the family, built for comfort and suited to pool and open-water swims.
The goggles have cleverly constructed "sidearms" designed to relieve pressure when they're strapped around your head, and Speedo's IQfit seal helps you avoid marks around your eyes after swimming.
The anti-fog, wrap-around-style lenses mean open-water swimmers can get a good, wide view of what's in front of and around them. The goggles also come with UV protection to guard your eyes against sun damage when you're in the water.
---
(opens in new tab)
4. Zone3 Vapour
Best swimming goggles for triathlon training
Specifications
Gasket material:
Silicone
Reasons to buy
+
Large lenses for wide vision
+
Available with different lenses
+
Anti-fog protection
Reasons to avoid
-
Aimed at open-water swimming
-
No adjustable bridge
Zone3's goggles are great for open-water swims, with curved lenses that offer a wide field of vision. There are also pairs available with photochromatic or polarised lenses, to help you either adapt to bright or low-light conditions or combat glare from the sun. The silicon gaskets are also comfortable enough for long sessions in the water.
---
(opens in new tab)
5. HUUB Altair
Best swimming goggles with prescription lenses
Specifications
Gasket material:
Silicone
Reasons to buy
+
Additional nose pieces
+
Swappable lenses
+
Anti-fog coating
Reasons to avoid
-
Prescription lenses cost extra
-
Not cheap
While the option for short-sighted swimmers to buy prescription lenses (covering -1.50 to -6.00 prescriptions) will be welcome, there are plenty of reasons for every swimmer to consider these. These goggles allow you to swap between three included polycarbonate mirrored lenses to suit low light, artificial light or bright sunlight. The goggle gaskets are made from silicone to offer a snug fit, and there are also three interchangeable nose pieces so you can customise the fit.
---
(opens in new tab)
6. Speedo Fastskin Pure Focus Mirror
Best swimming goggles for racing
Specifications
Gasket material:
Silicone
Reasons to buy
+
Streamlined look
+
Anti-fog treatment
+
Comfortable nose bridge
Reasons to avoid
-
Made for competitive swimmers
-
No adjustable nose bridges
Like Speedo's Fastskin suits, the Fastskin goggles are all about helping you swim faster. They're not cheap, but with that price comes a promise to help you shave seconds off your time in the pool. Those gains come in the form of a streamlined design that offers less drag than even Speedo's Fastskin Elite goggles. Speedo uses a leak-free goggle seal that's designed to keep goggle marks to a minimum and an anti-fog treatment to prevent misting. Match them with Speedo's Fastskin cap for a super streamlined look.
---
(opens in new tab)
7. Roka R1
Most versatile swimming goggles
Specifications
Gasket material:
Thermoplastic Rubber (TPR)
Reasons to buy
+
UVA, UVB and UVC ray protection
+
Anti-fog coating
+
Includes useful microfiber bag
Reasons to avoid
-
Can't adjust nose bridges
-
Aimed at triathletes
These have the seal of approval from FINA, swimming's international governing body. A strong option for open-water swimmers, these competition-certified goggles feature a retroscopic lens angle that boosts your field of view, giving you a better sense of the waters ahead and those swimming around you. Roka uses its SPCTRM optics to offer a tint to suit all swimming conditions from darkness to fog, haze and bright sun. They're designed to protect eyes from UVA, UVB and UVC, and come with a coating to stop those lenses getting foggy too.
---
Best smart swimming goggles to replace your sports watch
Specifications
RRP:
Subscription $24/£22 a month
Gasket material:
Silicone
Reasons to buy
+
Accurate swim tracking
+
Useful on-board workouts
+
Smart display to view swim metrics
Reasons to avoid
-
Doesn't track open-water swims
-
Expensive
-
Workouts require subscription
There's no more checking your watch or guessing your pace with these smart goggles. They track swims accurately in the pool and also offer some useful features for open-water swimming. Motion sensors track metrics like number of lengths, stroke rate and can recognise when you've stopped for a rest between intervals. That data is projected on the inside of one lens so you're aware of your performance in real time.
(opens in new tab)
When you head into open water, the Form goggles can be paired with Garmin watches and Apple Watches to display stats. They can also connect to some Polar heart rate monitors to add your pulse to the data available, and Form has added new structured workouts to follow too. The goggles themselves are built to last and the clear lenses have the same anti-fog coating used in diving masks. As well as having their own app that offers detailed stats, the goggles are compatible with apps like Garmin Connect and Strava. They're expensive but as wearable tech for swimmers goes, these smart swim goggles are the best money can buy.
Read more in our Form review
Buying Advice To Help You Choose The Best Swimming Goggles For You
You know what they are primarily built to do: keep the water out of your eyes. All the goggles above will do that, but there are design elements and features that can make them better suited to your preferred type of swimming.
Types Of Swimming Goggles
Leisure goggles put a bigger emphasis on comfort with a larger gasket (the normally silicone part that fits into your eye socket) and usually have more adjustable straps. These will be the cheapest options.
Racing goggles have a lower profile with harder-feeling lenses that reduces the drag to make sure you're not losing any speed in the water.
Open-water goggles will offer UV protection, and can also offer polarised or mirrored lenses. Some goggles offer interchangeable lenses.
Design Features To Watch Out For
Switchable nose bridges help to customise the fit. If you've struggled to get a tight, long-lasting seal in the past, it may be worth buying a pair with this extra means of tailoring the fit.
Anti-fog treatments can help avoid your vision becoming obscured as you build up a sweat. They're common on all types of goggles but can be especially helpful in open-water ones where you need to sight regularly. These apply to all goggles, so if you can find ones that offer some form of anti-fog treatment or element in the design, this can help to make sure your vision remains clear for plenty of swim time.
Mike is a freelance journalist, and a keen runner and swimmer. As a contributor to Coach, he covers swimming and reviews rowing machines.
Sign up for workout ideas, training advice, the latest gear and more.
Thank you for signing up to Coach. You will receive a verification email shortly.
There was a problem. Please refresh the page and try again.