Adult Swimming Lessons and Pools in London
By Stuart Messham , Nick Harris-Fry last updated
Five classes for every level of swimmer, from the phobic to the triathlete, and the finest stretches of water in London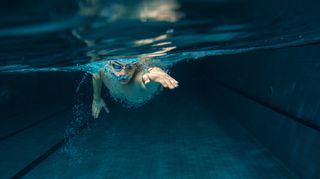 (Image credit: Unknown )
In This Series
Adult Swimming Lessons and Pools in London
Swimming is low-impact, improves cholesterol, builds muscle, delivers a full-body workout and encourages its participants to wear lovely Lycra, all at once. What's not to like?
Anyone can benefit from swimming, whatever your weight, level, aptitude or predilection for tight sportswear. If practised enough, this cardiovascular activity will eventually heave every last bit of fat from your body. You might feel weightless in the water, but every action you make while submerged helps to turn surplus fat into lovely muscle, with the average 70kg human burning more than 400 calories every 60-minute session.
Gym work tends to isolate muscles and muscle groups but swimming works them all at the same time, including the main one: your heart. During a conventional swim it enlarges and becomes more efficient at pumping blood. The broad range of motion required to actually get anywhere means your joints and ligaments not only stay flexible, but they stretch, encouraging flexibility both in and out of the water. And then there's your abs. If a washboard stomach is your aim, a regular swim should be part of your game.
RECOMMENDED: 5 Key Benefits of Swimming
Unfortunately, swimming is also one of the most unforgiving sports for beginners. Whatever your overall fitness level, if your technique is shoddy, you'll be completely knackered after a few lengths and it might seem like a bit of waste of time.
Improving on your own is tricky – it's hard to refine a technique that you've probably been using since you were at school. You're as likely to ingrain errors as iron them out, and any deviation from perfect form will slow you down a huge amount in the water.
Taking swimming lessons, therefore, makes a great deal of sense. In a bid to tweak/completely rebuild a horrendous front crawl technique, Coach took three one-hour lessons with Swimming Nature instructor Sam Hunt at Fitness First Baker Street.
"The majority of the adults I teach want to improve their technique and work on breathing," says Sam. "A lot can swim quickly, but don't know how to hold themselves in the water and relax."
Aside from the swimming quickly part, this is the position Coach was at before the lessons started. Fixing every flaw wasn't possible in a mere three hours, but at the end of the sessions the basics of breathing were in place – no more keeping our head out of the water at all times – and many bad habits had been identified and were on the way to being eliminated.
Even if there's not time to master the front crawl, or whatever your aim is going in, being able to speak about what's needed and practise everything under the keen eye of an expert will make a big difference once you're swimming solo once again.
Swimming Nature sessions are available at select Fitness First clubs. There's more info at fitnessfirst.co.uk (opens in new tab) and swimmingnature.com (opens in new tab).
Common mistakes
If you're flailing away in the water for little reward with your front crawl, make sure you're not committing these cardinal swimming sins, as described by Sam.
"The most common error I see is head position," he says. "A lot of the students I see at the start either swim looking straight down or swim with their head up. This affects the body position and can make you slower as the body slightly drops. The best position is somewhere in between.
"Another error I come across is that the arm action is too rushed, leading from the elbow out of the water too early. We teach to fully extend the arm to get more power through the strokes.
"The last error would be the leg kick. This is either way too fast and kicking from the knee or ankle, or stiff and minimal from the hips, which is not doing a lot of good."
London's Best Swimming Lessons for Adults
For Phobics
According to the NHS, phobias are defined as an "overwhelming and debilitating fear of an object, place, situation, feeling or animal". A phobia of water is called aquaphobia. TJ's Academy of Swimming (formerly the UK Academy Of Swimming) is a centre based in Barnet, north London, that provides specialist classes aimed at helping people conquer their fear. Owner Tiraj Shah explains: "As part of the process, our teachers practise a series of techniques [with the use of aids] which involve the swimmer moving into a horizontal position and then returning to a vertical position both within the depth and out of it." Group classes (max of four people) are £15 each, private one-to-one sessions are £35. tjsaos.com (opens in new tab)
For Beginners
According to the Amateur Swimming Association (ASA), one in five people in the UK can't swim. That's about nine million people, which is shocking considering we live on an island. Instructor Harley Hicks, 24, says the reasons for this are often rooted in childhood. "Some had bad experiences in the water as kids, others didn't enjoy it, and some parents didn't think it was important."
However, with a new health initiative sweeping through schools, swimming lessons are now being made more fun. This is having a knock-on effect – one of the main reasons adults give for finally taking the plunge is that they want to swim with their kids. It's never too late to learn, and you can so at the London Aquatics centre where a 14-week ASA-approved course will cost £101.92. londonaquaticscentre.org (opens in new tab)
For Adults to Improve
A great way to improve your skills is to have an end goal. The Sainsbury's Swimathon is a nationwide event that has been encouraging people to take on swim challenges while raising money for worthy causes since 1986. You can get involved at over 600 centres. Pool co-ordinator Perri Daniel says, "You can enter by yourself or as part of a team, from a 1.5km swim up to 5km. It depends on your proficiency and how much you want to challenge yourself. We find the team challenges are very popular, because you tend to work harder so you won't let your team down." 18th-20th March, swimathon.org (opens in new tab)
For a Triathlon
A standard (aka Olympic) distance triathlon swim is 1.5km, which equates to 60 lengths of a 25m pool. Triathlon coach Joe Beer says, "Triathlons are not as difficult as they were once perceived, but with the swim section being first it's important not to burn yourself out. The infrastructure with regards to open-water swimming has improved recently, which makes training a lot easier. Another way to prepare for the cold without even going out is to take some cold baths. But the best advice I can give is to make sure you get a wetsuit that fits properly."
Strictly Swimming can't make the water any warmer, but it does offer a range of courses for triathletes of all levels at clubs throughout London. No membership is required, and prices start from £150 for a six-week course. strictly-swimming.com (opens in new tab)
RECOMMENDED: Alistair Brownlee's Triathlon Swimming Workout
For Specific Strokes
Advanced swimmers more focused on polishing their technique could do worse than fork out for a few private lessons. Swim For Tri have centres all over London. Director Keeley Bullock says, "The first thing we do with a new client is assess them, then discuss what their aims are. Some very general advice would be to kick from the glutes and hip flexors, and make sure you pay attention to upper-body rotation. We have a range of coaches whose job it is to identify your weaknesses and work on them with you." Bespoke one-to-one coaching sessions are based in Shoreditch and start from £45 per session. swimfortri.co.uk (opens in new tab)
Sign up for workout ideas, training advice, the latest gear and more.
Thank you for signing up to Coach. You will receive a verification email shortly.
There was a problem. Please refresh the page and try again.