Is Blue Fuel's Supplement Subscription Service Any Good?
By Nick Harris-Fry last updated
This new supplement service is personalised to the exercise you do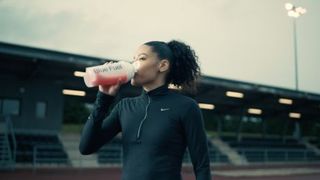 (Image credit: Unknown)
This page was originally published on 13th July 2020. Blue Fuel no longer offers a subscription service, it sells individual products.
Once you get serious about your exercise, whatever that exercise is, you'll find out you need to support your efforts with the correct nutrition. You can and ideally should do this through your normal diet, but if you're training every day or need a more convenient nutrition solution for any reason, then you may choose to use supplements.
However, once you do start looking into supplements, you might decide it's not worth the hassle in the face of the vast range available – especially if you're not really sure exactly what you need for your sport. Do runners need a load of protein after a training session? What kind of carb intake should you aim for if you're training hard but trying to lose weight?
New supplement service Blue Fuel (opens in new tab) aims to answer these questions for you, and provide the right products in the optimal amounts to support your training.
The supplements have been developed with sports nutritionists at Chelsea FC, and the service is currently available only by subscription. To sign up you answer a few questions about your regular activity, and are then recommended a box of supplements to be delivered once a month.
There are five products in the Blue Fuel range: whey protein powder, protein bars, recovery powder (which is high in carbs as well as protein), electrolyte-rich hydration sachets and energy gummies, which come in caffeine and non-caffeine varieties.
We've tried all the products and they're all tasty (though the white chocolate raspberry bars are a mite too sweet) and the powders are easy to mix. They all provide macronutrients in amounts pretty typical to similar supplements, though the 30g of protein in a serving of the protein and recovery powders is high (20g-25g per serving is common). One downside to the service is that there are no vegan protein powder or bar options.
The website's questions to personalise your products are pretty basic and, depending on your sport, a little confusing. You're asked what sports you do, and then on the next page you're asked how much you compete, as well as things like how many additional cardio and strength sessions you do.
This section is really aimed at people doing team sports, so runners, cyclists and weight trainers may not be entirely sure how to log their sessions. The team at Blue Fuel told us to select the sports you do on the first page, but actually log the amount you do on the second.
Subsequently you enter personal details like age, height and weight, plus a fitness goal – lose, gain or maintain weight – and then your product recommendations are generated. Given that you're usually recommended three to four products each time and there are only five in the range, the actual variation between people mostly comes down to the suggested amounts to order.
We played around with the variables and found some of the changes in recommendations a little odd at first – a runner looking to maintain weight would be told to order protein powder, but a gym-goer looking to gain weight would be recommended protein bars instead because they contain more carbs and calories.
It's pretty simplistic in truth, and the idea of it being highly personalised to the level required by a pro footballer at Chelsea Football Club is a stretch. If you know about your nutrition already, you'll probably tinker with the order details to make it better suited to you, which you can do easily at the final stage of the sign-up process; if you're completely new to sports supplements, though, it is quite useful.
See related
Once you've signed up you can use the app to plot your training routine, and Blue Fuel will then recommend when to use the different supplements you've ordered. There are also other handy things like recipes you can use to hit your wider nutritional goals.
You can only get the supplements through the subscription service at the moment and there is no free trial version of the app. You have to sign up with an order to log in and see the recipes and advice on when to take supplements.
That said, you can cancel your subscription whenever you want, or pause or adjust the products you order. If you just view it as picking up a batch of products in one go, the prices are pretty much in line with what we've seen from most supplement companies – perhaps towards the high end. The protein powder is £13.99 for 500g, the recovery powder is £17.99 for 1kg, the protein bars are £27.99 for a box of 12, the energy dummies are £12.99 for a box of ten and the hydration powders are £6.99 for box of ten.
While we were not that impressed with the level of personalisation involved in Blue Fuel's supplement service, and it is skewed towards team sports more than runners, cyclists and gym-goers, the advice around when to take them is a step up on what other companies provide, which is normally limited to the blurb on the tub and website product page. The recipes are a welcome bonus as well.
The supplements themselves also satisfy – the gummies in particular are a tasty pre-workout treat – so it's worth investigating the service if you are looking for a little extra insight into what you need to support your training.
Sign up for workout ideas, training advice, the latest gear and more.
Thank you for signing up to Coach. You will receive a verification email shortly.
There was a problem. Please refresh the page and try again.