Will Necking A Boatload Of B Vitamin Pills Protect You From Pollution?
By Coach Staff published
No-one's sure, but a small study suggests B vitamin supplements could offset some of the harm from air pollution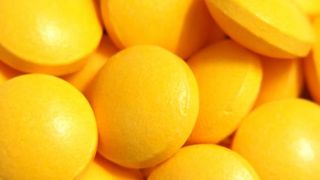 (Image credit: Unknown)
There's very little that individuals can do to avoid or counter the health issues caused by the air pollution that plagues big cities around the world. Wearing a mask and taking back roads that avoid traffic jams are just about the only things you can try while waiting for the powers-that-be to clean up the air around you.
So when news breaks that vitamin B supplements could protect against air pollution damage, it's understandable that urbanites got overexcited.
A small study on ten people published in journal Proceedings Of The National Academy Of Sciences found that a four-week course of vitamin B supplements limited the effect of pollutants referred to as PM2.5 on genes by 28-76%.
PM2.5 is particulate matter where the particulates have a diameter of less than 2.5 micrometers. That's small enough to penetrate deep into the lungs and cause health problems.
The damage done to our health by PM2.5 could be down to the effect it has on human genes, so if, as the new study suggests, vitamin B supplements do limit this effect, they could offset some of the risk of breathing polluted air.
However, and you had to know there was a however coming, this is a very small study, and it didn't even determine the size of the vitamin B dose that is required to offset the effect of PM2.5.
The scientists behind it acknowledged its limitations and called for more research in the area.
"A more sophisticated study is urgently needed in Beijing or India or Mexico just to see whether the protective effect can still be effective in those who are chronically exposed," said Jia Zhong from Harvard School of Public Health, who led the research.
It's promising, but vitamin B supplements cannot yet be hailed as the saviour to humanity's air pollution woes – and the focus undoubtedly should remain on cleaning up the air in the first place anyway.
If you're fretting about pollution in London, and whether you should take your exercise inside on any given day, there are several ways to keep tabs on the state of the air in the capital. The Transport for London (opens in new tab) and Mayor of London (opens in new tab) websites have updates on air quality, and there's lots of useful information on the London Air Quality Network (opens in new tab) website.
RECOMMENDED: Five Tips For Minimising The Risks Of London's Air Pollution
Coach is the place to come for all your health, fitness, and personal wellness needs.
Sign up for workout ideas, training advice, the latest gear and more.
Thank you for signing up to Coach. You will receive a verification email shortly.
There was a problem. Please refresh the page and try again.