The Best Flip-Flops For Men Of Summer 2020
By Chris Sayer last updated
Expose your toes with confidence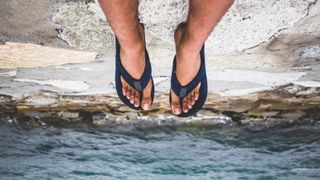 (Image credit: Unknown)
After months and months of hiding them inside trainers, boots, shoes and those novelty slippers your other half bought that you've not managed to successfully sneak into the bin yet, bringing your feet out of hibernation for a summertime airing can feel daunting. Will you be revealing your horrendous Hobbit toes to a chorus of terrified shrieks and wails? Who can say? But what we can confidently declare is that doing so in a set of crisp, cool and stylish flip-flops vastly reduces the chances of onlooker horror. We've rounded up the best sets money can buy right now.
TOMS x Outerknown Grey Lagoon
(opens in new tab)
There's sustainable fashion and then there are these flip-flops from the future. Made from regenerated nylon (yawn) and a midsole foam derived from algae (what?!), harvested using a method that cleans and filters water. Serious sci-fi stuff as well as seriously stylish.
Buy from Toms (opens in new tab) | £44
---
(opens in new tab)
Now that it's safe to admit you like Crocs without fear of public shaming let us introduce the Bayaband. It's a coming together of two of the plastic clogmaster's most famous silhouettes – the Baya and the Crocband. In other words, a double dipper of guilty pleasure.
Buy from Crocs (opens in new tab) | £29.99 (currently reduced to £17.99)
---
(opens in new tab)
Danner makes seriously good walking boots, which is great news for hiking in the hills but bad news when the heat ratchets up. At least it was, before the release of the Lost Coast Sandal – a flip-flop that takes its cues from the brand's popular Mountain 600 hiking boot. The result is an extremely comfortable and very handsome option that you can wear all day long, at almost any altitude.
Buy from Danner (opens in new tab) | $100 (around £84)
---
(opens in new tab)
Here comes the curveball. Step into summer with all the style of a samurai in these traditionally-made cedar thongs, crafted in Hita in Japan, but updated with an EVA sole. Tenner says you won't come across anyone else padding through your local park in these this summer.
Buy from Snow Peak (opens in new tab) | £70
---
See related
---
The North Face Base Camp II
(opens in new tab)
The bigshot brand of peak-seeking exploration has gone ultra-cushy, opting for an egg-box design on the topsole as well as arch support for extra comfort. All that, and the legendary Base Camp material for a strap – a fabric that'd probably survive the apocalypse, let alone the hail of foodstuffs falling from your overflowing BBQ plate.
Buy from The North Face (opens in new tab) | £30
---
(opens in new tab)
Nothing over-the-top about this grown-up pair. These thick-soled flip-flops are made from premium calf leather and a cotton toe-post for all-day comfort.
Buy from Barbour (opens in new tab) | £59.95 (currently reduced to £36)
---
(opens in new tab)
One of the premier names in flip-floppery takes the extra-cushioned Mush topsole, which promises to mould to your foot, and adds a canvas upper. It wouldn't look out of place whether you're on a sun-kissed beach in Hawaii or Hastings.
Buy from Teva (opens in new tab) | £30
---
(opens in new tab)
Anyone who grew up on the coast during the early 2000s already knows the sneaky little surprise the Reef Fanning flip-flops have hidden on the underside. For those who didn't all we'll say is, in these, you'll never be short of a device to crack your beer bottle open with. Cheers to that.
Buy from Surfdome (opens in new tab) | £48.07
---
(opens in new tab)
The Aussie brand is "on a quest to find the perfect flip-flop" and we think it's got pretty close to the final destination with these, especially with a mix of recycled rubber, selvedge cotton and natural fibres.
Buy from Gumbies (opens in new tab) | £25
---
(opens in new tab)
Years of style chat under the bridge, and we're yet to discover a time, place or item of clothing that Paul Smith's famous colour bands are not absolutely ideal for.
Buy from Paul Smith (opens in new tab) | £45 (currently reduced to £23)
Craft beer drinker, Devonian, fisherman and former content director of Coach online, Chris contributed style coverage and features between 2016 and 2019.
Sign up for workout ideas, training advice, the latest gear and more.
Thank you for signing up to Coach. You will receive a verification email shortly.
There was a problem. Please refresh the page and try again.