Advertisement Feature
What You Should Do Before And After Every Workout For Clearer Skin
By Coach Staff published
Don't fret, it'll only take a minute if you have a FOREO LUNA mini 2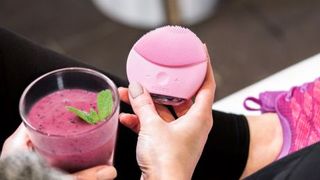 (Image credit: Unknown)
It's easy to forget that while you're working out, your skin is also working hard. Your sweat glands go into overdrive in order to cool you down and as the sweat is pumped out, bacteria and toxins are expelled from your pores. It's your skin's built-in detoxing system (nice one, skin).
However, when our pores are clogged with make-up, or dirt and grime picked up over the course of our daily lives, those poor old pores cannot effectively expel the nasties. And that's when we get skin breakouts.
So to help your skin get the most out of your workout along with the rest of your body, it's best to cleanse your face properly both before and after exercising. This will ensure your skin has the best chance to cleanse itself while you're working up a sweat, leaving you with smooth, clear skin and a post-workout glow. Boom.
Introducing the LUNA mini 2 by FOREO, a Swedish tech brand focusing on beauty and wellness.
Why use a gadget to wash my face?
If you never seem to have the time for more than the bare minimum in terms of skincare, the idea of using a gadget to cleanse your face may seem like unnecessary faff. However, it turns out that just using a cleanser and your hands is not actually enough to unclog those pores. And that's why that sprinkling of stubborn blackheads hasn't shifted in a decade.
You need something that will gently massage your skin while you're cleansing it. Using a face flannel or muslin cloth can help, but these need to be washed regularly and the laundry detergent residue can end up irritating the skin. And who takes a muslin to the gym?
The high tech face race
Exercise, eating well, and an effective skin care routine, helps to detox and prevent workouts
In recent years, hi-tech face-cleansing devices have started appearing on the market. Most of them use nylon brushes, which can be abrasive to sensitive skin, and these brushes need replacing every couple of months otherwise they can harbour bacteria and actually start to cause spots.
That's why FOREO's range of LUNA facial cleansing devices (opens in new tab) made from medical-grade silicone are pretty darn revolutionary. They are completely waterproof, which means they are easy to wash, don't harbour bacteria and don't require new brush-heads every few months.
A gym bag essential
Compact and ergonomic, the LUNA mini 2 facial cleansing brush (opens in new tab) gently massages your skin with sonic pulsations, removing 99.5% of oil and dirt, including sweat and make-up residue.
Best of all, it takes just one minute to completely clean your face. You can use it morning and night, or as part of your workout skincare routine. Charge it for an hour, and it's good for five months of use or more. Just chuck it in your gym bag along with your favourite facial wash and you're all set for a pre- and post-workout cleanse. And since it's waterproof, you can use it in the shower, saving more precious time.
Beauty Instagrammer and former acne sufferer Ling KT loves the LUNA mini 2. She's been using it for over a year, especially after working out, to help keep her skin clear.
As for us, despite being fairly cynical about beauty products, we have to say we were surprised at the difference this little device made to our skin. Pores look smaller; ancient blackheads we'd given up on are gone. Our skin looks younger and glows with a new energy.
And our boyfriend, who subscribes to the bare minimum skincare routine club, tested out the LUNA mini 2. He said, "It's made my skin amazingly smooth and soft. Is it the secret to eternal youth? Shame it wasn't around before my wrinkles set in."
Buy the Foreo LUNA mini 2 from Feel Unique (opens in new tab) | £119
Coach is the place to come for all your health, fitness, and personal wellness needs.
Sign up for workout ideas, training advice, the latest gear and more.
Thank you for signing up to Coach. You will receive a verification email shortly.
There was a problem. Please refresh the page and try again.