The Best Tracksuit Tops
By Chris Sayer last updated
Hit the track, the terraces, the poolside or dress-down Friday with these retro sportswear staples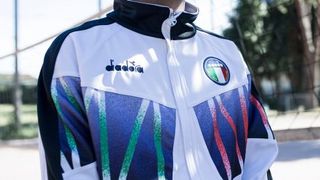 (Image credit: Unknown)
Yep, you're totally right – the track top does come with something of a dangerous stigma attached to it, having long been associated with the more, er, fighty aspects of British terrace culture. But look beyond those less-than-savoury connotations and you'll discover a hugely versatile item that really does deserve a hanger in your wardrobe. And we've found ten of them to prove it.
From Adidas's half-century classic to Nike's futuristic technical treat, and from ASOS's stylishly affordable knit all the way to Prada's blow-out option, there is a track top that's right for you.
---
Diadora x Roberto
Baggio Collection Track Jacket
(opens in new tab)
The Italian brand is having a bit of a moment right now, having been swept up in the trend for retro sportswear that the cool kids are so hungry for. Riding high on its newfound demand, it has roped in Roberto Baggio to put his name to a recreation of the polycotton training jacket he and his Italian team-mates trained in when they went all the way to the World Cup final in 1994. Expect this thing to fly off the virtual shelves. £115, buy on endclothing.com (opens in new tab)
---
(opens in new tab)
The grandmaster of online fashion kicks it really old school with this. Back before the days of sweatshirts, woollen knits were the garment of choice for chilly athletes and this one brings that slice of history crashing into the future with some forward-thinking chopped sleeves and a slimline cut. When paired with your trusty old joggers, it'll definitely raise you a couple of pegs in the style stakes. £22, buy on asos.com (opens in new tab)
---
Damarino Track Top
Sergio Tacchini
(opens in new tab)
This is what springs to mind when you say "track jacket". It doesn't get any more terrace classic than this. A Saturday stadium staple that'll never go out of fashion. £55, buy on jdsports.co.uk (opens in new tab)
---
(opens in new tab)
Of course the British tailor of your wedding suit dreams manages to make a track top look suave. Throw this on with a bright white tee, some indigo jeans and box-fresh trainers, and you're set for anything the weekend could possibly throw at you. Yes, even your in-laws' annual BBQ. £140, buy on paulsmith.com (opens in new tab)
---
Adidas Originals Beckenbauer
(opens in new tab)
Pay attention to this history lesson, there will be a test later. The Beckenbauer was the first tracksuit to feature the iconic three stripes when it was released in 1967. Fifty years on it still hits a stylish sportswear bullseye, thanks to a classic collar, striking block colours (white, red, yellow, or blue) and a slim cut that oozes vintage cool. £59.95, buy on adidas.co.uk (opens in new tab)
---
Fred Perry Sports Authentic
(opens in new tab)
Like the look of that colour block on the front, don't you? Well, just you wait until you see what's around the back – beautifully retro embroidered type. We'd happily have this on our backs after the sun goes down on an epic pool party. £85, buy on fredperry.com (opens in new tab)
---
Under Armour Elevated Bomber
(opens in new tab)
We're bending the rules ever so slightly by allowing Under Armour's bomber into this rundown. It's not technically a track top in the purest sense, what with that specialised collar, but it qualifies in every other way – warm, great-looking, made of polyester, zips up and already has us reaching for our credit card. £90, buy it on underarmour.co.uk (opens in new tab)
---
Nike Sportswear Tech Knit
(opens in new tab)
And if we're making allowances for Under Armour's bomber, you can bet your bottom buck we're doing it for Nike too. There's plenty of science in this one, including a luxurious nylon-cotton blend that'll retain or release heat when you need it to. This is the sort of futuristic beauty we'll all be training in when we're living on the outer rings of Saturn. £165, buy on store.nike.com (opens in new tab)
---
(opens in new tab)
Terrifyingly pricy or reassuringly expensive? Yeah, you're right, probably the first one, but if money is no object, this god-league take on the '90s football ground staple should very much become your new go-to for office dress-down Fridays. £745, buy on mrporter.com (opens in new tab)
---
Pretty Green Paisley Print
(opens in new tab)
You're gonna need some serious skill on the track to back up this out-there style statement. That, or the cocky swagger of the man behind the brand, Liam Gallagher. If the second is a more viable option, take this to your last remaining festival of the summer and wear it to death. £80, buy on prettygreen.com (opens in new tab)
Craft beer drinker, Devonian, fisherman and former content director of Coach online, Chris contributed style coverage and features between 2016 and 2019.
Sign up for workout ideas, training advice, the latest gear and more.
Thank you for signing up to Coach. You will receive a verification email shortly.
There was a problem. Please refresh the page and try again.