English Cut's New Made-To-Measure Suit Service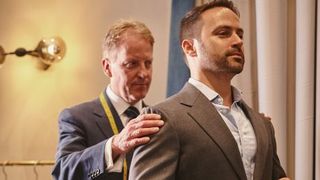 (Image credit: Unknown)
A British tailor is changing the way suits are made with a new made-to-measure service. Coach's sister stablemate Men's Fitness find out how they shape up.
If I told you I was going to meet a tailor who had worked for most of his career on London's Savile Row, you'd start to paint a mental picture. You might imagine a stuffy former public schoolboy with a reluctant chin and a fixed sneer. If I then told you that he used to make suits for Prince Charles, you'd need to re-draw your caricature to exaggerate the features.
So I'm a bit surprised when the man in question, Tom Mahon, is about as close to my stereotype as an off-the-peg suit is to one of his exquisite hand-cut creations. He may be Savile Row royalty, but he's also a warm and welcoming Cumbrian. And as the founder of English Cut, he's the man responsible for reshaping the modern British suit.
I'm at Mahon's shop on Chiltern Street, Marylebone, to find out more about the sartorial revolution taking place in London's West End and to experience the top tier of English Cut's new made-to-measure service.
Unlike other made-to-measure services, which often use generic patterns as the starting point for garments, Mahon has personally designed the patterns from which the suits are cut, which gives them a more elegant shape.
But before I get to the tale of the measuring tape, I have a confession to make. I'm not a smart man (in the fashion sense, of course) and I have two excuses for this. First, I'm a journalist and we're not known for being a stylish bunch. Second, I work in fitness magazines so, for me, making an effort means putting on a clean pair of training shorts.
There's another reason I need to up my garment game. I'm in my mid-30s so when I turn up to a meeting wearing jeans and a T-shirt, the people on the other side of the table think I'm being lazy rather than edgy. And researchers at the University of Hertfordshire agree.
In a recent study, subjects were shown different pictures of the same man with his face obscured and asked to make snap judgments about him based on his clothes. The results were compelling. When he wore a made-to-measure suit they considered him to be more confident, successful and a higher earner than when he donned an off-the-peg equivalent in the same colour. The lesson: it pays to invest in a well-made suit.
Cutting terms explained
Pattern: A template model used for cutting garments.
Bespoke: A suit made to the client's specifications with the pattern made specifically for the client.
Made-to-measure: A garment made to a client's individual requirements but not from a pattern made specifically for the client.
Cutter: The cutter is the architect of the suit. They measure the client and takes into account the details of their physique. Once they get the measurements, they create the suit pattern based on the client's unique shape. Then the material is ordered and the cutter takes the pattern pieces and cuts them out of the cloth before passing them on to the tailor.
Tailor: The tailor is the builder of the garment. Once they receive the cut cloth, they sew the suit together and make any necessary adjustments.
Cork: The person in charge of the tailoring brand.
Shape of things to come
When it comes to first impressions, Mahon has nailed both the style and the substance. He has a charming take-me-as-I-am attitude, an approach that's woven into the fabric of the business. "What you get here is an English cut," he says. "It's not just a name. We don't do narrow lapels or short jackets. I don't want to be all things to all men. If you want an Italian suit, go to an Italian tailor. I respect Italian tailors. It's not my cup of tea but it doesn't have to be – you don't have to please everybody."
I also discover that English Cut isn't just about staying true to an aesthetic. Mahon wants to push the trade into new territory. "I've looked at menswear over 30 years and I've noticed that the faults keep getting repeated and nothing really changes," he says. "Maybe there's a new cloth or the lapels might change shape, but there are huge mistakes going on. There are lots of details in the cut and construction of a garment and top British brands, even ones with roots in Savile Row, do things like put the waist button too high. It's almost on the chest bone and that's fundamentally wrong."
Mahon is passionate about these flaws and is soon in full flow. "The lapel hole, which is supposed to be of a functional size, should be able to fit a flower in it but a lot of expensive brands have tiny lapel holes that are what we call a 'sham' – it's just sewn and there's no hole. Or the arm holes would be too big. I know why – they want to put a coat on you so you stand in front of the mirror and they say, 'How does that feel, sir?' And you say, 'Oh, that feels good'. Well, it would feel good because it's not remotely touching you. It's clean but as soon as you start to live in the real world you find that, say, you can't drive with the jacket on and you should be able to. So I thought, one of these days, I'll steamroller all of this. But it's not an easy thing to do – to rewrite the book."
Mahon's attention to detail is impressive and he is enthusiastic about shaking things up, but he's adamant that he isn't seeking perfection. "The perfect suit doesn't exist so that's not my focus," he says. "I've never promised to make anyone the best suit they've ever had. That's contrary to what a lot of other people say but, to be frank, they're talking horseshit because this is about a relationship. It's about us understanding each other and making sure we have a similar objective. If there were two identical people, I could make the same suit for both and one would love it and one would hate it. I'm just trying to stay true to the way I was taught to cut."
Measure for measure
Where he thinks English Cut can make a difference is in the way it interacts with customers. His philosophy is that a team of experts who understand the craft and know how to interact with clients will produce better suits and happier customers.
When I'm introduced to Karl Matthews, the senior tailor charged with taking my measurements, it's clear that Mahon's vision has filtered through. "When you're choosing a tailor it's important to get a sense of who they are and what they're about, because not every house style is suitable for every individual," says Matthews. "A lot of it is personal preference and relying on the eye of the tailor you're working with. It's a relationship you're building."
That relationship begins by going through the key options. The big questions are easy enough to answer. I'm going for a mid-grey rather than a broad pink pinstripe and it will be made with 12oz worsted merino wool. "If it's the first suit you've had made, I'd always go for something simple, classic and elegant," says Matthews. "You're looking for the equivalent of the little black dress. You can wear a grey or a blue suit on any occasion."
When it gets to the details of my finery, he strikes just the right balance between asking questions and throwing in observations and anecdotes to help when I'm struggling to make a call. He also makes it clear that this isn't a test and I'm not going to drop through a trap door if I go for patch pockets over angled ones (as if anyone would go for patch ones on a smart suit!).
"A lot of tailoring is based on personal preference," says Matthews. "I'm won't tell you what to wear or what to do. I've got ideas, and within our house style I'm sizing up what I think will look good, and then I put those ideas to you. It should always be a collaboration."
We settle on a two-button (traditional but cleaner than three buttons) single-breasted jacket, with navy lining – Karl is a fan of an understated colour that will offset the grey – and side vents on the back because they "point up and in towards the waist to give the impression of more shape", creating a more stylish shape than the straight up-and-down centre vent. Once we've settled on a style Matthews takes my measurements, which Mahon will use to cut the suit in his workshop in Cumbria before giving it to the tailor who will put the masterpiece together.
Having spoken to both Mahon and Matthews I feel like I'm getting a better understanding of what goes into making a good suit, but I'm still not sure I completely appreciate the confidence boost associated with smartening up your act. To get some expert insights I speak to performance coach, Charlie Unwin (performancelegacy.com (opens in new tab)).
"Confidence is one of the biggest predictors of performance but it's a multifaceted concept," Unwin says. "A suit can influence your self-confidence and how you see yourself. In psychology we call it a schema – a mode of thinking that's a bit like running different software. A nice suit may help you run the software that makes you feel more important, influential or attractive." It seems like the subjects in that University of Hertfordshire study were on to something.
Fit for a prince
A few weeks after my measurements are taken I get the opportunity to put Unwin's theory to the test by returning to Chiltern Street for my first fitting, during which I try on the suit, give feedback about how it feels and get Mahon's input on how it could be adjusted for the better.
When the jacket slips over my shoulders it has the unexpected effect of instantly correcting my posture. I'm standing taller and even looking taller, thanks to the shape of the trousers. And because they've made the jacket broad through the body while taking it in at the waist, I also look like I've been spending an admirable amount of time on the bench press.
When it's time to collect the finished article, Mahon invites me to join him for a drink with some of his old Savile Row pals in a pub just off the famous Mayfair street. They're a charismatic bunch and could easily form the cast of a genteel gangster film.
There's Peter, who talks with equal admiration about the wealthy landowner and the refuse collector that he counts among his clients. There's David, the put-upon landlord (who rents out space to the tailors) for whom the group have the utmost loyalty and affection. And there's Patrick, with his gold leaf business card and tales of youthful sporting success.
They hold court at the bar, swapping stories about how to deal with intolerable customers – the winning yarn involves throwing a five-grand suit out of a New York skyscraper window in front of a client as a way of calling time on a particularly frustrating job.
But it's not just memories and drinks that they share. There's an old-school ethic that means they'll measure for each other as a favour to avoid one of the group losing a client, something the younger generation are slow to embrace. When you have a suit cut by one of these guys you're not just buying an expertly made garment or a confidence boost. You're buying a slice of Savile Row history.
English Cut's made-to-measure services
M2M1
The entry-level made-to-measure service starts by selecting one of six classic worsted cloths woven in Yorkshire. After you choose your fabric, English Cut creates your personal measurement and style profile, then sends your specifications to the workshop. It takes about six weeks from consultation to completion. From £595
M2M2
The middle option includes a broader selection of English cloths and some details found on bespoke garments. More expensive fabrics are also available if you want a unique look. From £995
M2M3
The top-of-the-range option is the closest you get to a bespoke suit but for a considerably lower fee. This option includes an extra fitting stage before the suit is hand-finished in the English Cut workshop. It typically takes about 12 weeks to complete the suit. From £2,295
For more information, visit englishcut.com (opens in new tab)
Sign up for workout ideas, training advice, the latest gear and more.
Thank you for signing up to Coach. You will receive a verification email shortly.
There was a problem. Please refresh the page and try again.