You Can Buy The Shirt Of Your Favourite Football Player, But Not Your Favourite Tennis Player – Until Now
By Gary Kingsnorth published
As long as your favourite player is Novak Djokovic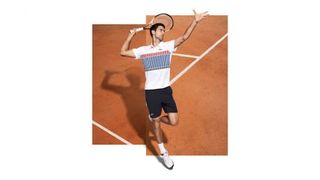 (Image credit: Unknown)
Image 1 of 11
Lacoste Novak Djokovic Collection
Lacoste Novak Djokovic Collection
Lacoste Novak Djokovic Collection
Lacoste Novak Djokovic Collection
Lacoste Novak Djokovic Collection
Lacoste Novak Djokovic Collection
Lacoste Novak Djokovic Collection
Lacoste Novak Djokovic Collection
Lacoste Novak Djokovic Collection
Lacoste Novak Djokovic Collection
Lacoste Novak Djokovic Collection
For the amateur footballer, there's something about pulling on a Messi jersey that inspires the belief that they can pull off a jinking run through defenders, cut inside onto the left foot and curl it into the bottom corner.
With Lacoste's new Novak Djokovic collection (opens in new tab), amateur tennis players can replicate that little mental trick and be inspired to hit stunning backhand winners all day long. The outfits have been specially designed to kit out the champion during this summer's Grand Slam tournaments.
The tie-up makes sense in all kinds of ways. Being able to own the shirt you can watch Djokovic play in is certainly innovative and appealing to a huge number of fans – and it's certainly appropriate that it comes from this clothing company, whose founder Henri Lacoste debuted the polo shirt branded with his name on court in 1926. (Fun fact: he also invented a tennis ball throwing machine for practising with in 1929.) And for the brand, Djokovic also mirrors the sporting elegance, tenacity and fair play that Lacoste embodied.
RECOMMENDED: The Best Polo Shirts
The collection is a line of performance products that fuses functionality with style. Engineered from materials handpicked for their quality and performance, every detail is geared towards comfort – so ergonomic stitching helps to prevent chafing, while the cuts bring about ease of movement.
At the heart of the collection is the polo shirt (£80) (opens in new tab) with Novak Djokovic's signature printed on the left sleeve of the shirt, with graphics on the trunk that take inspiration from the lines of a tennis court. Shorts (£65) (opens in new tab), a jacket (£170) (opens in new tab) and sunglasses (£175) (opens in new tab) complete the line.
Find these online at lacoste.com (opens in new tab) and more models in Lacoste boutiques.
Gary Kingsnorth was the fashion editor for Coach as well as Men's Fitness.
Sign up for workout ideas, training advice, the latest gear and more.
Thank you for signing up to Coach. You will receive a verification email shortly.
There was a problem. Please refresh the page and try again.