Cycling Clothes For Commuters Who Like To Cruise Into Work
By Gary Kingsnorth published
If you always let the Lycra brigade line up in front of you at red lights, Gant's Get Into Gear commuter capsule collection is for you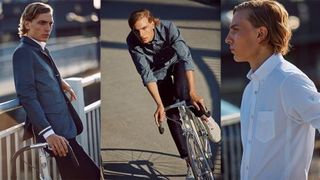 (Image credit: Unknown)
When some members of Coach started cycling to work, they treated it as a workout – going hell for leather on the straights, pedalling faster as they approached green lights and attacking hills in heavy gears. While they did get fitter, this was a pretty dumb idea. They needed extra time at work to cool down and shower the sweat off; faster does not equal safer during rush hour; and they found it wasn't sustainable for five days in a row (they didn't get that much fitter).
Now that they've slowed down, word is that it's become a much more pleasant experience and hardly takes them any longer. Plus, there's no need to carry a massive bag that holds a complete change of clothes. But regular work clothes don't always work for cycling: certain low-rise jeans, for instance, lend themselves to revealing far too much of the nether regions for our – or anyone else's – tastes.
Step forward Gant, the clothing label that's known for its preppy aesthetic and Oxford shirts. It's launched a 16-piece Get In Gear cycling collection (opens in new tab) for casual urban cyclists who want to hop straight off the bike and be ready to walk into work or a social occasion.
The line combines sophisticated design with comfort and technical details. For instance, the commuter blazer (£295) (opens in new tab) is made from breathable, waterproof fabric with laser-cut ventilation under the arm opening and reflective details, while the fitted denim button-down shirt (£150) (opens in new tab) is made from a stretchy soft cotton Oxford fabric and features articulated sleeves for enhanced mobility and comfort. More importantly, both look sharp.
The slim-fit jeans (£125) (opens in new tab) have reflective details on the insides of the hems which reveal themselves when the legs are rolled up, as well as a water-repellant treatment and the all-important higher waistband.
The collection also includes a limited-edition track commuter bike (£711.59) (opens in new tab) by Swedish manufacturer BIKEID, which features some very cool details in the form of a smartphone front mount, five LED rear lights built into the seat post and a mudguard that rolls up into itself.
Browse the collection at gant.co.uk/gant-get-into-gear (opens in new tab)
RECOMMENDED: More Stylish Cycling Gear
Gary Kingsnorth was the fashion editor for Coach as well as Men's Fitness.
Sign up for workout ideas, training advice, the latest gear and more.
Thank you for signing up to Coach. You will receive a verification email shortly.
There was a problem. Please refresh the page and try again.