Anti-Aging Skincare: Four Simple Steps To Follow
By Coach Staff published
Selecting anti-ageing products doesn't have to be stressful, says grooming expert Chris Beastall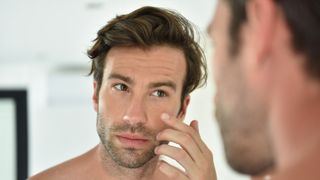 (Image credit: Unknown)
You've never had more choice when it comes to anti-ageing grooming products… but with so many options, selecting the right creams and lotions can be a worry-line-inducing experience. Don't fret, though – there are really only four steps you need to think about.
The first is a good facial cleanser, and our pick is Malin+Goetz Grapefruit Face Cleanser (£29, buy on malinandgoetz.co.uk (opens in new tab)). This gentle cleanser will remove dirt, an appropriate amount of oil (it won't completely strip your skin) and any other debris to prepare your skin before you apply any other product.
The next step is gentle exfoliation with a product like Shiseido Deep Cleansing Scrub (£24, buy on houseoffraser.co.uk (opens in new tab)). It removes the outer layers of the skin that build up – skin cell turnover slows down with ageing – to reveal younger-looking layers below and help your skin to increase cell renewal. Remember to massage in your facial scrub or exfoliator rather than rubbing aggressively.
RECOMMENDED: The Best Exfoliating Face Washes For Men
Hydration is third in your routine so find an anti-ageing moisturiser such as Polaar Intensive Anti-Ageing Care (£42, buy on polaar.com (opens in new tab)) that suits your skin type. Look for ingredients such as retinoids, peptides, antioxidants and hydroxy acids because these all have either a firming, plumping or renewing action for younger-looking skin.
Finally, and perhaps most importantly, is the protection stage. Ensure your new anti-ageing moisturiser has an added SPF, or use an anti-ageing moisturiser as a night cream and a regular moisturiser with added SPF during the day. Aesop Sage & Zinc Facial Hydrating Cream (£27, buy on aesop.com (opens in new tab)) will offer protection from the sun's harmful rays – and yes, you can still tan while wearing it.
Chris Beastall is the co-founder of Niven & Joshua (opens in new tab) and editor of Ape To Gentleman (opens in new tab)
Coach is the place to come for all your health, fitness, and personal wellness needs.
Sign up for workout ideas, training advice, the latest gear and more.
Thank you for signing up to Coach. You will receive a verification email shortly.
There was a problem. Please refresh the page and try again.