The Best Men's Leather Jackets
By Chris Sayer last updated
Sneer in the face of the cold with a stylish outlaw staple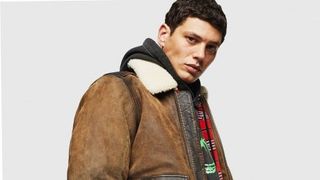 (Image credit: Unknown)
We don't need a government poll, a nationwide survey or a show of hands to know that pulling on and pulling off a leather jacket is one hell of a feeling.
Why? What do you mean, why? It's because of James Dean. It's because of Marlon Brando. It's because it's the uniform of the dirt-flecked, hog-riding, whiskey-chugging rebels without so much as a sniff of a cause from Hollywood's golden era. And there's a small part inside all of us that wants to join that club. That carefree club filled with outlaws, degenerates and cool kids.
But with such a hardcore pedigree, it's little wonder that stepping out in a new leather jacket for the first time is a nerve-racking prospect. Put simply, have you got the chutzpah to pull it off?
We can't help with that, but we can ensure you're rocking the finest in animal-hide goods and we've got just the thing. Take a look at the ten leather jackets that we've selected, ranging in price from eye-wateringly luxurious to rub-your-eyes affordable, and in a variety of styles to suit your sartorial needs. Go on, add a little outlaw to your outerwear.
---
(opens in new tab)
If we bought this at just £225, we'd be half expecting a knock at the door any day because there had been a catastrophic error with the stated price of this soft and top-quality leather jacket, and those responsible have been dealt with accordingly but they really need the jacket back so the store can repay its debts. But we've done the sums, assessed the risk and concluded this is a steal that's more than worth moving house and assuming a new identity for.
Buy from Weekday (opens in new tab) | £225
---
(opens in new tab)
This stealthy little Hugo Boss number features not one but two types of leather. Hugging your torso you've got pure goat leather, and then there's some real smooth calfskin to slide your arms into. It's a material clash that, Hugo suggests, will look A-OK with some distressed denim and crisp loafers. Sounds about right to us.
Buy from Flannels (opens in new tab) | £525
---
Marks & Spencer Leather Borg Lined Jacket
(opens in new tab)
We'll happily admit that we were somewhat blindsided by this brilliant denim jacket-style option from Marks & Spencer. One hundred and eighty notes doesn't get you much in the leather jacket game, but here it'll bag you real leather, a luxuriously fuzy faux borg collar and some very welcome interior quilting, all with a tasty modern silhouette.
Buy from Marks & Spencer (opens in new tab) | £179
---
COS Raglan Sleeve Leather Jacket
(opens in new tab)
Leather jackets have always been the sartorial equivalent of a rock star's snarl and scream and shout, but this high-street offering rebels against that. Taking everything that's made the classic baker's jacket a wardrobe staple of the past five years – stripped down, unfussy and boxy – this supple leather winner is a real all-day one-off.
Buy from COS (opens in new tab) | £390
---
(opens in new tab)
Do your dreams of a retirement involve speeding a head-turning vintage Triumph motorcycle around a glorious country estate? Orvis can't help you with the wheels or the retreat, but the classy fishing brand can kit you out in a jacket that'll make you feel one step closer to that end goal. The goatskin leather Redfield reminds us of James Bond's jaunt to his wind-lashed Scottish hideout in Skyfall, with a well-worn aesthetic, quilted shooting patches on the shoulder and deep pockets for storing all your essentials/secret service gadgets. What's more, with Orvis' 5% For Nature commitment, you can feel good knowing that a portion of the profits from your purchase will go back into protecting nature. Good, good and good.
Buy from Orvis (opens in new tab) | £498 (currently reduced to £379)
---
(opens in new tab)
Established in 2015 and based in east London, Prévu may be a relative newcomer to the menswear design game but it's won our attention with this extremely cool number. The thick luxe shearling collar adds a timeless yet on-trend touch to a classic silhouette that'll look right at home in the trendiest districts of Europe's major cities. Aperitivo in Milano, anybody?
Buy from Prévu (opens in new tab) | £400
---
(opens in new tab)
The James Dean go-to style. A classic. The archetype. The one all other leather jackets secretly aspire to be. Exercise that credit card, safe in the knowledge that you're getting the realest of real deals here.
Buy from Schott (opens in new tab) | $825 (approximately £670)
---
(opens in new tab)
A leather puffer jacket? Now we're talking. While the rest of the country inevitably grinds to a halt at the first snowflake of winter, pull this on, then stride out of your front door, straight into the office and past your boss's desk, knowing this thing not only has you looking every inch the well-presented work-hard hero – but, thanks to a 100% thick cowhide shell and heavy poly filling, feeling toasty-warm, too. A veritable duvet day in a jacket.
Buy from MKI (opens in new tab) | £295
---
(opens in new tab)
Maybe it's the bright orange lining or maybe it's the surf-rebel inspiration, but this lambskin beaut from Australian wave-hunter Ksubi just screams coolness. It's part Hell's Angels and part snarling punkdom, and should be worn with your most beat-up blue jeans and a plain white tee. Chewing gum and slicked-back hair optional.
Buy from End Clothing (opens in new tab) | £789
---
See related
Bellerose Dixer Overshirt
(opens in new tab)
Suede is the fuzzy cousin of leather, meaning this cognac overshirt makes the cut with no problems at all. Unlined, with a relaxed fit and oversized pockets worthy of Albert Arkwright (one for the kids, there), it's a raw everyday jacket that'll only get better as it ages – anticipate more natural lines and creases cropping up the harder you work it.
Buy from Mr Porter (opens in new tab) | £355
---
(opens in new tab)
If, like us, you walked out of Quentin Tarantino's Once Upon A Time In Hollywood vowing to dress more like a 60s silver-screen stuntman, this super-soft suede Western jacket in a tasty teal colourway needs to make its way into your virtual shopping basket, stat.
Buy from Reiss (opens in new tab) | £395 (currently reduced to £225)
---
Coach Reversible Hooded Trainer
(opens in new tab)
NYC's high-end heritage brand Coach (no relation) has dared to tinker with the near-perfect DNA of everyone's favourite post-workout garment – the hoodie – by adding a touch of luxe to it. And it really, really works. This reversible zip-up made from lamb's leather and complemented with a modern camo print is crying out to meet your straight-fit selvedge denim.
Buy from Coach (opens in new tab) | £895 (currently reduced to £447.50)
---
Diesel L-Oiukiro Aviator Jacket
(opens in new tab)
Are you getting real Tom Hardy in Dunkirk vibes from this chunky goatskin beast, too? Layer up underneath this and direct an unhinged laugh at winter.
Buy from Diesel (opens in new tab) | £590 (currently reduced to £413)
Craft beer drinker, Devonian, fisherman and former content director of Coach online, Chris contributed style coverage and features between 2016 and 2019.
Sign up for workout ideas, training advice, the latest gear and more.
Thank you for signing up to Coach. You will receive a verification email shortly.
There was a problem. Please refresh the page and try again.