'Tache Tips: How To Care For Your Lovingly Grown Movember Moustache
By Nick Harris-Fry published
Don't fancy a shave? Here's how to keep your mo in perfect condition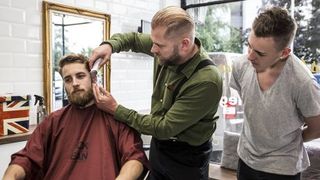 (Image credit: Unknown)
Movember has come to an end, and for many men it brings with it the sweet relief of shaving off the tatty 'tache they've been struggling to grow throughout the month. However, for others who have grown attached to their new facial hair, it's decision time: to shave or not to shave?
If you opt for the latter, you will have to take a more hands-on approach to your moustache maintenance. Letting it grow for the whole of November in aid of prostate cancer and other worthy men's health causes is one thing, but now everyone knows it's your choice to keep the 'tache, so it needs to look good. Coach enlisted Mike Taylor, co-founder of the British Barber's Association (opens in new tab) and ambassador for male grooming brand The Bluebeards Revenge, for some tips on top-notch top-lip hair care.
What is your key advice for moustache care?
Keeping your moustache well-groomed and off the lip are the best pieces of advice I can give. Longer moustaches are quite fashionable at the minute and they look really good when they come down over the lip. But the problem with that is you end up biting the hairs, and when you have a sip of coffee you stain your shirt because it drips from your moustache.
If you can, go to your barber about once a week for maintenance. Your barber is the best person to keep your moustache in check. If you try to trim it at home, you risk messing it up and undoing weeks of hard work put in growing it. Invest in a comb and moustache wax from The Bluebeards Revenge (20ml for £6.99) (opens in new tab) to style it and buy some beard oil to keep it nourished and looking younger.
Do you have any advice on what moustache styles to opt for?
Moustaches can definitely make you look younger. They're really fashionable now. More eccentric, old-fashioned moustaches are on-trend at the moment, as opposed to the urban pencil-styled moustaches we saw a lot of in the '90s. The fuller, bushier "Corporal" style from the '20s is one of the most popular choices. I don't think there are any rules around which hairstyles go with which moustache styles.
RECOMMENDED: 5 Moustache Styles to Rock This Movember
The moustache forms part of the make-up of how you want to look. I don't think the hairstyle should dictate anything; the whole look will naturally come together. The whole point of having a moustache is to help you express your own style and individuality.
Mike Taylor is currently spearheading the launch of the Great British Barbering Academy, alongside luxury male grooming brand The Bluebeards Revenge
Sign up for workout ideas, training advice, the latest gear and more.
Thank you for signing up to Coach. You will receive a verification email shortly.
There was a problem. Please refresh the page and try again.