The Best Pea Coats For Men
By Chris Sayer last updated
Crush the cold with a time-honoured menswear classic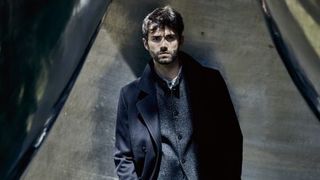 (Image credit: Unknown)
Three words that'll raise a smile on the faces of even the most heartbroken mourners of summer: Big. Coat. Season.
It might be getting a whole lot colder out there, but it's getting a whole lot cooler on your coat hook. Winter means the annual search for a new coat and when it comes to conquering the frosty climate, a tried-and-tested style is always, always a good idea. And as classics go, the historic pea coat is well and truly on the podium.
First designed for Dutch sailors in the 19th century, the thick and heavy wool coat with a big poppable collar was the perfect protection against the unrelentingly cold and wet north Atlantic weather. A couple of hundred years later, it'll do the trick no matter if you're out at sea, walking to work, attending a winter shindig, or just nipping to the shops for some rations. In fact, this stylish workhorse is so versatile that it does the job of keeping you snug and warm in both the most relaxed and the smartest of situations.
And now you're totally convinced of the benefit of investing in a new pea coat, get your eyes around these. We've trawled through the best of winter 2019 to pull together the finest pea coats a man can get this winter. From true-blue classics to teched-out modern marvels, from cost-effective winners to big wallet punchers, these are the pea coats you'll want to be seen in this chilly season.
---
(opens in new tab)
Some pea coats are screaming out to meet a classic woollen roll-neck. This is one of them. With a get-noticed herringbone pattern, a tall collar and a sweeping neckline, the Duomo creates a head-turning look that'll loudly and proudly announce your arrival at any festive work bash before you've even opened your mouth.
Buy from Reiss (opens in new tab) | £325
---
(opens in new tab)
Everyone's favourite Christmas advert-maker has gone back to the beginning with this jacket, which has a silhouette inspired by the original 1940s naval design for a winter warmer that's as classic as they come. The military vibes are topped off with that on-point khaki green, convincing us to let it meet our best beige trousers, too.
Buy from John Lewis (opens in new tab) | £195
---
Raey Double-Breasted Pea Coat
(opens in new tab)
Raey is a London-based, seasonless label (although we can't see ourselves wearing this chunky boy in the height of the summer) that's exclusive to MatchesFashion, and with jackets as good as this we can't see the online retailer sharing this brand with anyone else soon. Raey has somehow smashed together vintage and futuristic feels, achieving a 50/50 balance that has us totally sold. The fact that it's made in Italy with soft virgin-wool twill miiight have something to do with it.
Buy from MatchesFashion (opens in new tab) | £895
---
(opens in new tab)
What Gloverall doesn't know about classic winter-beating jackets isn't worth knowing. Perhaps the most prestigious name in duffle coats, this proudly English outerwear master has instilled its core values of traditional design, superior quality and zero excess in this longer-length pea coat. We'll bet the house it won't be going out of style in our lifetime either.
Buy from Gloverall (opens in new tab) | £499
---
Mr P Double-Breasted Checked
(opens in new tab)
Big checks are big business this year, so it's little surprise that tartan is having a bit of a moment. Of all the patterns, though, it's the military Black Watch check – a distinctive pattern of green, black and navy – that's pick among the sartorially minded. It's why, for winter 2019, you can't go wrong with this winner from Mr P, which has used the design for a stand-out, versatile pea coat cut in a heavy box shape. Slam a cashmere roll-neck underneath for an excellent all-week look.
Buy from Mr Porter (opens in new tab) | £475
---
(opens in new tab)
The overlord of all things American smart-casual has updated a 1930s pea coat silhouette with a Thinsulate lining, making this extra good at stopping the cold in its tracks. Oh, and thanks to pockets sneakily lined with corduroy, leaving your gloves at home will no longer be cause for a mid-morning strop.
Buy from J Crew (opens in new tab) | £333
---
See related
Private White VC The Permanent Style Bridge
(opens in new tab)
A little bit special, this. Actually, a lot special. Private White VC has created this luxe little beauty in collaboration with Simon Compton of Permanent Style, the UK's most respected tailoring blog, and constructed it in a posh cashmere/wool blend woven in West Yorkshire. Little surprise, then, that the Manchester heritage brand has dubbed this "extremely limited edition". Want it? Move fast.
Buy from Private White VC (opens in new tab) | £850
---
Oliver Spencer Clerkenwell
(opens in new tab)
With a contemporary colour and texture, this jacket from London's favourite tailoring son proves that you don't have to follow the crowd when it comes to investing in classic outerwear essentials this year.
Buy from Oliver Spencer (opens in new tab) | £410
---
(opens in new tab)
Ah, the Japanese high-street hero. How Uniqlo does it, we'll never know. A little over £100 for an on-trend padded and oversized pea coat? Thank you for being you, Uniqlo.
Buy from Uniqlo (opens in new tab) | £109.90 (currently reduced to £49.90)
---
(opens in new tab)
Seeing Armor Lux making coats is like watching your favourite singer on Masterchef. The French brand is so synonymous with Breton-stripe long-sleeves that it's easy to ignore the idea that it could turn their hand to anything else. And yet, here we are, lusting after this classic 100% wool caramel number.
Buy from Armor Lu (opens in new tab)x (opens in new tab) | €309 (around £275)
---
Barena Faux Shearling Double-Breasted
(opens in new tab)
Pea coats are, 99% of the time, pretty identical-looking. Here's your 1%: a dark-brown faux shearling bear-hug in a jacket. Best of luck taking this thing off – ever.
Craft beer drinker, Devonian, fisherman and former content director of Coach online, Chris contributed style coverage and features between 2016 and 2019.
Sign up for workout ideas, training advice, the latest gear and more.
Thank you for signing up to Coach. You will receive a verification email shortly.
There was a problem. Please refresh the page and try again.