The Best T-shirts For Men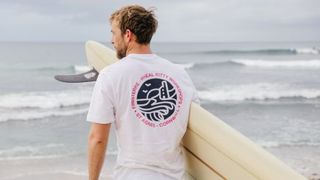 (Image credit: Unknown)
From sustainable heroes to wardrobe staples, from big bold prints to timeless stripes, these are the all-new tees to reach for when the temperature rises.
---
Vans Off The Wall Tee
The kings of cool Californian footwear don't just make waffle-soled shoes for skaters to beat to death – if this teched-out tee is anything to go by, they do great casualwear too. Think this is just your run-of-the-mill tee? Take a look inside and you'll find a unique waffle print that pulls moisture away from the skin.
Buy from Vans (opens in new tab) | £28
---
Nike Sportswear Men's T-Shirt
(opens in new tab)
The designers at Nike have had a lot of fun with the logo recently, from slicing it down the middle and sticking it back together off-centre to tripling it up on top of each other. Here's another great example, with a mirror image that'll make for many a double-take.
Buy from Nike (opens in new tab) | £29.95
---
New Balance Tropic Pineapple T-Shirt
Yep, we've absolutely no friggin' clue as to what business a running pineapple, complete with sunglasses, has on your chest but whatever it's selling, we are buying.
Buy from New Balance (opens in new tab) | £23
---
Timberland Kennebec River Tee
Top tip: buy this retro-tinged beauty one size too big for a bang-on trend oversized look. Pair with your finest trunks before making for the nearest beach.
Buy from Timberland (opens in new tab) | £35
---
See related
Afends Mirage Retro Fit T-Shirt
Now's a great time to get to know Afends, the laid-back and super-cool Aussie clothing brand that is all about championing Earth-positive fashion. We're talking organic fabrics, especially hemp, and dye processes that don't burn a hole in the planet. With wares that look as tasty as this old-skool (and very, very comfortable) striped tee, there's absolutely no reason not to get on board.
Buy from The Chimp Store (opens in new tab) | £39.95
---
Hundreds Quadrant T-Shirt
A tee to match every colour of the Great British summer. We doubt very much that this was the thinking behind this tee from the streetwear kings at The Hundreds, but thanks for the reminder, nonetheless!
Buy from The Hundreds (opens in new tab) | £55.56
---
Perched atop a craggy cliff in St Agnes, Cornwall,Agnes is where you'll find much-loved British surf brand Finisterre. This clean and modern print pays tribute to its rugged abode.
Buy from Finisterre (opens in new tab) | £30
---
Snow Peak Indigo Camping Indigo Pullover
What, pray tell, does one get in a T-shirt that costs £170? According to high-end Japanese outdoor outfit Snow Peak, it's pockets. A whole lot of pockets. Designed with adventure in mind, this tee is lined with receptacles to keep your books, lighters, tent pegs, marshmallows and other outdoor essentials in.
Buy from Snow Peak (opens in new tab) | £170
---
Sunspel Cotton Mock Neck T-Shirt
We love a good staple T-shirt. You can throw one on with anything – jeans, a blazer, swimming shorts – knowing it'll look great. And when it comes to good staple tees Sunspel bats in the big leagues with simple stuff done to a high standard. This particular silhouette is effortlessly enhanced with a mock neckline, and that red tipping into orange will pop when paired with some chino shorts or set off a smart-casual look.
Buy from Sunspel (opens in new tab) | £75 (currently reduced to £37)
---
The North Face Extreme T-Shirt
Back in the 90s, mountain sports were a whole lot louder than they are today. Big prints, wild patterns, groundbreaking tricks and ascents. The design of The North Face's Extreme tee throws us right back to that heady era.
Buy from The North Face (opens in new tab) | £30 (currently reduced to £21)
Craft beer drinker, Devonian, fisherman and former content director of Coach online, Chris contributed style coverage and features between 2016 and 2019.
Sign up for workout ideas, training advice, the latest gear and more.
Thank you for signing up to Coach. You will receive a verification email shortly.
There was a problem. Please refresh the page and try again.