The Best Men's Weekend Bags
By Chris Sayer last updated
Make your 48-hour escape in style with one of these luggage winners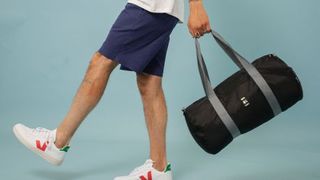 (Image credit: Unknown)
Yeah, you've earned it. After five full nine-to-fives of clock-watching, you deserve that long-awaited two-day getaway to somewhere, anywhere, that's far faaar away from the inbox.
How you make your escape, though, is the important question. We're not talking choosing between the car and the 19.03 to Somewheresville, but the luggage you choose to pack your essentials in. Too small, and you'll be forced to make sacrifices you shouldn't be forced to make – the blue shirt or the pink? Shower gel or shampoo? Gah! – but too big and you'll be spending that precious weekend energy on lugging your heavy bags through hell and high water. See, we think about these things. We also think that these 13 luggage options are absolutely perfect for your short-lived but much-needed break, no matter where you're headed.
---
(opens in new tab)
If you're not actively seeking a more environmentally friendly way to go about your daily life in 2020, what exactly are you doing? Born among the lofty peaks of the Lake District, Millican's high-grade bags are created from 100% recycled PET fabric, while being lightweight, hardwearing, minimalistic and really rather handsome.
Buy from Millican (opens in new tab) | £155
---
(opens in new tab)
Spanish lifestyle brand Lefrik has gone for the archetypal American summer camp duffel bag with its overnighter design, bringing it out of the teen horror movies and right up to date by constructing it using recycled plastic bottles. It'll look just as at home in your chic city break hotel room as it will at the end of a bunk in a haunted cabin in the woods.
Buy from Lefrik (opens in new tab) | £46
---
(opens in new tab)
Bring a good-times attitude to your trip with the bright and bold colour blocking in this 22-litre backpack-duffel hybrid. The Aztec strap detailing adds a big Pacific Northwest vibe to the piece, helping you to look as if you're ready to get lost among giant redwoods and misty coastlines, even if you are just sat on the Megabus to Cullompton.
Buy from Alpine Trek (opens in new tab) | £67.96
---
(opens in new tab)
You've booked the last flight out of town and you've been kicked out of your B&B. Do you sit in the bar all day, bag beneath your feet, or do you wear your wardrobe on your back to see every last crevice of where you're at? If it's the latter then this duffel is for you, thanks to the zip-away backpack straps that transform it from a sleek-looking duffel to a sleek-looking backpack.
Buy from Osprey (opens in new tab) | £100
---
Matt & Nat Andro Weekender
(opens in new tab)
You'd be forgiven for thinking this Canadian brand was from a couple of trendy Montreal natives named Matthew and Natalie. In fact, the name comes from the words "material" and "nature", reflecting the brand's drive to make stylish products with fabrics that won't harm the environment. This weekender is made from faux leather and recycled nylon, and wins extra points for looking somewhat like a doctor's bag.
Buy from Matt & Nat (opens in new tab) | £180
---
(opens in new tab)
You look like you appreciate a good zip when you see one. On that extremely half-baked basis alone, we're betting you'll love this do-it-all holdall, which comes with a frankly ludicrous level of zipper action. Whew, where to even begin?!
Buy from Luke (opens in new tab) | £65
---
Arc'teryx Carrier Duffel 40L
(opens in new tab)
Forty litres, Arc'teryx believes, is the ideal volume to see you through a two- or three-day trip. And with sealed seams, a polyurethane coating and a very exciting-sounding storm flap, you can bet your bottom dollar that this hardy duffel will stand up to whatever your weekend throws at it.
Buy from Arc'teryx (opens in new tab) | £120
---
(opens in new tab)
No bells, no whistles, just a solid mini-break holdall, an extremely tempting price and a whacking great slice of heritage sportswear branding. If you like the simple things in life, you'll like this.
Buy from Fila (opens in new tab) | £45 (currently reduced to £31.50)
---
Billionaire Boys Club Space Check Tote
(opens in new tab)
"Wealth is of the heart and mind, not the pocket" is the motto emblazoned on the side of this eye-catching holdall, and a mantra you'll want to repeat over and over as you boldly hand over a whopping half a grand to get your mitts on it. But this is the price we must pay if we wish to throw a cavernous and luxurious leather tote from the mind of musical genius Pharrell over our shoulder.
Buy from Billionaire Boys Club (opens in new tab) | £500
---
Quiksilver Shelter Duffel 43L
(opens in new tab)
Surf don Quiksilver is doing its part to mitigate the godawful damage the fashion industry is doing to the environment with the Repreve collection – a clothing line made from traceable and recycled polyester blend which, to date, has turned more than 200m ocean-clogging bottles into board shorts. It's the same material used in this 43-litre holdall, complete with a spacious main compartment and another smaller one for your shoes. And since it's less than £50 you can use the money you save to take the train instead of a low-cost high-polluting flight.
Buy from Quiksilver (opens in new tab) | £42
---
Filson Small Rugged Twill Duffel
(opens in new tab)
A top-tier, timeless classic – one your grandkids will be delighted to have handed down to them once it's outlived you. Seattle's Filson wasn't messing around when it came to making this water-resistant duffel, using saddle-grade leather, solid brass and the brand's abrasion-besting cotton twill. Handily, it's carry-on size as well.
Buy from Filson (opens in new tab) | £365
---
See related
Côte & Ciel Amu Sport Sleek
Sliding off for a few nights in one of Europe's slickest seen-to-be-seen cities? Bundle your garms into this cool customer from Paris-born Cote & Ciel. Made from nylon and boasting the ability to transform from sleeker to bigger, the clean lines and jet-black colourway gives us some serious Tom Ford and "park up the superyacht would you, Jeeves?" vibes.
Buy from Côte & Ciel (opens in new tab) | €195 (around £162)
---
(opens in new tab)
If your getaway is part business, part pleasure, then you'll need a bag that's built for your Jekyll and Hyde schedule. And because wearing your beat-up Nike Blazers to your very important board meeting will almost definitely earn you an appointment with HR come Monday, you're going to need to pack a stack of shoes. Hex's Terra duffel has your back, with two compartments for sneakers and smart shoes alike, and plenty of room for everything else.
Buy from Hex (opens in new tab) | £176.95
---
The North Face Base Camp Duffel M
(opens in new tab)
This legendary luggage has been venturing out to the highest mountains with some of exploration's elite since 1986 and, thanks to its hardcore credentials, makes it home in one piece time and time again. Can it stand up to your boozy golf weekend, though? Yes, it can.
Buy from The North Face (opens in new tab) | £110 (currently reduced to £82.50)
---
(opens in new tab)
We're big fans of the carabiner detailing on this respectable waterproof weekender. We're also big fans of the tough bottom, reinforced detailing and rain-draining design in the outer pockets that means a faster drying time should you be caught out by Mother Nature on your UK break from the grind. Which, of course, you absolutely will be.
Buy from Tretorn (opens in new tab) | £85
---
(opens in new tab)
The experts at Rains have taken everything they know about their famous rubber jackets and stitched it into this all-weather winner. It's from the same matt waterproof fabric that has us drooling over the brand's flagship raincoats, which is probably why a stream is forming under our chins just looking at this thing.
Buy from Rains (opens in new tab) | £59
---
Remus Uomo Leather-Trimmed Weekend Bag
(opens in new tab)
The kind of bag you want if you're stepping off a plane and straight into a cavalcade waiting for you by the runway. Or, y'know, if you're in the market for getting close to that feeling, as you hit the steps of your EasyJet flight into Brussels. That's right, you are our best hope of enhancing European relationships in the beer taverns of Belgium. Godspeed!
Craft beer drinker, Devonian, fisherman and former content director of Coach online, Chris contributed style coverage and features between 2016 and 2019.
Sign up for workout ideas, training advice, the latest gear and more.
Thank you for signing up to Coach. You will receive a verification email shortly.
There was a problem. Please refresh the page and try again.