The Best Polo Shirts For Men
By Chris Sayer last updated
A handful of hand-picked and very convincing sartorial reasons to pop a collar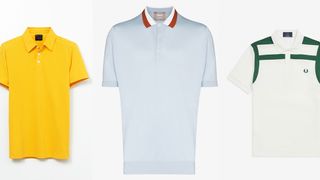 (Image credit: Unknown)
God bless the polo shirt – always there for when the work-shirt is too stuffy and a basic tee is too scruffy. As long as you abide by the two golden fitting rules – the sleeves should stop at your biceps and it shouldn't be too snug around your middle – it's not hard to see how the boxy and flattering fit, nabbed from the polo fields of the late 19th century, has earned its place as a true wardrobe essential.
Reason enough, then, to consider acquiring any of the following hand-picked polos to add to your sartorial arsenal. We've rifled through the stacks upon stacks of collared options out there, and have landed on the options that we think make the cut and then some.
---
(opens in new tab)
Terracewear at its absolute best. Pair this with some beat-to-heck denim, classic Reeboks and a pocketful of (very mild) derogatory chants about the opposition goalkeeper, and you're all set for a morning of watching your six-year-old's five-a-side team in action.
Buy from Stuarts (opens in new tab) | £40
---
Richard James 3 Button Piqué Polo
(opens in new tab)
Once dubbed the rebel of Savile Row, tailor Richard James has branched out from his suiting and booting of the rich and famous (Tom Cruise, Hugh Grant, David Beckham, George Clooney) with a range of everyday sports-ready casualwear, made with top-tier performance fabrics. Expect a perfect fit from this yolk-yellow polo, and round-the-clock wearability thanks to its Bodyfit cotton construction with a little touch of stretchy Spandex piqué.
Buy from Richard James London (opens in new tab) | £75
---
(opens in new tab)
Step one: buy this from designer Shinya Hasegawa's adventure brand Battenwear. Step two: fill the many pockets with one book, two cold cans, one pair of sunglasses, many snacks and some sunscreen. Step three: locate hammock, then occupy. Step four: ignore everything else that's going on, for at least a full afternoon. Repeat. Then repeat. And repeat.
Buy from The Hip Store (opens in new tab) | £145
---
(opens in new tab)
Stylish indie rockers like Miles Kane have made the knitted polo a wardrobe staple of sorts, albeit an elevated one, throwing you a lifeline every time you try to navigate the danger-laden seas of the smart-casual dress code. If you're going to invest – and you should! – make a wise choice. Not in terms of price or style, but environmental good. Peregrine has managed to make this handsome option with zero waste, using organic cotton and employing skilled craftsmen based in England. Good stuff on all fronts.
Buy from Peregrine (opens in new tab) | £120
See related
Lou Dalton x John Smedley Polo Shirt
(opens in new tab)
The outcome of Lou Dalton and John Smedley – two powerhouses of Brit fashion – banging their heads together was always going to be something a little bit special. Behold!
Buy from Browns Fashion (opens in new tab) | £265
---
Australian Alpina Baseball Collar Piqué Polo
(opens in new tab)
White polos don't have to be boring. The designers at Italian brand Australian Alpina know that, having swapped in a baseball collar where your tried-and-tested angle flaps once sat. A lovely little touch.
Buy from Australian Alpina (opens in new tab) | £85
---
Colmar Glen Plaid Polo Shirt
(opens in new tab)
Plans to swing your way around 18 holes this weekend? Stand out from the fusty old duffers with this stylish number from Colmar's golf range. Not just a pretty face, this thing's made from stretch fabric, meaning you've one less excuse for somehow landing in the rough on the practice putting green.
Buy from Colmar (opens in new tab) | £83
---
Fred Perry Chest Panel Polo
(opens in new tab)
Having unearthed a stack of long-forgotten pieces from the '70s, '80s and '90s in its warehouse recently – all sealed and in mint condition – Freddy P has meticulously recreated this archive polo with the very same fabrics, colours and modernist panelling as the rediscovered original. You'll find it's part of the very cool Reissues Collection.
Buy from Fred Perry (opens in new tab) | £85
---
Lacoste Long-Sleeved Colourblock Piqué Polo
(opens in new tab)
Thought you had the Lacoste polo shirt all figured out, did you? Plain colour, short sleeve, snappy little croc friend? Sorry for bursting your bubble, but here it is with a blind-siding long sleeve, ideal for when the clouds crash your sausage grill-up.
Buy from Lacoste (opens in new tab) | £115 (currently reduced to £69)
---
Polo Ralph Lauren Short Sleeved Polo
(opens in new tab)
Ralph has been turning out his trademark polos since 1972, and boy, there's a whole lot to choose from… A shirt with bongo-playing bears emblazoned on it, though, is a new one on us. Kudos for keeping things fresh, Mr Lauren!
Craft beer drinker, Devonian, fisherman and former content director of Coach online, Chris contributed style coverage and features between 2016 and 2019.
Sign up for workout ideas, training advice, the latest gear and more.
Thank you for signing up to Coach. You will receive a verification email shortly.
There was a problem. Please refresh the page and try again.