The Best Backpacks For Men: Models To Suit Every Style
By Chris Sayer last updated
Ten extremely attractive ways to strap your stuff to your spine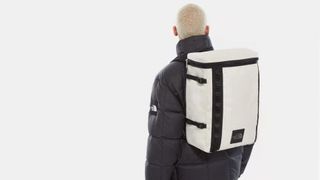 (Image credit: Unknown)
We'd forgive you for thinking that selecting a new backpack involves ticking just two boxes: does it possess the required straps to sit on your back? And does it have a big cavernous void in which to pack your Very Important Possessions? Straps, check, gaping void, check, check out, done.
Only it's not that simple. Have you considered what you'll be packing? Have you worked out where you'll be lugging your gear? Will you require your new pack to withstand an elemental thrashing in the wilderness? Is having what appears to be a piece of sculptural art clinging to your spine important to you? See, it's not that easy, is it?
Lucky for you, we've pondered all those questions and more, and answered them with this run-down of the very best backpacks available right now. Take a look, tick your boxes and get out there, with your kit comfortably and stylishly slung behind your shoulders.
---
(opens in new tab)
Snow Peak opened its first UK flagship store earlier in 2019, meaning you no longer have to race to the door at the sound of the postman like a maddeningly untrained puppy, hungry for your next parcel of innovative and extremely cool Japanese-made adventure wear to arrive. Get down to London's St James Market and rub your mitts up and down all SP's timeless, functional and high-quality wares, including this supremely water-repellent rolltop that's screaming out to protect your stuff 'n' things on your cycle commutes.
Buy from Snow Peak (opens in new tab) | £206
---
(opens in new tab)
This is where your 15in Macbook lives now. With a specially made slot and water-resistant protection, we can think of no better bag from which to pull your precious work machine after a wintry dash to your favourite table with a plug at your closest trendy coffee shop.
Buy from The Chimp Store (opens in new tab) | £64.95
---
(opens in new tab)
Did somebody order the retro vibes? Here's a huge steaming plate of it. This classic and hard-as-nails backpack from the Berghaus archives was a bag of choice among the adrenaline-jacked free climbers and ski guides of the 1990s, and is back for the 2020s with some seriously big colour-blocking.
Buy from Berghaus (opens in new tab) | £80
---
The North Face Base Camp Lunar Fuse Box
(opens in new tab)
Made with the very same material that carried The North Face's iconic Base Camp Duffel bag to the title of Kingpin of Adventure Luggage, this special-edition Fuse Box – which celebrates the greatest achievement in exploration, the lunar landing – is one big tough cookie.
Buy from The North Face (opens in new tab) | £135
---
(opens in new tab)
Tretorn's premium-feeling, hard-wearing and waterproof Wings Flexpack doesn't know if it wants to be a rucksack or a tote bag. Luckily for you, it does both extremely well.
Buy from Tretorn (opens in new tab) | £65
---
See related
---
Eastpak Bust Etched Backpack
(opens in new tab)
Boston-born Eastpak has been helping you lug your kit around on your back for more than half a century, and is a real safe bet when -investing in a new pack. Which is why we're always intrigued when it deviates from the classics and produces something like this: a super-modern top-loading back-bucket made with embossed neoprene.
Buy from Eastpak (opens in new tab) | £110 (currently reduced to £88)
---
Gloverall X Brady Pennine Rucksack
(opens in new tab)
Lean, clean and green, this stripped-back and smart double-strapper from heritage winter-coat titan Gloverall, in collaboration with British handmade bag maker Brady, is a highly traditional winner.
Buy from Parasol (opens in new tab) | £270
---
(opens in new tab)
If you're more likely to be seen (or caught dreaming of) kick-flipping your way out of your office rather than catching the Tube, this cool-kids pack is for you. From surf/skate/snowboard legend Volcom, the Ruckfold straddles the inner city and great outdoors with ease.
Buy on Amazon (opens in new tab) | £75.72
---
(opens in new tab)
There's a whole lot to love here. Not only has the Kånken – Swedish brand Fjällräven's simple little square – become a real all-conditions, any-adventure icon, but this version, the Re-Kånken, is made entirely from recycled plastic bottles. It's dyed using a more environmentally sound, energy- and water-saving method, too.
Buy from Fjällräven (opens in new tab) | £80
---
(opens in new tab)
This is how we imagine backpacks might look if Picasso, for whatever reason, found himself in the luggage industry. This asymmetrical and alien brain-bender from Parisian wildcard Côte & Ciel is likely to incite a level of head-turning and beard-scratching when, finally, you find a suitable excuse to unleash it into the wild.
Buy from Cote & Ciel (opens in new tab) | €275 (around £231)
Craft beer drinker, Devonian, fisherman and former content director of Coach online, Chris contributed style coverage and features between 2016 and 2019.
Sign up for workout ideas, training advice, the latest gear and more.
Thank you for signing up to Coach. You will receive a verification email shortly.
There was a problem. Please refresh the page and try again.