8 Products To Use For Whiter Teeth
By Max Anderton last updated
Taking care of your teeth is the key to keeping them white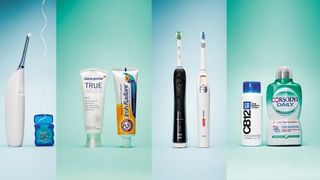 (Image credit: Unknown)
If you're in the market for a brighter set of pearly whites, there are easier and cheaper ways than forking out for intensive cosmetic dentistry. The best way to keep your teeth looking healthy is to understand what can discolour them in the first place, and care for them accordingly between meals.
What causes yellow teeth?
The main culprits are tea, coffee, red wine and smoking, but thin enamel can also give teeth a yellow appearance. Thick, healthy enamel is white, but underneath that is a brown substance called dentine, which can show through if the enamel is thin. Food and drinks that seem healthy, like fruit, juices and smoothies, can wear away enamel because of the sugar content. Teeth also discolour as you age, and certain medications can cause staining under the surface of the enamel, explains the British Dental Health Foundation (opens in new tab). Teeth can also turn a greyish colour after a root treatment, as this involves the removal of soft tissue inside the tooth that contains nerves and blood vessels.
What can you do about it?
The British Dental Health Foundation recommends brushing teeth at least twice a day, but if you've eaten or drunk anything that contains high amounts of sugar, wait at least one hour before brushing. Cleaning teeth any sooner could cause enamel that's been weakened by the sugar to be brushed away. Visiting a hygienist regularly to remove build-up of plaque can also help maintain the surfaces of your teeth. Everyday maintenance is just as important, too, which is why we asked dentist Arjinder Chohan to tell us the best products to use to take care of our teeth.
---
"If you want to do the best you can for your teeth, flossing is it," Chohan says. "Studies have shown it's the most effective way to prevent gum disease and bad breath."
£2 chemistdirect.co.uk (opens in new tab)
---
2. Philips Sonicare
Airfloss Pro
Using either mouthwash or good old water, this blasts air and fluid between your teeth to act as a high pressure solution for anyone who has problems flossing.
£60 johnlewis.com (opens in new tab)
---
"Most whitening pastes are abrasive by nature and long term use results in the loss of precious enamel," Chohan says. "But some pastes, like Sensodyne's True White, use less damaging methods."
£5.33 for 75ml boots.com (opens in new tab)
---
4. Arm And Hammer
Truly Radiant
It's mined from saltwater lakes in Wyoming so you know it's natural. Baking soda tastes grim, but it's a fair price to pay for enhanced teeth whitening and freshening.
£1.50 for 75ml boots.com (opens in new tab)
---
5. Oral-B
Pro 6000 Smart Series
"According to an independent Cochrane review, powered toothbrushes reduce plaque and gingivitis more than manual tooth brushing in the short and long term," says Chohan. This one lets you personalise your brushing settings through an app.
£115 boots.com (opens in new tab)
---
6. Colgate
Proclinical A1500
This basically brushes your teeth for you. The speed and direction of the strokes change depending on which tooth is in contact with the head of the brush for a smoother, more efficient teeth-cleaning session.
£85 very.co.uk (opens in new tab)
---
"Mouthwashes with alcohol in them can make your mouth feel dry so avoid those," Chohan says. "Fluoride, chlorhexidine and hydrogen peroxide are the ingredients you should look for because they contribute the most to keeping your teeth and gums healthy." This one keeps breath fresh for up to 12 hours too.
£10 for 250ml lloydspharmacy.com (opens in new tab)
---
8. Corsodyl
Daily Alcohol-Free
If you have a date then you should probably use this – it freshens your piehole up bigtime, although obviously you needn't bother if you have no game.
£4.80 for 500ml superdrug.com (opens in new tab)
Max was the head of digital content for Men's Fitness which worked alongside Coach between 2015 and 2019.
Sign up for workout ideas, training advice, the latest gear and more.
Thank you for signing up to Coach. You will receive a verification email shortly.
There was a problem. Please refresh the page and try again.