The Best Tennis Rackets For Beginners
By Nick Harris-Fry last updated
Step onto the court with confidence, armed with one of these terrific beginner tennis rackets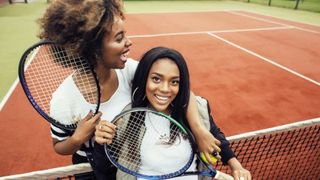 (Image credit: unknown)
Whether you're looking to get a little fitter or to just play a fun sport outdoors, tennis is a brilliant choice. Charging around the court and swinging your racket will whip you into shape in no time, while the balance of power and skill required to best your opponent makes it an addictive pursuit.
When you first start playing, however, tennis can be quite frustrating, with frequent trudges to the net and trips outside the court to retrieve balls you've mishit low or shanked wildly high.
You'll quickly improve, but in the meantime having the right racket in your hand can help a huge amount. For instance, one with a large head and a similarly sizeable sweet spot will be more forgiving to the dubious skills of the court newbie.
Below you'll find a range of top beginner tennis rackets to choose from, but first here's some expert advice on selecting a beginner's racket.
Beginner Tennis Racket Buyer's Guide
For guidance on what makes a racket suitable for beginners, we enlisted Jake Whalley of racket maker Babolat UK.
What are the common features on beginner tennis rackets?
A racket designed for a beginner should firstly be lightweight, which in racket terms means between 240g-275g (unstrung published weight). Newcomers will be learning new techniques as well as absorbing the impact of contact with the ball, and will find they are using new muscles, or at least muscles in a different way. A lightweight racket will help them master these new movements while minimising any aches and pains.
Secondly, a beginner racket will often have a slightly oversized head (102-110 square inches) versus a more advanced mid-size racket head (95-100 square inches). The bigger head offers a larger sweet spot and helps to ensure a more responsive contact with the ball even if it's not struck dead centre in the middle of the strings.
What are the key differences between a starter racket and a more expensive model?
The main one will be that a starter racket suited for beginners and infrequent players, as well as for anyone playing with lower-compression balls, will often be made of aluminium, which is more affordable and lightweight.
A more expensive racket will include carbon graphite, either in composite form or in its entirety. A graphite racket, engineered correctly, offers greater rigidity for increased power and enhanced impact stability for greater control. This is essential when developing your game, especially when progressing to a harder and heavier standard yellow tennis ball.
Beyond that, more expert players will look at frame shapes and a brand's proprietary technology to achieve the desired playability characteristics to best complement their style of game and physical attributes.
How much should you look to pay for a beginner's tennis racket?
About £15-£40 for an aluminium racket like the Babolat Evoke (opens in new tab). For a graphite racket it'll be more like £50-£90. The Babolat Boost (opens in new tab) is a great graphite option.
How long should a racket last and do you have any tips for maintaining it? Should you get a case?
Aluminium rackets are naturally more flexible and can bend out of shape over time through heavy hitting and if not well cared for. However, a well-looked-after graphite racket can last for many years. One key point is understanding that the strings are the racket's engine – they account for up to 50% of the overall playability of the racket so it's essential to have the right strings and string tension.
A general rule of thumb for any player is that they should change the strings in their racket the same number of times each year as the number of times they play tennis each week. Or when they break, of course! So if you are playing roughly three times a week, you should be aiming to refresh the strings in your racket three times a year.
To best maintain your racket, a case or racket bag is advisable. This will protect your racket from bumps and scrapes, and keep your grip and strings dry. Storing the racket out of direct sunlight and as close to room temperature as possible is also a good move. This will help reduce the tension loss and keep playability consistent.
Are there any other things you should consider when buying a racket?
Grip size is another key consideration when choosing a racket. A general guideline would be to check that when you hold the racket, it is comfortable in your hand and gives full surface contact from the palm of your hand through to the tips of your fingers.
See related
The Best Beginner Tennis Rackets
Equipped with Whalley's advice, we've curated this range of affordable tennis rackets for beginners.
(opens in new tab)
This is as cheap as it gets for a solid beginner tennis racket. The Artengo TR100 is made from aluminium but is still fairly lightweight at 265g, has a neutral balance and a 697cm2 head, all features that make it great for new players. The racket only comes with a size 2 grip, which is small and easy to hold for a majority of players, but might be a little too small for some.
Buy from Decathlon (opens in new tab) | £9.99
---
Both beginners and more experienced recreational tennis players will enjoy using the Evoke 102, which is a lightweight 270g and has a generous head size of 102 sq in. It's not the cheapest, but it's great value at its full price of £40 and is often reduced to around £30.
Buy from British Tennis Shop (opens in new tab) | £40 (currently reduced to £31.17)
---
(opens in new tab)
With an oversized 110 sq in head this racket has a huge sweet spot, which can make your first few trips to the tennis court a lot less frustrating. Despite the large head it still weighs only 300g, so you will have plenty of control on the court while also packing a bit of power into your ground strokes.
---
(opens in new tab)
If you're convinced that you're about to embark on a long and happy tennis journey and want to look beyond a beginner racket for your first purchase, consider the Head Ti S2. It's still very light at 245g and has a large 102 sq in head, but the head-heavy balance allows you to put plenty of power into the ball as you get more confident on the court.
Sign up for workout ideas, training advice, the latest gear and more.
Thank you for signing up to Coach. You will receive a verification email shortly.
There was a problem. Please refresh the page and try again.