The Best Punching Bags For Your Home Gym
By Jake Stones last updated
Because when you hang a punching bag in your home, you can play "Eye Of The Tiger" on repeat as many times as you like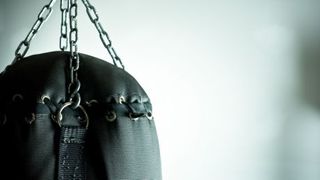 (Image credit: unknown)
While you may think your opportunities to throw punches (at deserving bags, of course) are limited to your gym or one of those boutique fitness studios, it's actually pretty easy to set up a punching bag at home. With a variety of punching bags available and different space requirements for each of them, you're sure to find one that suits your domestic arrangements.
One thing we will say is that you don't need to make a permanent fixture of your bag by opting for a hanging one that requires affixing to a ceiling. You might assume that you'd need such a bag for heavy punching sessions, but no less a boxer than Tony Bellew told us that he's happy with a freestanding bag at home and – no offence – Tony Bellew punches harder than you.
"I haven't actually punched anything in two years since I retired, but I've just bought one," says Bellew, who is an ambassador for Pure Brand Nutrition (opens in new tab). "It's efficient, it's just a ball on a spring with a base, and I'm really enjoying using it.
"You can move this around and it's very easy to put away – that's why I got it. I don't need to be hanging a big bag."
You'll find your choice of bag material is more limited: it's leather or polyurethane (PU). Leather is the best material – it'll last longer, but of course it's more expensive.
In addition to your bag you're going to need a solid pair of boxing gloves and wraps to protect your wrists and knuckles – especially important if you're just starting out. Then if you're sizing up a heavy bag you'll need a way to hang it. You can choose between a wall or ceiling bracket (Sweatband has the best range (opens in new tab)), or a stand (try this Everlast stand from Argos (opens in new tab) or the Viavito stand from Sweatband (opens in new tab)).
So browse our top picks, buy a bag, then watch the entire Rocky franchise while you wait for it to arrive.
Pro Power 4ft Punch Bag With Boxing Gloves
Best Starter Set
(opens in new tab)
If you're a beginner keen to square up to a bag as soon as possible, look no further than this set of bag and gloves. Throw in this £15 wall bracket (opens in new tab) and you're all set. Bear in mind this is for boxing and fitness beginners, being better for cardio than it is for working out your frustrations on.
Buy from Argos (opens in new tab) | £54.99
---
Everlast Reflex Punch Bag
Best Lightweight Freestanding Bag
(opens in new tab)
You don't need to hit hard to get a good workout in and this type of bag is far superior if you're keen to improve your cardio and speed. The base can be filled with water or sand, while the small foam bag is on a spring. Fair warning: hit too hard and you'll either break it or, if you're not careful, cop a bag to the face. Still, it'll provide more of a skill challenge than punching until you've knocked yourself out.
---
Everlast Fit Powercore Free Standing Bag
Best Freestanding Punching Bag
(opens in new tab)
Pay attention, home renters – this type of bag is ideal if you're not in a position to drill into your walls. Once you've filled the base with sand or water, freestanding bags can take some heavy hits and they're also ideal for working on your footwork because you can circle the entire bag.
This Everlast bag has shock absorbers that reduce movement resulting from a flurry of shots. Its air-foam chamber means there's no need to fill the bag for padding, and because the height is adjustable you can match it to your stature.
See related
Carbon Claw Arma AX-5
Best Heavy Duty PU Bag
(opens in new tab)
This is the classic old-school punching bag. It's not as effective for developing your precision and technique as other types of bags, but you will be able to develop power, burn some serious calories and knock seven bells out of it.
Our pick of PU bags comes pre-filled with compressed cloth and a 20mm foam lining. It weighs 27kg and is 1.2m tall, and there's a D-ring at the bottom so you can fasten it to the floor to minimise swinging if you prefer.
Buy from Sweatband (opens in new tab) | £69.99
---
Hatton Heavy Bag
Best Heavy Duty Leather Bag
Yes, that Hatton. Ricky "The Hitman" Hatton's brand includes this hand-stitched leather beauty with an exclusive fill that improves force absorption and ensures the bag keeps its shape no matter how many haymakers you land. It comes in two sizes, 1m and 1.3m, and is also available in PU if your budget won't stretch to the leather version.
Buy from Best Gym Equipment (opens in new tab) | £225-£257
Jake was formely an intern for Coach and now contributes workouts from some of London's top trainers. As well as training in the gym and running, he's competed in the eight-hours-long overnight event Europe's Toughest Mudder twice and the 24-hours-long World's Toughest Mudder once.
Sign up for workout ideas, training advice, the latest gear and more.
Thank you for signing up to Coach. You will receive a verification email shortly.
There was a problem. Please refresh the page and try again.