Score More Goals With These Football Tips From England's Striking Coach
By Jonathan Shannon published
Allan Russell shares four simple pointers to help anyone add to their tally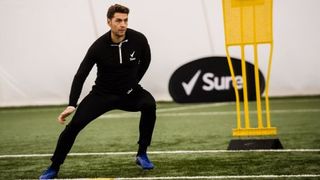 (Image credit: Unknown)
It doesn't matter who you are or where you play, you want to score goals. The good news is that inside every player, even the most lumbering defender, there's a predatory striker just waiting to get out. That's what we've decided, anyway, when we suddenly started netting in our weekly five-a-side after taking on a shooting drill under the supervision of Allan Russell at a Sure event.
Russell is a former striker who played in the Scottish Premier League and later became a striking coach, joining the England set-up before the last World Cup. A few scuffed shots during the drills didn't make much difference, but these nuggets of advice we picked up from Russell did. Here are the tips that should help any casual player.
1. Slow It Down, Speed It Up
The drill we tried with Russell involved iPads and colours – not much use to you probably – but it also involved quick changes of pace and Russell shouting "SLOW IT DOWN" a lot, before a quick dart into space and finish. Adding speed variety to our game has helped lull an opposition defender into switching off.
2. Use Your Warm-Ups Wisely
"Too many players don't get enough repetition in practicing the basic finishes, both in areas they should be getting into and do get into in games," says Russell. If you're a once-a-week kind of player in it for fitness and fun (and goals and glory, obviously) you'll probably struggle for dedicated training time, but there's no reason you can't use your warm-up. That bit where you all stand around and whack the ball in the goal? Just be smarter about it.
"If you think there's a good chance you're going to be in a particular situation in a game, get yourself in those situations before games in the warm-up," says Russell. "Identify two types of finish in two different areas, and get the reps in."
3. It's All In The Hips
Next time you play football make a mental note to track the movement of your hips. If they're all over the place and constantly out of alignment, heed this. "Keep your hips linear and don't lunge for things," says Russell. "As soon as you do that you jeopardise your balance and your contact on the ball. That's when people start to scuff it, or hit it wide or high."
See related
4. Stay Patient, Stay Dangerous
"There's a first and a second phase for a striker, the start and end of the build-up," says Russell. "A lot of players come into an area for the first phase where they can't affect the second phase. Top strikers are patient and they patrol certain areas because they know they can get to the next phase of the play easily. It's about staying patient and staying dangerous.
"A lot of youth players and non-professionals feel they need to be involved in the game, so they drop too deep or too wide. Patrol areas where you can maximise your opportunities to score rather than just getting involved in the game."
Coach spoke to Alan Russell at a Sure event designed to inspire people to move more. Find out more on Twitter @ (opens in new tab)Sure (opens in new tab) and Instagram @ (opens in new tab)SureFootball (opens in new tab) #NeverMoreSure
Jonathan Shannon has been the editor of the Coach website since 2016, developing a wide-ranging experience of health and fitness. Jonathan took up running while editing Coach and has run a sub-40min 10K and 1hr 28min half marathon. His next ambition is to complete a marathon. He's an advocate of cycling to work and is Coach's e-bike reviewer, and not just because he lives up a bit of a hill. He also reviews fitness trackers and other workout gear.
Sign up for workout ideas, training advice, the latest gear and more.
Thank you for signing up to Coach. You will receive a verification email shortly.
There was a problem. Please refresh the page and try again.