Tamsin Greenway On Why Women Should Play Sport This Summer
By Nick Harris-Fry published
Keep fit the fun way by trying a new sport or reviving your love of an old one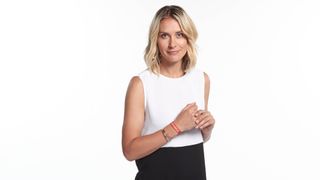 (Image credit: Unknown)
There is no one type of exercise that works for everyone, so limiting the activities you're exposed to just makes it less likely you'll find the one you truly love and want to do every day. Yet after school or university many people narrow their view of exercise to a handful of options like going to the gym, running or swimming. All great options, but hardly the whole sporting story, and if none of them tickles your fancy, it's time to get out and find something that does. And the good news is you can start that process just by watching sport if you want.
Sky Sports has partnered with the Women's Sport Trust on the #ShowUp campaign to encourage everyone to attend live women's sport and watch it on the TV, as well as – most importantly – getting women to try a new sport or give a lapsed love a second chance. We spoke to Wasps netball player/coach and Sky pundit Tamsin Greenway about the benefits of playing sport and how people can get involved.
Why is playing sport such a good way to get fit?
It's a great way to avoid the monotony of the gym. With team sports you're surrounded by other people and it takes your mind off things. I know when I'm playing netball, throwing a ball around, being with my friends, I find it a really easy way to keep fit and healthy.
The gym can be quite obsessive. It's about working on this, or working on that, or getting the body shape for that. The great thing about sport is it becomes a habit. Once you find what you're passionate about you're hooked for life. I know when I try the latest class or something it will last for six to eight weeks and then I stop. Once you're engaged with a sport, you seem to be engaged in it for life. We've seen that with programmes we're doing for netball where we have 60- or 70-year-old women still playing and enjoying it, keeping fit and healthy with others.
How do you overcome the nerves of trying a sport for the first time in front of other people?
It's just about being brave. You play sport all through school and what we find, especially with women, is that when you drop out it's difficult to get back. What's great is there are now so many initiatives across all sports designed to get people back playing. If you can just be brave enough to go along to that first session – maybe take a friend – you'll be amazed. And everybody has been in that position before and there are levels out there for everybody. It's just about taking that first step to find something and give it a go.
Can more be done in schools to engage kids with sport?
There are many more ways to engage kids at school, whether that's local clubs getting involved or parents. We have a massive responsibility too, not to just put it on schools! I had really active parents – we were always biking at the weekend, or playing a new sport, or going swimming. But that's the age where it starts – if you get a passion for something you love early you will continue that though life.
How would you recommend people get involved in netball?
Netball is still played in schools all around the country. Participation levels are huge and there's loads of clubs. One of the big parts of this #ShowUp campaign is that the sports are out there, it just takes a bit of Googling and suddenly you'll find the information you need. Then it's about taking that first step, even if it's just going to watch a game. Then find your local club and that starts the journey within sport that will last.
Why is watching sport a great first step?
We have 100,000 women playing netball every single week. If we up the percentage of those players who are also watching it and taking their kids to watch it, female sport would be booming. We have moments when it is, like the Commonwealth Games final [in which England beat Australia to win gold], or the hockey win in the Olympics and the 2012 Olympics, and it's about continuing that. It starts with people watching, putting it on the telly. It starts to grow a passion and then you find out more about the sport, more about the stars and more about the local opportunities.
Sky Sports and the Women's Sport Trus (opens in new tab)t (opens in new tab) have partnered to encourage everyone to show up and support women in sport by watching, attending or playing this summer. Be a part of the campaign by sharing your experiences of women's sport on social using #ShowUp
Sign up for workout ideas, training advice, the latest gear and more.
Thank you for signing up to Coach. You will receive a verification email shortly.
There was a problem. Please refresh the page and try again.