Find A Playing Partner With EasyTennis
By Nick Harris-Fry published
Because banging a ball against a wall gets old pretty quickly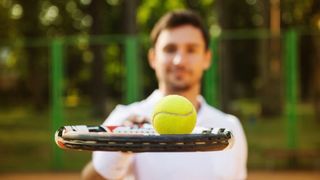 (Image credit: unknown)
Tennis is an ideal sport for testing the physical fitness, mental toughness and technical skill of players – if, of course, you're playing someone that's of a similar ability.
Smashing someone 6-0 is only marginally more fun than being smashed 6-0, and tennis is not a sport where you can make great improvements by playing someone significantly better than you. There's only so much you can learn while collecting balls that have whizzed past your racquet.
RECOMMENDED: Four Gym Exercises That Will Improve Your Tennis
Worse still than a mismatch is having no-one to play with at all, because playing tennis solo is more of a cry for help than an actual pastime.
Fortunately in this glorious age of interconnectivity, you need never play tennis alone or against someone far better than you again. From the company that brought you easyJet and easyGym comes easyTennis, which matches you with players of a similar ability in your area.
RECOMMENDED: Scratch Your Wimbledon Itch With This Handy Guide To London Tennis Courts
As the name suggests, signing up for easyTennis is a very simple process, but it isn't free. You can choose to either sign up to a pay-as-you-go plan where it costs you £2.99 for every match organised, or a £4.99 monthly membership where you can set up as many matches as you like. This rolling membership that can be cancelled any time, and there are even prizes to be won for frequent users of easyTennis.
You set your playing ability and availability, and then wait for the matches to start rolling in. It's like Tinder, but with fewer dick pics. We can't guarantee zero dick pics – no-one can, this is the internet – but we're confident there will be fewer.
If you're unsure of paying to use easyTennis without guarantees that you'll find anyone to play with, enter your postcode on the site to see how many players and courts are near you. You can also set up a first match for free.
For more info and to sign up, head to easytennis.co.uk (opens in new tab).
RECOMMENDED: How to Be a Better Tennis Player
Sign up for workout ideas, training advice, the latest gear and more.
Thank you for signing up to Coach. You will receive a verification email shortly.
There was a problem. Please refresh the page and try again.