Why I Love Fencing: World Champion Miles Chamley-Watson
By Nick Harris-Fry published
It's not just because you get a sword, but that helps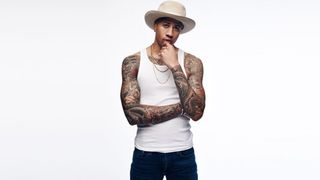 (Image credit: unknown)
What do Winston Churchill, Lord Byron, René Descartes and Arnold Schwarzenegger have in common? They were (and are, in the case of the Governator) all fencers. And yet despite these illustrious fans and the fact you get to wave a sword around, fencing is a niche sport in the UK.
We're always keen to highlight the advantages of taking up any sport, so we spoke to Miles Chamley-Watson, foil world champion in 2013, to get the lowdown on what makes fencing special.
How did you get into fencing?
I started fencing at around ten years old when I moved from London to New York. I used to get into trouble all the time growing up and I was put in an after-school programme at my school. I tried a few different sports there, including fencing. With a sword in your hand, you feel quite powerful. I think that's what really drew me to fencing. Since then I've never looked back.
What other sports have you done in the past and what was it about fencing that attracted you?
I was playing tennis, basketball, every sport. I didn't know much about the sport at all but it was something that I really liked right away – it was love at first sight.
For me, fencing was very unusual. None of my family knew about fencing, none of my friends knew about it. It was cool to take my own path. I never fit the norm so fencing was perfect for me. I could use any anger and I could take it out on my opponent.
One-on-one combat is something that's unmatched. It's just you and the other person. You have the same thing in your hands so it's just down to who's better, who's more powerful.
When did you start getting serious with the sport?
I entered a few competitions when I was 11 or 12 and it took off from there. I'd say at around 15 I started to dedicate more of my life to fencing. That's when it I thought it could be a career.
Is fencing viewed differently in the US to the UK?
It is probably quite similar. I think it's a sport that London knows more about than America, but I think it's growing in popularity more in America than London.
Have you ever fallen out of love with it? What made you come back?
I can't say that I've ever fallen out of love with it. It's the thing that's kept me sane, the one thing that I could always rely on.
What's the toughest thing about it?
It can be a bit repetitive, that might be the hardest thing. Like with any sport it can seem like you're doing the same thing every day. For me doing something new or working with someone new is always good.
How would you recommend beginners get into fencing?
I would say just try it. I started in a different way but there's often a lot of programmes – a lot of schools and YMCAs are starting to offer it now. It's something that everyone should try if they can.
Miles Chamley-Watson features in Gap's "Bridging the Gap", the directorial debut by British Vogue's editor-in-chief Edward Enninful celebrating American optimism. For more information visit gap.com/bridgingthegap (opens in new tab).
If you're inspired to give fencing a try check out the London School of Fencing, which provides beginner courses for adults. londonfencingclub.co.uk (opens in new tab)
Sign up for workout ideas, training advice, the latest gear and more.
Thank you for signing up to Coach. You will receive a verification email shortly.
There was a problem. Please refresh the page and try again.