How Jordan Henderson Trains To Win
By Men's Fitness published
The hardest-working player in the Premier League on why strength, endurance and good nutrition can make the difference for any athlete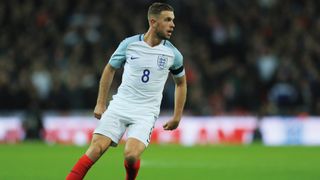 (Image credit: Unknown)
Jordan Henderson has earned a reputation as not just one of the best midfielders in the Premier League but also one of the fittest. He tells Coach's sister title Men's Fitness how he trains to be a winner – and hopes to lead Liverpool and England to success
Jordan Henderson knows how to dominate matches. With a powerful mix of explosive runs, robust physicality, pinpoint passing and relentless stamina, the Liverpool man has established himself as one of the Premier League's fittest and most effective box-to-box midfielders – not to mention an inspirational captain who leads by example.
According to player-tracking service Opta, Henderson is officially the hardest-working player in the Premier League, covering 11.8km per game, making an average of 88 passes and winning 70% of his tackles.
As captain of Jürgen Klopp's high-flying Liverpool team – and skipper of the England national team for their autumn 2016 games against Slovenia and Spain – the 26-year-old is proving that natural leadership skills fused with supreme fitness make a powerful combination.
RECOMMENDED: How Fit Is An Elite Footballer?
Henderson joined Liverpool from Sunderland for an undisclosed fee (believed to be around £16 million) in June 2011 and went on to succeed Liverpool icon Steven Gerrard as club captain last season.
He is now in the form of his life, orchestrating Liverpool's high-tempo performances, altering the course of matches and driving his club into the race for the Champions League. By the end of January, Henderson had made 1,824 passes this season – 302 more than any other player in the league.
Having won the League Cup with Liverpool in 2012, and narrowly missed out on the league title in 2014, Henderson is now aiming to harness his athleticism and stamina to power his teams to more success. He met Men's Fitness to discuss the art of leadership and explain why strength, endurance and good nutrition can make the winning difference for any athlete.
Some men enjoy the responsibility of leadership. Others suffer from the pressure. Does captaincy suit you?
Yeah, I think I do enjoy taking more responsibility. I like trying to help the players around me and trying to do the best I can for the team. Obviously when things are going well that is much easier. But we have a lot of leaders in the [Liverpool] team so I feel as though we lead this team together. We have really good morale and togetherness in the dressing room, and I think you can see that on the pitch in the way we all work for each other and fight for each other.
How do you ensure the team remain united?
It's about making sure everyone in the team knows what they need to do. As captain I try to make sure everyone's feeling good, preparing the right way and working as hard as they possibly can on the training field to become a better player. If everyone is doing that, we will automatically have a better team. We also do things as a team, like going out for food or playing golf together for a bit of team bonding. We are a very close group.
Are there any particular captains you admire?
I've been lucky enough to work with a lot of great leaders in football, both managers and players. I've learned a lot from everyone. But the main thing I've learned is to always put the team first and try to do what you feel is right for the team.
In what key moments do you speak to the players?
Before the game a few of us might say one or two things. At half-time it is mostly the manager who will talk about different things we need to work on, such as what we can do better going forwards or defensively. If I have anything to say it will normally be before the match.
Do you have any pre-match routines?
I'm pretty relaxed about getting myself into the zone. I just concentrate on what I need to be doing in the game so I stay focused and feel ready physically and mentally.
As Liverpool captain do you hope to write yourself into the club's history?
Personally, that's not my aim. My aim is for the team to write itself into history – that's all I'm bothered about. If you're successful as a team then of course you will be remembered. That's what we're trying to achieve this season and in seasons to come.
What are the main physical qualities you need as a box-to-box midfielder in the Premier League?
You have got to be robust and you have got to be able to cover the whole pitch, because it's about both attacking and defending. You have also got to be able to get about the pitch quickly because it's a high-intensity game, which means you do need a good level of fitness, but we had a great pre-season so we are prepared to stay in good shape.
RECOMMENDED: Pre-Season Football Fitness Drills
We play a very intense game at Liverpool and we run a lot – whether we have got the ball or not we're always working hard, making options for each other and trying to win the ball back quickly. Because of that fitness levels are very important.
What is your main focus in the gym?
It is mainly core work and a bit of upper-body work now and again. Because we do a lot of training work on the grass and our training is so intense, we don't do many leg-specific sessions or it can lead to injury and fatigue. We all do individual work too – if a player has had an injury they might do specific stuff to make sure they are stronger in that area.
How do you boost your speed for those high-intensity sprints?
We have a speed session during the week where we use speed ladders and practise short-distance sprints. We often do that as part of our warm-up.
RECOMMENDED: Train Like Harry Kane With His 6 Top Football Drills
Describe how your body feels after an intense 90-minute match against, say, Everton or Manchester United.
The body aches after every game – not just derby games. After every single game you should be coming off the pitch exhausted. Mentally. Physically. Everything. This season whenever we've got back to the dressing room everybody is exhausted, but that means you're doing something right and giving everything in every single game. You feel drained but that's a good feeling, when you know you've given everything.
How do you recover in time for the next match?
Recovery is a big part of football, especially when you are playing every three days. You have to recover very quickly and as best you can. That might involve ice baths or a jog or just making sure you eat the right food. We have a lot of protein after matches to help our recovery and to make sure we're ready to go again as soon as possible.
Nutrition is key for any athlete. Are you any good in the kitchen?
[Laughs] I'm OK. I don't do much if I'm honest with you! But when I need to I can put on a decent meal for myself. Nutrition is a big part of football and we have to make sure we are eating and drinking the right things. Are any other players good at cooking? Well, I haven't met any yet… But I'm sure they must be out there! Everything is done for the players at the training ground so we're very lucky in that respect.
What is the main nutritional lesson you have learned in your career?
The big thing about nutrition is variety. You don't want to be eating the same things all the time. So for breakfast I'll often mix things up, so it's eggs on toast, or porridge, or fruit and muesli. It's important to have different things because different foods support your body in different ways. I also aim to eat as much natural food as possible before and after matches to get maximal nutrition.
What is your pre-match meal?
Before a game I normally carb-load with pasta and rice, but that can vary as well – I will have different carbs and different proteins. But in general before each match is the one time I will tend to have a very similar meal – pasta or rice with chicken. At that stage we are just trying to get as much energy into the system as possible.
What is the main thing you have learned from Liverpool manager Jürgen Klopp?
We learn something every day, not only on the pitch but off the field as well. He's very close to the players and wants to help them in whatever way he can, whether that's tactically on the field or making sure they are doing the right things off the field. We are all learning from probably the best manager in the world every day – it's an honour to be playing under such a good manager and in such a good team.
Is winning the League Cup in 2012 your career highlight so far?
Obviously when you win your first trophy that is a big thing for anyone. The game that really sticks in my memory though was the Borussia Dortmund game [the Europa League quarter-final second leg in April 2016, when Liverpool came from 3-1 down to win 4-3]. I was injured so I wasn't even playing but it just sticks out because of how the team went behind, came back and went on to win the game. The atmosphere and everything about it really stands out.
Finally, was your 30-yard wondergoal against Chelsea in September the best you've ever scored?
Yeah, that was probably… one of my best goals! It was an amazing feeling to score but even better to win that really important game. Hopefully I can get a few more like that for the team this season.
Jordan Henderson is a Maximuscle athlete. Maximuscle's new range of raw ingredient powders is now available at maximuscle.com (opens in new tab)
Sign up for workout ideas, training advice, the latest gear and more.
Thank you for signing up to Coach. You will receive a verification email shortly.
There was a problem. Please refresh the page and try again.