How Do You Prepare To Play In The Super Bowl?
By Nick Harris-Fry published
Former New York Giants defensive end Osi Umenyiora relives the run-up to his two Super Bowl wins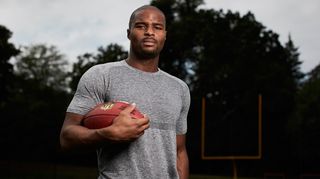 (Image credit: Unknown)
Super Bowl Sunday is fast approaching, with the New England Patriots and the Atlanta Falcons facing off for the biggest prize in American football at the grandest sporting occasion on the planet.
One man who knows a great deal about that occasion is the UK's NFL ambassador and BBC pundit Osi Umenyiora, who is one of only four British-born players to have won the Super Bowl. In fact, he's won two. Osi was part of the New York Giants team that twice overcame the odds to beat the Patriots, with the Giants' win in 2008 standing as perhaps the biggest upset in the history of the sport.
We caught up with Umenyiora for an insight into how a player prepares for such a big game, what winning was like, and his predictions for Super Bowl LI.
How different is the week leading up to the Super Bowl from a normal game?
Honestly they try to keep everything as normal as possible. They don't really change anything that we would have done from all the previous weeks. Even though it is the Super Bowl and the biggest game of your life, they try to keep it as normal as possible so once you get out on the football field you don't freeze up, thinking "this is the biggest game of my life".
Outside of the Monday, which is the really big media day, it's really just a regular week.
Did you try and avoid thinking about the match to avoid nerves?
I wanted to think about the match. I wanted to enjoy every last minute of it. For anybody to tell you they don't think about it, that would be a lie. It's the Super Bowl! Most of the people playing have been dreaming about that moment since they were kids. I wanted to appreciate it. But the minute we started stretching, everything just went right back to normal for me.
What did you eat on match day?
I didn't really eat before games. But since the Super Bowl is at five, it's a later kick-off, I'd probably have like a bagel. They usually feed you a pretty extensive pre-game meal of whatever you want – carbs, grilled chicken, steak, fish, vegetables… Nutrition is really important, but I just couldn't have anything in my stomach when I was playing so I was usually out there on as little food as possible. I would load up the night before, like a lot of food, and usually that would give me the energy to last.
RECOMMENDED: How Fit are NFL Players?
Is there anything you remember as being particularly tough in the build-up to your Super Bowl appearances?
Nah, not really. Both of those games it was a situation where nobody thought we could win, but we knew we could beat this team. We just approached it like every other single game that we had during the run up to the play-offs, and we just went out there and we executed. It wasn't anything in particular that we did, we just felt like we were the better team and played like it.
Do you remember the team talks being different around the Super Bowl?
The night before we played New England the first time, I remember [then head coach Tom] Coughlin gave a really emotional speech. I think he might have cried as a matter of fact. That was intense. Outside of that there was nothing different, and the second one we had a regular pre-game, but the night before the first one… if we would have played that night we would probably have beat them by four touchdowns.
RECOMMENDED: How to Bench Press Like an NFL Player
Which win did you enjoy more?
The first time, hands down. The second time, I think even though people didn't think we were going to win they knew we could win. The first time, not even my mom thought we were going to win that game. It was a really special, special thing.
Do you have a prediction for this year's Super Bowl?
Not right now. I want Atlanta to win as I played for them [after leaving the Giants in 2013] and I'm a big fan of that whole organisation. But I usually only pick against the New England Patriots if they're playing the Giants. I'm going to have stick on this one for while, but I think I'll know who I'm going with in the next couple of days.
Super Bowl LI, the climax of the NFL season, is live from Houston on Sunday 5th February at 11.30pm on BBC One, with a preview on The NFL Show on Saturday 4th February on BBC One after Match Of The Day.
Sign up for workout ideas, training advice, the latest gear and more.
Thank you for signing up to Coach. You will receive a verification email shortly.
There was a problem. Please refresh the page and try again.