Greg Rutherford: "Until I Was 23 I Would Never Take My Top Off"
By Mark Bailey last updated
Britain's most successful ever long jumper on body issues and why people shouldn't obsess about diets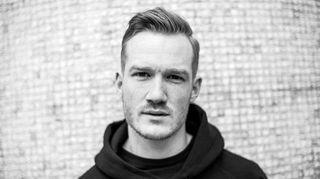 (Image credit: Unknown)
You've won Olympic, world, European and Commonwealth gold medals – something only four other British athletes have achieved. What motivates you to keep coming back?
I just love winning. I know that might sound crass but you don't have very long at this job. I've just turned 30 and I want to achieve so much that I become synonymous with the event I do, like Jonathan Edwards and Daley Thompson. You have to win multiple things over a long time in order to do that. I'm not old in the grand scheme of life but in track and field, I'm now a bit of an old man. So I want to achieve a bit more and then jump ship.
How do you psych yourself up for a major event?
Fundamentally you have to have an inherent belief that you can achieve what you set out to achieve. About 16 years ago I believed I would become a professional sportsperson. You have to have that self-belief because nobody else is going to tell you that you will become an Olympic champion or do the hard work for you. Even when I was injured in Rio I still mustered up a medal performance – purely because I wasn't going to let it not happen.
Fans see you in those moments of glory, but are there dark days?
The lows are very low. You can feel incredible then the next day you tear a muscle and all of that hard work has to start again. Rehabbing an injury is not fun.
Three weeks before the Rio Olympics I tore one of my adductors. So I either decide not to go or I work through it and do everything I can to perform. That is why I was so disappointed afterwards because if I had been 100% fit there is that "what if" moment. I won bronze but could I have become a double Olympic champion? In my head I will always believe I could have been.
You haven't always been comfortable with your body. Are body issues common among athletes?
There are certain bodies that respond very well to training and people get into fantastic shape. But I have to work exceptionally hard to get into this shape. My body and my genetics just want me to be fat, it seems.
I have done a DNA test and I know if I don't train I put on weight easily because I am very carb-sensitive. I spent my young career feeling really conscious of it. Until I was 23 I would never take my top off because I would look around and compare myself with other athletes. Only later did I develop the skills and the education to eat better. But it is something a lot of people deal with and are hiding.
Is it true you have a long jump pit in your garden?
Yes! I don't think many people have taken it to the extreme of having a long jump pit in their garden but I went there. It was a challenge to my dad who is a builder but he said, "Yeah, I can do that". We got it IAAF-accredited so I have hosted a competition for the kids in Milton Keynes and next year I can host a proper competition, which is amazing.
What are your key gym exercises for explosive power?
There are two lifts I perform at least three times a week: power cleans and box step-ups. I always share videos of them on social media and I've become quite good at them.
You'll also see me doing cleans, deadlifts, squats and a bounce squat as preparation for a lift because it helps compress my spine – in a good way – before I lift heavy.
How has your diet changed over the years?
I like being fit, lean and healthy and for me a high-protein, high-veg, low-carb diet is what my body responds to. But people shouldn't obsess about diets. I don't believe in fad movements or the next big thing. I also now have chickens and ducks at home because I eat so many eggs. I haven't bought eggs now for six to eight months. And the eggs taste so much better – they're incredible.
Unexpected: The Autobiography by Greg Rutherford (Simon & Schuster) is out now, priced £20. Buy on amazon.co.uk (opens in new tab)
Sign up for workout ideas, training advice, the latest gear and more.
Thank you for signing up to Coach. You will receive a verification email shortly.
There was a problem. Please refresh the page and try again.