Howard Webb: I Should Have Sent Off Cristiano Ronaldo
By Grub Smith published
The legend on the people who helped him become ref of refs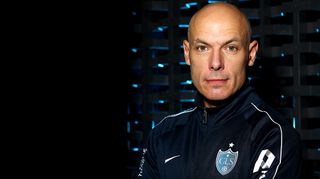 (Image credit: Unknown )
Who is the best referee?
If you mean the best ever, then undoubtedly it has to be Pierluigi Collina. I used to watch him when the Italian football first came on TV, and he stood out not just because he looked odd with his bald head and bulging eyes, but because he'd make big, brave calls that always turned out to be right when you saw them again on slow-motion replay.
What did you learn from him?
That all facial expressions have a purpose. Sometimes, I want my body language to say: "This decision is not up for debate, so walk away now." A good unblinking stare like he had, and extending your arms to create a space, that's worth a thousand words.
And who is the fairest manager?
I found Martin O'Neill very reasonable, and Roberto Martínez is not one to rant and rave. I didn't mind someone disagreeing with me, but I'd be angry if they personalised it, saying: "You've got something against our club." I used to get chants about being "Fergie's lovechild" from the fans, but you don't expect it from a fellow professional.
Who was the most sporting player?
Some really good captains helped me manage their players on the field, especially when they recognised that a player was becoming uncontrollable. Phil Jagielka is a sensible, reasonable guy with a cool head on his shoulders, and Patrice Evra would always sort things out when he was captaining Manchester United. But I think referees have a good empathy with goalkeepers, because we have a similar role on the pitch. We can have a perfect game for 89 minutes then be the villain because of one mistake.
Did you have to learn a lot of foreign swearwords?
Ha! You would hear the word "puta" a lot, but I always relied on visual clues – if they were spitting mad, you didn't need a dictionary. The crowd can't hear what people say, but they can see disrespect when a player runs 30 yards to eyeball an assistant. On one occasion I should have sent off Cristiano Ronaldo in the Manchester derby. I gave him a yellow card, and he sarcastically applauded me. Sending him off for that would have sent out a strong message, but it was early in the game and I bottled it.
Who got you started as a ref?
I was never attracted to it as a teenager. I wanted to be a professional footballer, but then reality dawned. My dad was a referee at a semi-professional level who could have gone further, but he was a disorganised guy – on a couple of occasions he forgot to turn up to games. He encouraged me to get qualified, and what changed my mind was that refs back then all seemed to be bald old men – what I've turned into myself! – and I thought it would be good to have youngsters involved.
You were also a policeman. Do you just like ticking people off?
I'm not a stickler for rules and regulations, but I do have a strong sense of justice. I wanted to make a difference to my community in Yorkshire, and I always tried to see the good in people. That got me into bother sometimes.
I remember going to a situation where a guy had smashed a petrol station window in the middle of the night, and he gave me a cock and bull story about leaning on the glass accidentally while he was having a pee. I was all for letting him go, poor chap, but of course my colleagues soon found out that he'd robbed the place…
What was your best game?
The one I enjoyed most was the 2010 Champions League. Alan Brazil said it was unbelievable that I'd got that game, that I was never good enough. With about 20 minutes to go, and everything going brilliantly, I remember thinking, "I've got this in the bag, thanks for the motivation, Alan."
The best praise I ever got was in the Observer. They don't sell too many copies near Rotherham, but I managed to see one, and it described my performance as "anonymously competent", which is exactly where you want to be as a referee.
Who gave you the best advice?
The referee George Courtney once said, "In this business, you've got to know how to be a bastard, without ever being a c**t." That's probably about right!
The Man In The Middle by Howard Webb is published by Simon & Schuster, priced £20. Buy on amazon.co.uk (opens in new tab)
Grub Smith contributed interviews and features to the print edition of Coach, which ran from 2015 to 2016.
Sign up for workout ideas, training advice, the latest gear and more.
Thank you for signing up to Coach. You will receive a verification email shortly.
There was a problem. Please refresh the page and try again.