Create A Bespoke Sporting Masterpiece With MassifCentral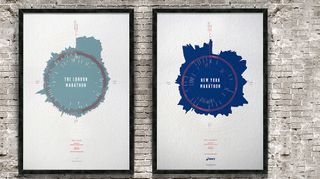 (Image credit: Unknown)
Pain and pride are the two sensations experienced by most at the end of an endurance event. Most events will hand out a medal, and offer the chance to buy photos, but sometimes that's not quite enough. Sometimes, you just have to have a bespoke artwork recognising your achievement.
UK-based design team MassifCentral is running a Kickstarter campaign to fund a new online portal – The Massifier – where people can use the data from their greatest sporting achievements to create a bespoke work of art. Clearly this is not designed for your weekly Parkrun or morning cycle commute, but that once-in-a-lifetime marathon, or epic bike ride across Europe, or land-kayak from Land's End to John O'Groats (you could be the first to achieve this last one).
MassifCentral has already produced artworks based around major events like the London and New York Marathons, and the Tour de France, as well as making bespoke works on a case-by-case basis. The new web portal would streamline the process, allowing users to pull in their data and create their own artwork making choices from curated designs. And if it all seems too self-indulgent, you can just drop heavy hints to your nearest and dearest ahead your next birthday.
MassifCentral's Kickstarter campaign will run until December 10, so you'll need to move quickly if you want to back it. MassifCentral are offering reduced prices on bespoke prints, so hurry if you have an achievement you'd like to have illustrated.
The options run from £115 for an A3 print of a 1-2 day achievement, up to £630 for an A2 print for an 11-15 day event. The campaign also offers prints for events like weddings, which many would argue requires as much hard work as cycling from Lands End to John O'Groats. themassifcentral.co.uk (opens in new tab)
Sign up for workout ideas, training advice, the latest gear and more.
Thank you for signing up to Coach. You will receive a verification email shortly.
There was a problem. Please refresh the page and try again.