Paralympian Gordon Reid: "I have High Expectations of Myself"
By Nick Harris-Fry published
The wheelchair tennis champion on the person who puts the most pressure on him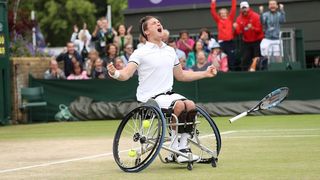 (Image credit: unknown)
Ranked number two in the world in singles and number one in doubles, Gordon Reid is at the top of his game – so as the Paralympics roll around again, how has he prepared himself to stay there and do his nation proud?
How has the Tennis Foundation helped you?
Since I've been playing the sport, they've been the ones that have supported me, both financially and in other aspects. They've helped my career massively, and are probably one of the most sophisticated and best tennis programmes in the world. It's great to have that in our country.
How would you rate your fitness on a scale of one to 10?
The most important thing for me this year is that I've been completely injury free. It's a big danger in our sport because of the demand on the upper body – you pick up niggles and injuries that can be difficult to get rid of. I still think I can get stronger – after Rio I've got a lot of training planned. But now, I'm seven out of 10. There's always improvements to be made…
How important is health and fitness to you?
It's important, not just in terms of being a professional athlete, but also just in keeping active and healthy. It's great for people with disabilities to keep active but it's harder for us, it's not as easy to just run out the door and go for a jog, so it's a big part of our lives to stay on top.
What do you do to motivate yourself?
I have high expectations of myself and nobody puts more pressure on me than me. So I've only got myself to answer to; the goals I've targeted, the things I want to do before I retire. Those are the targets that keep me up when I don't feel so good one day, or feel a bit jaded, they're the things that get me out of bed and working hard.
What's the highlight of your fitness week?
I enjoy wheelchair basketball training. Physically it's quite demanding and high intensity, but there's a lot of skill involved as well. It's being like a kid again, chasing after a ball – it gives you that extra boost, especially if there's somebody alongside you chasing it too. With tennis you're out there by yourself, so playing as part of a team again is fun.
How is your fitness fingerprint unique to you and your career?
One of the great things about society today is that it's almost trendy and fashionable to be fit. As a professional athlete though, it's not just a few gym sessions a week – it's a lifestyle, sleeping right, eating right, trying to get yourself in as good shape as possible. It's all the time, not just when I step onto the court.
Gordon Reid is supported by the Tennis Foundation (opens in new tab), Britain's leading tennis charity providing opportunities for all.
Sign up for workout ideas, training advice, the latest gear and more.
Thank you for signing up to Coach. You will receive a verification email shortly.
There was a problem. Please refresh the page and try again.