Carl Frampton Interview: "I am Nowhere Near the Best Irish Fighter Yet"
By Coach Staff last updated
"But I potentially could be, if I keep winning"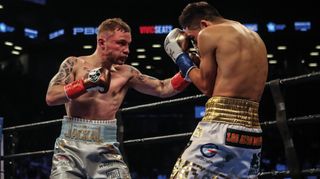 (Image credit: Unknown )
At the end of July Carl "The Jackal" Frampton beat undefeated Mexican Léo Santa Cruz to win the WBA super featherweight title and become the first boxer from Northern Ireland to be a world champion in two different weight divisions. He reveals the secrets of his success and his plans to leave a legacy as one of the all-time greats
How did it feel to become a two-weight world champion?
I feel good. It was a big achievement for me, especially as the first Northern Irishman to do it. It's a huge accomplishment and something I'm very proud of. I was proud of the fight performance. A lot of people had written me off, especially the American media, and I proved a lot of people wrong. You get negative comments all the time, especially on social media. You just have to just brush it off. If you listened to every negative thing people said about you then you'd never get out of bed in the morning! I am very lucky in that I get a lot of very positive press and comments as well.
You're now unbeaten in 23 pro fights. Can you put your finger on what makes you such a good fighter?
There are a lot more skilled fighters out there than me. There's certainly more in the UK and Ireland. But I've got resilience. I've got a lot of determination. I train very hard and am always willing to learn and improve. I dedicate myself completely to the sport. I go away from my family for 14-week training camps. Not many fighters in the world have camps as long as that. All that adds up to make me the fighter that I am.
Is resilience something you learn or are you born with it?
I think resilience is something you either have or you don't. I want to push myself further all the time, and that's evident in the way I train. I don't enjoy training but I do it because I have to. I push myself to the limit every session. I spar with big guys and get hit with some big shots but I always keep pushing forward. So I think you either have it or you don't and I am lucky enough that I do.
What's the hardest part of such a long camp?
It's being away from my family. I have a wife, and two young kids and I've missed a lot of them growing up. That's a lot to sacrifice. I can deal with the mental and physical punishment of training camp. I know what this sport is all about and what's required to try and get to the top. What's mentally hard is being away from my family. My wife understands why I am doing it and I use them as my motivation to give them a better life.
Against Santa Cruz you landed 36% of your punches, a significant lead over his 25%. Is accuracy something you've worked hard on?
To be honest accuracy isn't something I really work on, it's just something I have. I've always been an accurate fighter. I don't throw shots for the sake of it – I throw every shot to land. I don't always make them, especially when fighting world-class opponents like Santa Cruz. Shane [McGuigan, Frampton's coach] constantly talks about how good my timing is. There's bigger and faster fighters than me, and those who can hit harder, but my technique is very good. I am a short guy and have to box people much taller. But my technique, power and timing allows me to compete with them and win.
RECOMMENDED: Punching-Bag Workouts
You're powerful as well as accurate with your punches – where does that power come from?
I have always been pretty explosive. I remember being an amateur in the high-performance team in Dublin. Darren Sutherland [the Irish boxer who won a middleweight bronze medal at the 2008 Beijing Olympics], who's passed away now, was always the most explosive guy. We used to do the jump mat that measures how long you can hang in the air to see who was the most explosive. He always won but I would come a close second, even as a kid. And I think that's where my punching power comes from. I feel like I do punch hard. I know in my last few fights I haven't got as many knockouts as I wanted, but I've hurt guys who have never really been hurt before. I think it all comes from my explosiveness. When you land a good shot, a clean shot, you know right away. It's a nice feeling.
How are you working on getting better?
You can always improve. I can sometimes get a bit leaky on my defence and sometimes I fight with my heart rather than my head. I showed that a few times in the Santa Cruz fight. I'm working on trying to be comfortable in the pocket when I'm up close and I feel like my last two fights I've got better at that – to slip and block and counter from up close. That's something we're really working on in the gym.
What are you like just before a fight?
I am a very chilled-out guy so I'm very relaxed before a fight. It's hard to get me too excited. If you were in my changing room beforehand you wouldn't believe I was about to go out and fight! I'm listening to soul music and Motown and I'm very chilled. Barry [McGuigan, the former WBA featherweight champion and Frampton's manager] is a very different character to me. He's strutting about, full of beans, hyped out of his mind – probably just like he used to be before he was about to fight! I don't know why I'm like that but I always have been. And I think you can see that I'm relaxed in my performances.
Are you the greatest Irish boxer of all time?
Some people have said that recently, and it's really nice to hear. I've got the opportunity but I've got a long way to go before I get there. I can only become the best Irish boxer of all time if I keep winning. There are some big fights on the horizon and if I can keep putting in the performances and getting the wins, then why not? But I'm not one to blow my own trumpet. I am nowhere near the best Irish fighter yet – but I potentially could be, if I keep winning.
The coach in the corner
Frampton's coach Shane McGuigan on his world-class methods
What makes Frampton so good?
His speed is one of his biggest assets. He's an extremely hard puncher for a small guy, he can take a shot, his distance control is one of his best assets and his timing is excellent - but I think that all stems from his footwork. He didn't get a chance to show it until he got to the elite level but I think now it's the thing that makes him better than the rest of the division.
How important is diet to Frampton's success?
You've got a lot of guys who have all the tools in the world but don't have the discipline when it comes to putting food in their mouths. There are guys who'll kill themselves in the gym and then have a chocolate bar on the way home, and it's like…what's wrong with you? The guys who make it are the ones who are disciplined in every area.
You're the youngest head coach to have cornered a world champion. Are we going to see younger coaches in future?
Yeah, I think so. I think a coach has a lifespan as well as a fighter. People will say, "When my career's over I'll go into coaching" but if their passion isn't what it used to be it isn't going to get the most out of an athlete. I'm still massively enthusiastic about the game, I'm still willing to learn, I'm still willing to go through my own paces. I think there are a lot of guys who want to do the Mickey from Rocky thing, stand in the corner and shout, but that's not giving the best to your fighter.
Coach is the place to come for all your health, fitness, and personal wellness needs.
Sign up for workout ideas, training advice, the latest gear and more.
Thank you for signing up to Coach. You will receive a verification email shortly.
There was a problem. Please refresh the page and try again.