Scratch Your Wimbledon Itch With This Handy Guide To London Tennis Courts
By Nick Harris-Fry published
Could you be the next Andy Murray? Almost certainly not, but it's worth checking once a year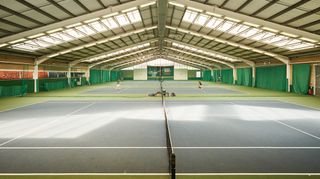 (Image credit: Unknown)
Wimbledon is the best tennis tournament in the world. If you disagree with that statement just ask yourself this: how many films starring Kirsten Dunst and Paul Bettany have been set at the Australian Open, US Open or French Open? We haven't checked, but you've got to assume it's none.
For two glorious weeks every year – longer if you watch the qualifiers to see if a random Brit can storm into the main tournament out of nowhere – everyone in the UK is a tennis fan. Or at least more aware that tennis exists. That means two things are going to happen. Your most tedious friends will make jokes about Andy Murray being Scottish or British depending on how well he's playing, and you will experience an irresistible urge to play tennis yourself.
Assuming you're not already a keen racketman, as no-one calls them, this requires looking up where you can play tennis. Fortunately, the busy bees at My Local Pitch (now Playfinder (opens in new tab)) have done a lot of the legwork for Londoners with the below informative graphic – infographic, if you will.
The infographic marks out 19 tennis courts all over London that you can book via the My Local Pitch website or app, and the nearest Tube station to those courts. It also shows you where in London the Wimbledon Championships are taking place, if you haven't managed to work that out yourself yet.
Once you've booked yourself in, you'll want to make sure you're in top physical condition ahead of your match, so check out our handy run-through of four gym exercises that will make you unbeatable on the tennis court. Well, maybe not unbeatable. Less beatable.
Now get out there and play. If you need any more inspiration we can recommend the film Wimbledon. Bettany and Dunst are just charming.
Sign up for workout ideas, training advice, the latest gear and more.
Thank you for signing up to Coach. You will receive a verification email shortly.
There was a problem. Please refresh the page and try again.