Karlos Vemola interview
By Ben Ince published
MF catches up with the UCMMA middleweight champion ahead of his superfight with light heavyweight title-holder Carl Kinslow at UCMMA 43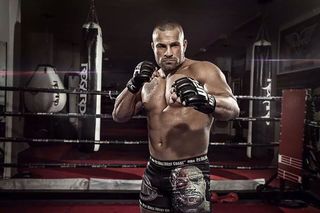 (Image credit: Unknown)
How did you first get into MMA?
My dad is a Greco-Roman wrestling coach back in the Czech Republic, so I started training that when I was a kid. I left wrestling for bodybuilding when I got older. Then when I moved to England I was working as a doorman for a boxing promotion that branched out into MMA. The promoter asked if I fancied giving it a try because of my wrestling background. I had no actual MMA experience, but I jumped in and did pretty well, and I've been doing MMA ever since.
How much training do you do in a typical week?
Monday to Friday I train three times a day. My routine is usually train at 9.30am, eat, sleep, spar at 2.30pm, have a shake, sleep again, then do conditioning or technique work at 7.30pm. I have to sleep between sessions otherwise I can't recover properly. I give it my all at every session, and sleep, good food and quality supplements are crucial for that. I'll also train once on a Saturday, but I give myself Sundays off. It's always at least 15 sessions a week.
How different is your diet and nutrition now compared with when you were focusing on bodybuilding?
I eat a lot more. I've probably tripled my calorie intake since switching to MMA. If I'm not specifically cutting weight for a fight, my normal target is 10,000 calories a day. Bodybuilding is a lazy man's sport and you couldn't get away with eating that much – you'd just get fat. But with the volume of training that I do as an MMA fighter, I need to eat that much just to fuel my training. The way I see it, my body is like a high-performance car – the more fuel I give it, and the better quality that fuel is, the further it will go.
You started out fighting at heavyweight, and have since moved down to middleweight. Why the change?
I've never been knocked out in a fight, all my losses in the UFC were submissions or decisions, and I think a big part of that was my fitness. I think my cardio is a lot better at middleweight now that I'm not carrying any extra weight. I walk around at 105kg, so it's a crazy weight cut down to 84kg, but I'm a lot stronger than most of my opponents on fight night.
You're the reigning UCMMA middleweight champion, but you're moving up to fight Carl Kinslow for the light heavyweight title. How did that come about?
I want to get back into the UFC and to do that I have to fight the best. The top UK guys are already in the UFC, so they're out of the picture, and I'm looking around at what's left. There aren't any UK middleweights worth fighting – I've beaten the best of them already – so I'm moving up to light heavyweight to take the title there. I'll do the same at heavyweight too if it means I can fight tougher competition.
What threats does Kinslow pose you?
He's a tough guy who's hard to finish, but I'm on a different level to him and I should be all over him wherever the fight goes. He's going to come out all crazy and try to take my head off because there's no pressure on him and everyone's expecting him to lose, so I need to be careful. But I am going to take him out.
Who would you like to fight next after Kinslow to help get you back into the UFC?
The fight I really want is against Iain Martell. He's got a 10-1 record, but he keeps ducking me and making excuses so he can take easier fights. The latest one from his management is that he can't fight me because he's just dropped to middleweight, but that would be perfect for me! I reckon that with another three or four wins this year I'll be back in the big show, and once I'm there, I'll stay at middleweight for good.
Between 2010 and 2016, Ben was the deputy editor of Men's Fitness UK, which predated, and then shared a website with, Coach. Ben also contributed exclusive features to Coach on topics such as football drills, triathlon training plans and healthy eating.
Sign up for workout ideas, training advice, the latest gear and more.
Thank you for signing up to Coach. You will receive a verification email shortly.
There was a problem. Please refresh the page and try again.