Nathaniel Wood prepares for BAMMA 18
By Matt Huckle last updated
MF speaks to Nathaniel Wood on his upcoming MMA fight at BAMMA 18 and why his last fight's finish went viral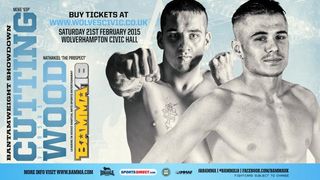 (Image credit: Unknown )
On signing with BAMMA
It's great signing with BAMMA because obviously everyone knows that it's the one of the biggest shows in Europe. Outside of the UFC it's a good platform to be on. I've done my time fighting on all the little promotions now it's time to take a step up, hence signing with BAMMA for a five fight deal. Then obviously the dream is the UFC next. It's a step up now until the next step up!
On being world class without training in America
I believe you can. At the moment I'm training with high level guys, like I train with [UFC fighter] Brad Pickett twice a week and obviously I'm not sure where he's ranked now but he's one of the best in the world. I've got high level guys I can train with. Obviously there are parts of the country where people might struggle to get good training partners or sparring sessions but at the moment I'm getting in with class guys and obviously at some point I would like to go over elsewhere to train but I don't believe that it is a must. Look at Conor McGregor, he does a lot of his training at home with the guys he's been training with since he started. Sometimes going elsewhere can be overrated.
On strength and conditioning
I've got a good strength and conditioning team at the Athletic Edge, who cover all that side of things. They go into so much scientific detail that half of the time I'm not even following them! They pretty much write out what I've got to do and I do it. I feel great when I'm fighting at bantamweight.
My most recent session started with two main exercises. I did five sets of squats and then cleans. Then we usually do a set of something like a dumbbell bench followed by a dumbbell row. I usually do low reps and high weights. 2 sets of 5. Then 3 sets of 3. Then we finish with a little endurance circuit using either battleropes, medicine ball or the Airdyne. There's loads that we do, and we change it round so I don't get bored.
It's important that the sessions aren't too intense though. Obviously I've got to train elsewhere and it's really easy to over do it and by the time you turn up to your next session you're knackered.
I work full time doing roofing but when I've got a fight coming up they allow me to take the time off. Sometimes it can be quite tight but obviously it's part and parcel if I want to make it as a career.
On supplements
I take whey protein, usually as part of a meal. So in the mornings I make a breakfast smoothie, like porridge and fruit with some protein in there. Then usually after a training session I'll have some more. Other than eating healthy I don't really have any strict supplements that I have.
On being exciting
To be honest that's really the most important thing for me. Sometimes that's not always a good thing! In the fight I lost I should have tried to take the guy down and lay on him to finish the round cause I was gassed. But part of me just thinks… don't get me wrong you've got to do what you've got to do to win but you see Dana White saying there's guys in the UFC that just win and they're boring and no one really gives a shit about them. To me one of the most important things is to be entertaining otherwise no one wants to watch you. You'll never make any money out of it.
To me you've got to stand out from the crowd. Constantly winning by decision isn't going to do that. It's not entertaining and no one really wants to see it. The fans want a good fight.
On his last fight
I noticed my Twitter followers went up quite a bit after that fight! I think that YouTube video of the finish has something like 180,000 views now. I wasn't expecting that. To be honest I didn't even know [he'd broken his arm] at the time. It was only when I watched it back I saw his arm wobbling like a wet noodle that I realised what had happened.
On dealing with a loss
I wouldn't say it adds pressure. That loss did me a lot more good than bad. It completely changed my way of looking at things. It changed the way I trained. To me it showed me I needed to change my game. In that fight, when we were standing up I was just being a boxer. When we went to the floor I was doing juijitsu. It made me realise I need to train more MMA specific if that makes sense. I completely changed my training schedule. I started working with my striking coach, Joe Miles, who really helped me sharpen up on the feet. I took it a lot more seriously. It motivated me.
On his opponent's 5-4 record
I try not to look at records too much. I look more at who they've fought. He's obviously fought lost to Ed Arthur who was the one who beat me. I know he went five rounds with Aaron Blackwell, who is a training partner of mine and a brilliant fighter. I know he's a tough guy but I don't believe he's got anything I can't handle. I believe I'm a new breed of fighter.
On what people should expect from him
Always expect and exciting fight. I always bring the fight so if people tune in they'll be entertained.
Nathaniel Wood is fighting on 21 February at BAMMA 18 at Wolverhampton Civic Hall, Wolverhampton bamma.com (opens in new tab)
Matt joined Men's Fitness in April 2014 as features writer after spending several years writing for a luxury lifestyle magazine, swapping champagne and canapés for cardio and leg days.
Matt is a keen Thai boxer and his interest in fitness took off when he made the decision to compete semi-professionally and had to get in shape. Training aside, he says the worst thing about fighting is resisting the urge to apologise all the time.
Oh, and he's still on the look out for a decent fight nickname after being told 'The Best' was reaching a little bit…
Favourite move: Any kind of squat variation
Favourite sport: MMA and Muay Thai kickboxing
Personal best: Competing in a semi-pro K1 bout
Targets: Sub-1hr 40m half marathon and winning a fight by KO
Scariest MF moment: Writing about myself in the third-person for this profile
Favourite MF website story: Spider-Man workout (opens in new tab)
Favourite trainer quote: 'Hands up, chin down' – every striking coach ever
Biggest gym crime: Avoiding the weights and sticking to the treadmill
Sign up for workout ideas, training advice, the latest gear and more.
Thank you for signing up to Coach. You will receive a verification email shortly.
There was a problem. Please refresh the page and try again.