George Groves's strength-building secrets
By Sam Rider last updated
Super middleweight George Groves reveals the training secrets that will add snap to your strength and cardio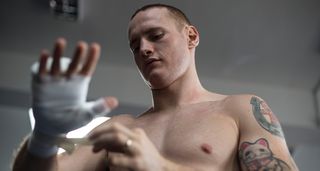 (Image credit: Unknown )
In This Series
George Groves's strength-building secrets
Note: This interview was conducted ahead of Groves's title fight against Carl Froch for the WBA and IBF super middleweight belts at the Phones4u Arena on 23rd November 2013.
George Groves knows what to expect: snapping jabs, sledgehammer body blows, a granite jaw and an opponent who doesn't know how to stay down. But he also knows 12 three-minute rounds is all that separates him from the WBA and IBF world titles when he faces fellow Englishman Carl 'The Cobra' Froch in Manchester on 23rd November. 'This is the hardest it's ever going to get,' says Groves.
The reigning British and Commonwealth super middleweight champion recognises he's not the finished article yet. Groves, known as 'The Saint' – a nickname bestowed on him by heavyweight star David Haye – is 25 and raw. But he's been blessed with big reservoirs of strength and grit, and in the five years since he turned pro, he has used these attributes to dismantle 19 out of 19 opponents – including Beijing Olympics gold medal winner James DeGale – winning 15 by knockout.
'Strength and toughness is what separates the world-class fighters from the rest,' says Groves when MF meets him at CrossFit Ivy in west London. 'These are what allow you to go hard in the gym and in the ring.'
St George's way
At the start of 2013 Groves began working with strength coach and former boxer Dan Lawrence (danlawrencetraining.com (opens in new tab)) to build on this natural artillery. 'I had a general strength session I used to do before working with Dan, but it wasn't helping me reach my full potential,' says Groves.
Lawrence's first tweak was to Groves's warm-up. 'Glute function is extremely important for landing shots and absorbing punches,' says Lawrence. 'The tighter you are through your hips, the less your glutes fire so we spend 20 minutes on mobility before going near the squat rack. Because of this he's using the right muscles and lifting heavier – and his balance has improved too.'
The first fighter to enjoy a taste of Groves's new strength was Uruguayan Noe Gonzalez Alcoba in May. 'He had a very good record, a good chin and he hit hard, but I bullied him from start to finish,' says Grove, who won by knockout in the fifth round. 'I exerted my strength, but not just offensively – my strength training had made me so solid it felt as if his punches were just bouncing off. That was a nice feeling. I could see his corner looking at me thinking, "This guy's tough, he's going nowhere".'
Battle royale
Part of Lawrence's remit is to give Groves the endurance of a long-distance runner and the explosive power of a World's Strongest Man competitor, which he does by getting Groves to go through a vicious combination of anaerobic and aerobic work. Mondays are hill sprints. Wednesdays are track sprints, with agility and footwork drills to improve co-ordination when he's out of breath. Saturdays are compound weights sessions. These typically involve supersets, such as six squats and bench presses with single-leg plyometric moves for stability and single-arm medicine ball throws for punching power.
'The aim is to stimulate, not annihilate,' says Lawrence. 'Everything is specific to mimic the shots he'll throw, the muscles he'll use and the time he'll be boxing.' That means Groves will run 80m hill sprints 12 times with a minute's rest between each just like he'd get in a fight. The 400m sprints on the track are the same. In the gym he'll also do 12 three-minute rounds of punishing battle ropes drills. The principle of mimicking the fight also applies to timing – the closer it gets to fight night the later he'll train, so his body is switched on for the 11pm bell.
By George
It's a world apart from his time as an amateur when he'd sometimes fight at 11am one day and 11pm the next. 'It made me tough,' says Groves. 'I travelled all over the globe. I'd take two planes to Macedonia where the food is awful but you've got to eat or you'll have no energy. I'll never leave a meal. I eat six times a day and I'll eat anything.'
His long amateur career of 76 fights (66 wins, 40 KOs, 10 losses) taught him a valuable lesson about dealing with defeat – something he's yet to face as a pro. 'I never boxed anyone I didn't think I could beat. When I lost I underperformed and had to realise why,' says Groves. 'Some fighters up the volume of training after a loss but won't change what they're doing. You need to identify weaknesses and alter things accordingly – otherwise you're just training yourself for another beating.'
Groves knows it's better to get floored during training than in a fight. 'If you get caught a couple times during sparring, it doesn't matter,' he says. 'In my last training camp I got dropped by two different sparring partners. It happens. Don't get hung up on it. Don't waste emotion on it. Just ask yourself why it happened and learn from it. If a shot gets through, make sure that's the last time it gets through.'
In his pro career Groves has only hit the deck once, against Kenny Anderson when defending his Commonwealth title in 2010. 'Getting up came down to grit, determination and will. I came through that and won and it's confirmation that I've got no quit in me. I know deep down I'll get the job done.'
Seconds out
Just two months ahead of the Froch fight Groves split with long-time trainer Adam Booth, replacing him with Booth's former assistant Paddy Fitzpatrick. From the outside it might look like a rash decision but Groves is adamant it can only aid his preparation.
'The last few years I've worked with different coaches and learned different training techniques. From that you pick and choose what works. You've got to make sure you're always improving and adding more tools to the toolbox. Then people can't make a game plan to beat you.'
This versatility means Groves can't be pigeonholed as one type of fighter, something Mexican Francisco Sierra found out in July 2012. 'He had much longer arms than I did,' says Groves. 'I had to make tiny adjustments on the fly to make him miss, then I could step in with combinations.'
Despite the questions raised about his change of trainer, Groves is quite evidently laser-focused on success. 'You prepare for a fight as best as you can and have a good team around to help when needed. But you don't want cheerleaders, definitely not in my sport. When the bell goes you're in there on your own. You can't rely on anyone else.'
Down with the king
At 36 Froch has 11 years of valuable experience over Groves but also two notable defeats on his record that Groves will look to exploit. The first loss came in 2010 against the Dane Mikkel Kessler (who Groves sparred with in May ahead of their rematch, stirring the bad blood between the two Englishmen) and one to the classy American Andre Ward. Both times the fights went the distance.
'Ward took him to pieces technically,' says Groves. 'You look at what your opponent doesn't do so well and how you can expose that. Froch has slow feet and slow hands, and he leaves gaps when he throws punches. I'm going to make him miss and then I'm going make him pay.' On the 23rd, we'll find out if he's right.
Sam Rider is an experienced freelance journalist, specialising in health, fitness and wellness. For over a decade he's reported on Olympic Games, CrossFit Games and World Cups, and quizzed luminaries of elite sport, nutrition and strength and conditioning. Sam is also a REPS level 3 qualified personal trainer, online coach and founder of Your Daily Fix (opens in new tab). Sam is also Coach's designated reviewer of massage guns and fitness mirrors.
Sign up for workout ideas, training advice, the latest gear and more.
Thank you for signing up to Coach. You will receive a verification email shortly.
There was a problem. Please refresh the page and try again.