Jon Jones on his training
By Joel Snape last updated
UFC champion Jon 'Bones' Jones shares his unconventional blueprint for success with MF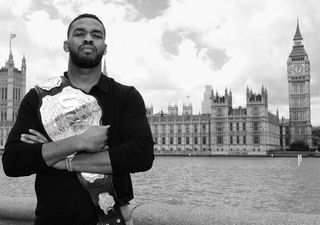 (Image credit: Unknown)
'I've started swimming a lot,' Jon Jones tells MF, relaxed and full of smiles in the final weeks before his next huge fight, a career-defining title defence against his biggest opponent yet.
'I do an exercise called dive and swims, when you dive into the pool, swim across, pull yourself out and then dive right back in. Pulling yourself out of the pool is the workout. It becomes a question of working out when you're going to breathe. I don't enjoy it. I feel like I fight against the water.
But my swim coach has a great philosophy – she says if you can compose yourself in the water, where you're struggling for air, you should be able to compose yourself on land at any time.'
Not many MMA fighters – or athletes from any sport – train, or think, this way. But then not many athletes have seen as much success in as short a time as Jones. After earning a New York state championship in wrestling during his high school years, he briefly studied criminal justice at college before dropping out to concentrate on MMA, hoping he'd be able to use his earnings to support his family.
For most people, this would have been a terrible decision: at the regional level, barely any fighters can support themselves on their fight purses alone and it can take years to attract the attention of a big-paying promotion like the UFC. But for Jones, the gamble paid off. After tearing through his first six opponents in just three months, he got the call from the UFC to fight veteran grappler Andre Gusmao as a late-notice replacement.
He dismantled Gusmao impressively enough to get a shot against hall-of-fame fighter Stephan Bonnar. And then he put on a show, ragdolling Bonnar around the mat with WWE-style suplexes and judo throws en route to a lopsided decision. The highlight? A spinning back elbow delivered off a takedown attempt, which dropped Bonnar. It was the kind of shot that can make a career – a never-seen-before invention that even had UFC matchmaker Joe Silva, who's seen thousands of fights, leaping to his feet and yelling.
Knockout artist
Then the finishes started to come. Working with revered coach Greg Jackson, himself an anomaly who reads physics books and Sun Tzu in his spare time, Jones began to find a style that suited him. Focusing on Greco-Roman wrestling prowess and limb length – he officially has the longest reach in the UFC – Jones smashed his way to the number-one contender slot with a mixture of high-amplitude throws and some of the most vicious elbows ever seen in MMA. At the same time, he rounded out his grappling with a vicious submission game, learning to employ his outsized arms in front chokes and guillotines.
Jones took another last-minute fight against light heavyweight champ Maurício 'Shogun' Rua and put all these things together to take the title in devastating fashion, dropping Rua with body shots and forcing him to quit. He was the champ after just seven fights in the UFC and less than three years in MMA. 'Performance-wise I think beating Shogun was tough to beat,' says Jones. 'It was close to a flawless performance. I'm really proud of that one.'
The final piece of the puzzle for Jones? Striking. He's working on that. 'I'm blessed that this young man listens – he has gone from being mostly a wrestler to becoming a great striker in the division,' says Jones's striking coach Mike Winkeljohn, another figure regarded as a genius in MMA. 'He's almost there. He's almost at that place where he's going to start getting those one-punch and one-kick knockouts. Just wait – you haven't seen anything yet.'
Jones has already worked out how to use his reach advantage, out-pointing former champion Rashad Evans with elbows delivered from almost outside the smaller man's punching range, and punishing Quinton 'Rampage' Jackson with a series of oblique kicks to the knee. More recently he has knee-walked across the ring in fights (capitalising on the MMA rule that forbids kicks to a 'downed' opponent), thrown flying crane kicks and even pulled guard – all unconventional. And there's more to come. 'There are a lot of techniques I've trained for that I haven't been able to pull off yet,' says Jones. 'In time, they'll be shown.'
Next big thing
Next up for Jones is Alexander Gustafsson, the Swede already touted as Europe's best ever prospect in MMA. Jones's approach borders on the scientific. 'I watch his fights all the time,' he says. 'The way he holds his hands, the way he steps, his vulnerabilities, his go-to offensive moves. It was interesting to see him break in the Phil Davis fight [Gustafsson's only loss to date]. When fighters are in wars, that's when they throw out their best material.'
Jones will use his fight camp to get back in shape. Whereas some fighters train to the limit all year round, Jones brings his unique approach to periodisation… by getting fat. 'In the off-season I believe in letting myself go,' says Jones. 'With endless workouts you can find you're not getting better because you're not as passionate – you're doing too much of the same thing. So I make my body miss being fit. In my off-season I eat what the average Joe would eat. I'll have a Bud, I'll have a pizza, I get away from it and go back to being a normal person. Then when it's time to kick it up, I kick it up majorly.'
Savage workout
True to form, Jones's workouts are savage stuff – apart from the abovementioned dive and swims, he puts in some pool time going nowhere. 'I warm up with some 800s, then my coach will put a cable around me and hold it, so I'm swimming without going anywhere, then let go.' Jones takes on a similar workout on land, going after a tackle dummy while team-mates hold him back. 'I'm always breaking records in the gym,' says Jones. 'I think it has to do with me getting older, more mature and mentally strong. It's pretty cool.'
It's what makes him explosive and unpredictable despite his height, allowing him to get underneath more compact light heavyweights with explosive takedowns. Jones has an odd build for a light heavyweight – he's the tallest man on the 205lb (93kg) roster at 6ft 4in (1.93m), but with the calves of a featherweight. It has led to speculation that he could fight and win at heavyweight, currently dominated by powerful strikers. Jones is up for the challenge. 'Being heavyweight is something I want to do soon,' he says. 'I'll do some fights for the fans, then maybe drop down to light heavyweight to defend the title.'
But he's in no hurry to make the jump permanent. 'If I beat Gustafsson I want to stay around for a while,' he says. 'I'm getting more mature, I have good people in my career and in my life, people who can help me cut the weight, stay in better shape in my off-season and so on.'
Jones is already being talked about as one of the best fighters in the world – or ever. His case has been helped by the recent toppling of one-time great Anderson Silva by Chris Weidman, but Jones takes no pleasure in that. 'You can't disregard everything [Silva] has done, all the magnificent moments he has created,' he says. 'He's still someone who should be respected as a martial artist.'
'Martial artist' is a phrase that comes up a lot when you talk to Jones. It's how he sees himself and wants to be seen by others – something more than just a fighter. It may be why he chased down and tackled a mugger on the same day as his title fight against Rua, or why Chael Sonnen – who doesn't have a good word for many other fighters in the sport – proclaimed his respect for him weeks before their fight.
The greatest
It's something Jones believes in and wants to pursue outside the Octagon. 'I'd like to be known as one of the greatest martial artists, one of the greatest fighters of all time,' he says. 'I want to make a positive impact, I want to motivate people to be the best they can be. I'm this young kid from the inner city being the best in the world at something. It wasn't easy for me, but if I can do it anyone can. I'd like that to be my legacy.'
And what about the other great, the fighter all fighters aspire to be like? Sure, says Jones, he'd love to have fought Muhammad Ali – but not for the reasons you might expect. 'I would love to have fought Ali in his prime,' he grins.
'He didn't know any takedown defence or jiu jitsu moves, and to take down the greatest of all time would be sweet.' Unconventional, as we said. But what if he stood up with the greatest? Jones smiles again. 'He'd knock me out. For sure.'
From 2008 to 2018, Joel worked for Men's Fitness, which predated, and then shared a website with, Coach. Though he spent years running the hills of Bath, he's since ditched his trainers for a succession of Converse high-tops, since they're better suited to his love of pulling vans, lifting cars, and hefting logs in a succession of strongman competitions.
Sign up for workout ideas, training advice, the latest gear and more.
Thank you for signing up to Coach. You will receive a verification email shortly.
There was a problem. Please refresh the page and try again.