Rugby League World Cup: England's recipe for success
By Rachelle Harry , Sam Rider published
England captain Kevin Sinfield and tournament top try scorer Ryan Hall tell us why recovery is key for the team's success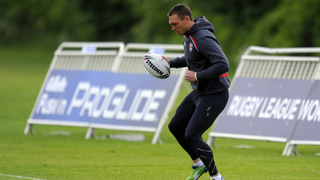 (Image credit: unknown)
After an expected victory against France in the quarter-finals things are about to get serious for England. Awaiting them in the semi-finals are pre-tournament favourites and rugby league heavyweights New Zealand. This will be England's biggest challenge yet but, in front of a home crowd, Steve McNamara's team believe they can upset the odds. Here England captain Kevin Sinfield and tournament top try scorer Ryan Hall reveal how their preparation this week can help them overcome the Kiwis on Saturday.
On how to beat New Zealand
Kevin Sinfield To be involved in a home World Cup is brilliant. As soon as the game was out the way last Saturday, our attention switched to New Zealand. It's important to have your opponents in your mind at the start of the week and build on that throughout. We do that by looking at pictures and videos of the New Zealand team.
Ryan Hall I'm always trying to better myself. Every player's got a different regime. The competition is something to look forward to. We've played well here to get this far and get selected. Now it's time to perform on the big stage.
On prehab, rehab and recovery to reduce the risk of injury
KS For prehab before gym sessions, we use foam rollers and mobility exercises to get us ready to run and lift weights. Afterwards we either use ice chambers or ice baths. After field sessions, we swim and have a gentle jog recovery in the pool. We also have massages.
RH We have an area in the gym where we do physio for half an hour – it's a bit like yoga. We do that once a week. It involves a lot of stretching, massages and small support movements – knee bends, hips and neck movements – to support the muscles.
On the importance of a full warm-up
RH It's really important that we don't injure ourselves stupidly in the gym. A lot of people think a warm-up is only about stretching but raising the heart rate is important too because that helps your muscles to warm up better. Sometimes people don't do that when they're doing weights. They often go in cold and start lifting.
On kick-starting recovery after getting off the field
KS I try to get as much food and fluid in as I can during that first 30-minute window after a match or training session. I like to have something tasty and easy to get down, like a chocolate milkshake, and plenty of water to rehydrate. Then I'll have food later on.
RH On regular days, after an intense workout, we have 'gym food' like pizza, sandwiches and fried chicken to get the calories back into us. It sounds silly, but people often don't feel hungry after they exercise and it's really important to refuel properly. That's what the idea behind the 'gym food' is - it's high in calories and easy to consume.
On mental recovery
KS I'm an advocate of wearing compression kit for recovery but the most important thing is to get sleep. It's always a bit of a rough night's sleep after a big game because the adrenaline is still flowing and it's difficult for your mind to switch off and shut down. But I recover best when I've had a good night's sleep. That's key for me.
On handling pressure and de-stressing
KS Stress is something you put on yourself. There's obviously a huge expectation coming from outside the team but it probably matches up to what we have inside anyway. It's nice to be in England and be able to go home and see my wife and kids - that's what really helps me to de-stress.
England play New Zealand on Saturday 23rd November at Wembley. Kick-off is at 1pm.
Gillette's partnership with the RFL and its commitment to invest in RFL coaches is part of the Great Start Programme, which aims to celebrate and encourage the coaches who will inspire the next generation. For more information click here (opens in new tab).
Sign up for workout ideas, training advice, the latest gear and more.
Thank you for signing up to Coach. You will receive a verification email shortly.
There was a problem. Please refresh the page and try again.